think pink – pomegranate margaritas
It's Saturday and Dave and I are at NAU in Flagstaff with our freshman, Connor, enjoying "Parents' Weekend".  Wishing you a wonderful weekend. Why don't you have a couple of friends over and enjoy this fun and tasty drink?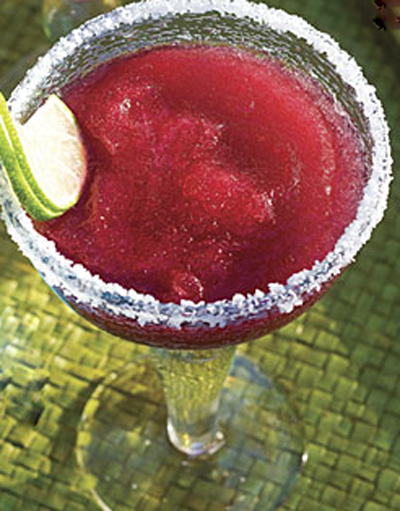 Pomegranate Margaritas
2/3 cup pomegranate juice
2/3 cup premium clear tequila
1/3 cup triple sec
1/4 cup Grand Marnier
1/2 cup plus 2 tablespoons freshly squeezed lime juice, divided
3/4 cup cold simple syrup *
Crushed ice
Fill a blender with ice, pour pomegranate juice, tequila, triple sec, Grand Marnier, only 1/2 cup of the lime juice, and the simple syrup over ice.  Blend until smooth
Pour the remaining 2 tablespoons of lime juice onto a saucer.  Pour the sugar on another saucer.  Dip the rims of margarita or martini glasses into the lime juice, then into the sugar for a "sugared rim"
Pour blended margarita into prepared glasses, garnish with a lime slice and enjoy.
Serves 4
* If you're not sure what simple syrup is or how to make it, go to the tip index for help.