the pork shop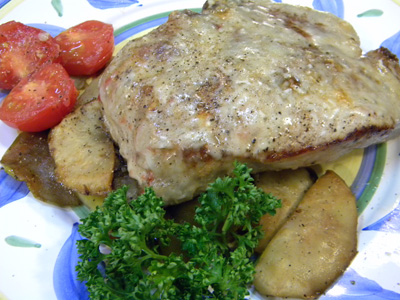 When I wrote about how we were out at the Queen Creek Olive Mill on Valentine's Day, I failed to mention that we made a stop at The Pork Shop, which is just down the road. You wouldn't think that a little shop that sells only pork products would be packed on Valentine's Day at 1 PM, but there was barely room to turn around- or as my dad says, "It was so crowded, you didn't have room to change your mind." So, of course, we were caught up in the frenzy, and bought just tons of stuff; brown sugar cured bacon, pepper cured bacon (both sliced to order), brats, maple syrup sausage, jalapeno-cream cheese summer sausage, and these huge pork chops! During the summer, I mentioned The Pork Shop in a post, but at that time they did not have a website, now they do, so please be sure to check it out HERE.
I went back through the "tags" on the site to see if I had ever talked about celery root, also known as celeriac, and was shocked to find that I haven't! Shocked, because I adore celery root and use it often. It actually is a type of celery but is grown as a root vegetable rather than for its stalks and leaves. Unlike most other root vegetables, celery root is relatively low in starch. And unlike potatoes, which are stored at room temperature, celery root needs to be refrigerated and loosely wrapped in the plastic where it will last for a couple of weeks. It is used raw (shredded or julienned in a classic Celery Root Salad), braised, boiled, baked, roasted, or even grilled.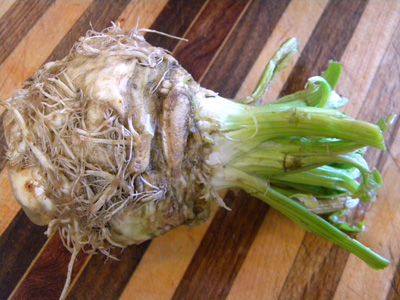 As you can see, the outer surface is ugly and gnarly and should be thinly sliced off with a knife instead of a vegetable peeler. It is fantastic added along with potato chunks for mashed potatoes or thinly sliced and added in for a potato-celery root gratin. I once enjoyed the hollow stalk of the plant used as a straw in Bloody Mary at a high-end resort brunch, but I have no idea where to purchase the stalks.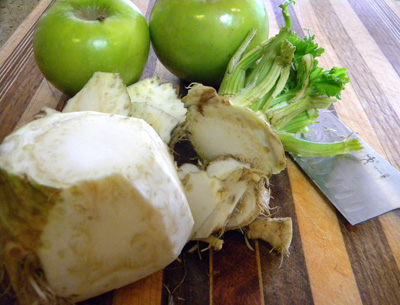 Parmesan Pork Chops with Caramelized Apples and Celery Root
2 thick pork chops
Salt and freshly ground black pepper
2 tablespoons olive oil, divided
1 tablespoon unsalted butter
1/2 cup dry white wine
1 bay leaf
2 whole cloves
1/2 cinnamon stick
1 medium celery root, peeled and thinly sliced
2 Granny Smith apples, thinly sliced around the core
1 tablespoon brown sugar
6 small plum or cocktail tomatoes, halved
1/4 cup shredded Parmesan cheese
Fresh parsley, for garnish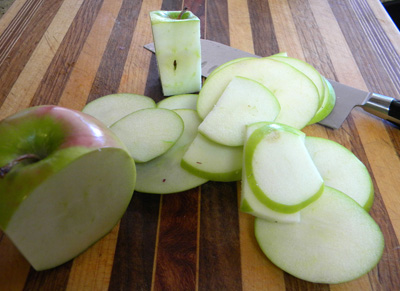 Preheat the oven to 375 degrees. Pat the chops dry with paper towels and generously season with salt and pepper on both sides.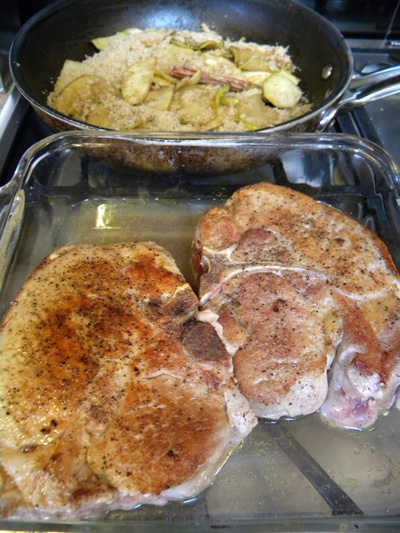 Heat a large skillet over high heat, when hot add 1 tablespoon of the olive oil and butter. Sear the seasoned chops on both sides, until nicely browned, then transfer the pork to an 8-inch baking dish. Do not clean out the skillet. Add the white wine and bay leaf to the baking dish and place in the preheated oven. Bake the chops for 20 minutes, add tomato halves to the pan, and return to the oven for another 10 minutes.
While the pork chops are baking; in the same skillet, add the remaining tablespoon of olive oil and stir-fry the celery root and apple slices over medium-high heat until lightly browned all over. Sprinkle with the brown sugar and continue cooking over very low heat for 5 minutes to caramelize. Remove the whole cloves and cinnamon stick, and season with salt and pepper, to taste.
Remove pork chops from the oven and set change the temperature to broil. Remove the bay leaf and sprinkle the cheese over the top of each chop; baste with the pan juices, then broil for a few minutes to brown the top.
To serve, divide the caramelized celery root-apple mixture between two dinner plates and lay the chops at an angle on top, garnish with the braised tomato halves and fresh parsley.
Serves 2 (recipe can easily be doubled or tripled)