the new "easy – breezy" for my covergirls!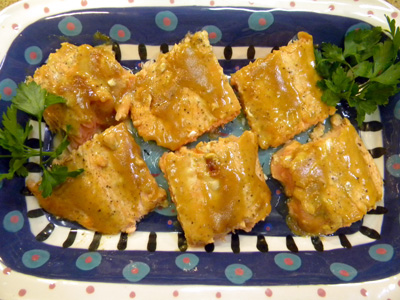 I was spending an evening playing Bunco and chatting with my friends and neighbors a couple of weeks ago when the conversation turned to my blog. Some of the lovelies had found a few of my recipes a bit too complicated, time-consuming, or difficult. Hey, I understand – when you're running in the door at 5:30, 6:00, or even later and still have to get dinner on the table, it's rough!  And they are correct, some of the recipes here are a bit much for a weeknight. So in honor of them and the rest of the busy moms out there, there is a new category in "The Recipe Index" of this blog. Recipes with just a few ingredients that are quick to pull together while trying to get kids to do their homework, stop fighting, set the table, and still have some sane time for yourself!  I'm going to call the new category  "Easy – Breezy" –  because they are just that and because you all look like "CoverGrils" to me!

"Easy – Breezy " Brown Sugar-Honey Mustard Salmon
3/4 cup dry white wine
3 tablespoons unsalted  butter
1 1/2  teaspoons Old Bay seasoning
2-pound center-cut skinless salmon fillet
1/3 cup honey mustard
1/4 cup (packed) brown sugar
Preheat the oven to 350 degrees.
Bring wine, butter, and Old Bay seasoning to a boil in a small saucepan, and continue to boil for 3 minutes.
Line a rimmed baking sheet with foil, lay salmon on top, and season with salt and pepper. Pour wine mixture over. Bake until the fish is opaque in the center, about 12 minutes.  Remove from oven and change oven setting from bake to broil.
Mix mustard and sugar in a small bowl until smooth; spread over salmon to cover.  Broil salmon until topping is brown and bubbling, about 5 minutes.  Cut into serving-size pieces then transfer salmon to a platter and serve.
Serves 8