that seems kinda fudgy!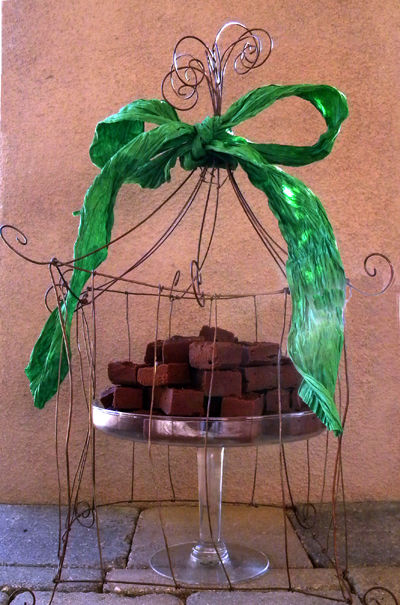 I had a load of marshmallows left from last Friday night's "S'Mores Party" TV shoot. It was just Dave, Marissa, Tram, and me around the fire pit so not too many of the 60 homemade marshmallows were eaten! I don't want them to go to waste, they are too good for that. So I've made fudge, which will, in turn, be given as hostess and Christmas gifts next month. It is possible to freeze fudge – it must be tightly and well wrapped, actually double wrapped is best, and then place it in an air-tight container before placing it in the freezer.  When ready to defrost, place directly in the refrigerator (without opening or unwrapping) for 24 hours before eating or packaging for gifts.
Speaking of that TV shoot, it will air on Monday, November 29th, at 3:30 on Channel 12 Valley Dish. And speaking of holidays, I need to remind you that last year I posted a Complete Thanksgiving Planning Guide and Timeline. And since the big feast is only 9 days away, today would be the perfect day to check it out. I'll keep putting up reminders for the next few days… be sure to get there soon!
Marshmallow Chocolate Fudge
2 cups (12 ounces) bittersweet or semisweet chocolate chips
7 ounces marshmallows (about 12 homemade or 32 store-bought)  or a 7-ounce jar marshmallow creme
2 ounces unsweetened chocolate, chopped
2 cups (packed) dark brown sugar
14-ounce can sweetened condensed milk
3/4 cup whipping cream
6 tablespoons (3/4 stick) unsalted butter
1/4 teaspoon salt
2 teaspoons vanilla extract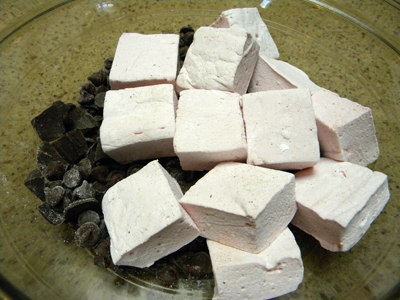 Line a 13×9-inch baking pan with foil, overlapping sides. Place the chocolate chips, marshmallows, and unsweetened chocolate in a large bowl and set aside.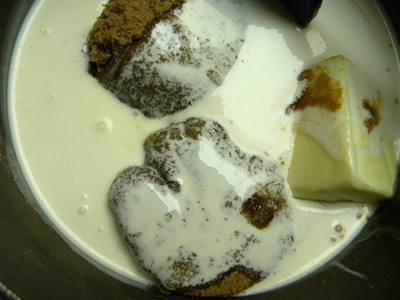 In a medium saucepan stir the sugar, condensed milk, cream, butter, and salt over medium-low heat until sugar and butter melt. Cover with a lid and continue to cook for 4 minutes so that the steam created will wash down the sides of the pan. Remove the lid and attach a clip-on candy thermometer to the side of the pan. Increase heat to high and bring mixture to boil. Reduce heat to medium-high and stir often with a heat-proof rubber spatula until the thermometer registers 230 degrees.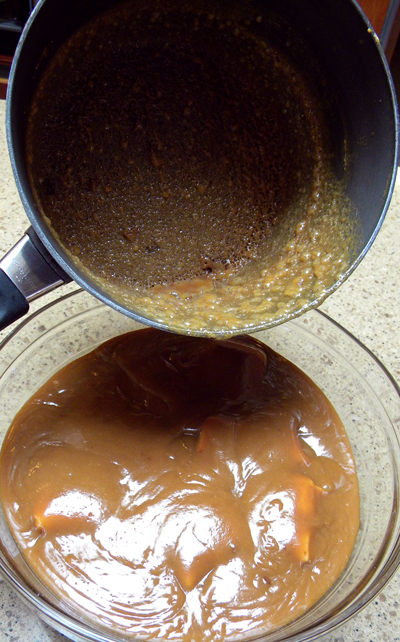 Immediately pour the mixture over marshmallows and chocolates in the bowl (do not scrape the pan, you can see why by looking at the photo above). Allow to sit for 2 minutes to heat and soften the chocolate and marshmallows. Stir the mixture vigorously with a spatula until chocolate and marshmallows melt completely and the fudge thickens slightly. Stir in vanilla extract.
Transfer mixture to prepared baking pan; smooth top of the fudge with a rubber spatula. Cover with plastic wrap and refrigerate until firm enough to cut, at least 3 hours or overnight.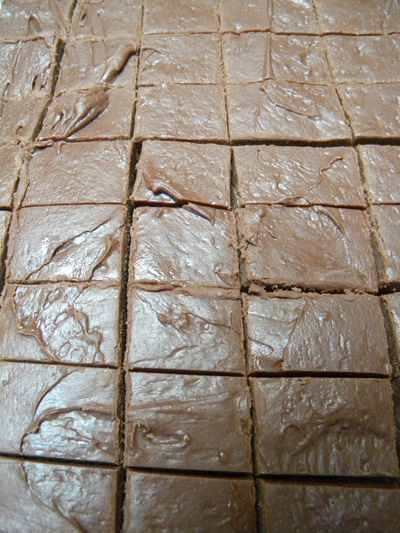 Using foil as aid, lift fudge from pan. Fold down foil sides. Trim off the edges of fudge to make even. Cut into 40 small squares. Place fudge squares in an airtight container with parchment or waxed paper between the layers.
Can be made 2 weeks ahead if refrigerated and up to 6 weeks ahead if frozen. To defrost, remove from the freezer but do not open the container. Place container in the refrigerator for 24 hours, then take out and allow to come to room temperature. This prevents condensation from affecting the fudge.
If refrigerated; let stand at room temperature for at least 30 minutes and up to 1 hour before serving.
Makes 40 squares of delicious "gift-giving worthy" fudge