the big clean out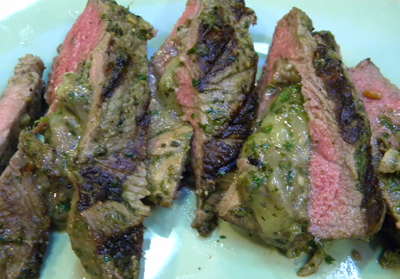 Les Petites Gourmettes summer kids classes are exactly two weeks away. Aside from being a bit behind on typing up approximately 85 recipes needed for the five sessions, I also have got to get my refrigerators and freezers cleaned out so there is room for the impending flood of food needed. If you were to drop by and take a peek at my kitchen, you might think I'm prepared for the next big pandemic. My goal is to not purchase anything besides fresh produce and milk between now and May 28, which is the day I will do the first "big shop" for summer classes. Although my bank account and husband will be happy to hear this, Costco and Trader Joe's stock may take a bit of a hit!
The first things I noticed in the freeze that needed to go were two big New York strip steaks and a lone flank steak (originally purchased in a Costco 3-pack). Additionally, there was a chunk of Pepper Jack cheese,  some almost wilting cilantro, and a partial container of frozen roasted chili peppers in the fridge. Hey, this is going to be easy after all! Obviously, this application will work on just about any protein, from beef to pork or chicken to a firm fish or shrimp.
Cilantro Pesto Steaks
Cilantro Pesto
2 cups packed cilantro leaves
1 cup grated Parmesan cheese
1/2 cup fresh, frozen, or canned roasted chopped green chili peppers
1/4 cup toasted pine nuts
2 cloves garlic, peeled and smashed
1/4 cup olive oil
Salt and freshly ground black pepper
New York strip steaks and/or flank steak
Pepper jack cheese, sliced thin
Pesto: Puree cilantro, cheese, green chile, pine nuts, and garlic in a food processor until smooth, scraping down sides as necessary. With the processor running, add oil in a steady stream until emulsified. Season with salt and pepper. Half of the pesto will be used to stuff the steaks, the other half will be used to coat the outside as a marinade.
New York steaks: Cut a deep and long pocket in one side of each steak. Spread inside of pockets with pesto and lay slices of cheese in one layer, press edges of the pocket together to close.
Flank steak: Position steak with a short side nearest you. Holding a sharp knife parallel to the work surface and beginning on a long side, butterfly steak by cutting it almost in half horizontally (not all the way through), then open it like a book.  Turn steak so a long side is nearest you, spread with pesto then arrange cheese slices evenly over steak, leaving a 1-inch border along the edge farthest from you. Fold the steak "book" shut and press the edges of the steak together to close.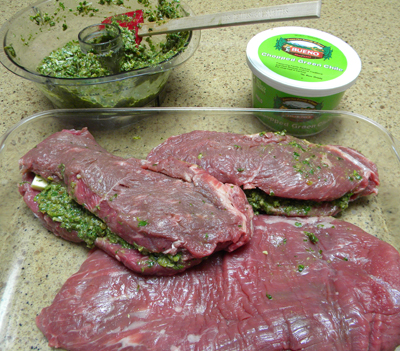 Place all stuffed steaks in a glass pyrex dish and spread all sides with the remaining pesto. Cover with plastic wrap and refrigerate for at least 2 hours.  Remove from refrigerator and preheat grill to high heat. About 10 minutes before you are ready to grill, reduce heat to medium-high.
Remove meat from marinade; discard marinade. First grill flank steak to desired doneness, about 5 minutes per side for medium-rare. Move flank steak off to the side on a cooler part of the grill. Place New York steaks over the heat and grill uncovered, turning once, about 10 minutes total for medium-rare.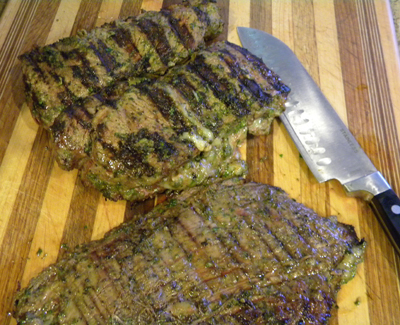 Transfer all steaks to a cutting board. Let stand for 8 to 10 minutes. Cut flank steak across the grain into thin strips and New York steaks across the grain into thick slices.  Arrange on platter or dinner plates and serve.