tax, tea, instagram
Happy Belated 100th Birthday to Tax Day! Woot!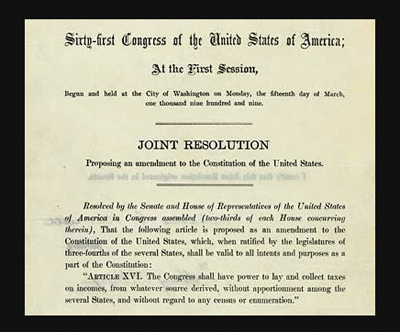 Yes, today is April 15th – Tax Day, but the actual birthday was about 10 weeks ago, on February 3rd. That day marked the 100th anniversary of the ratification of the 16th Amendment, which allowed for an income tax.
Since my husband is a CPA, it is both the bane and the livelihood of his existence. Congratulations, Dave, you made it through yet another tax season! What is this – your 33rd or 34th? Either way, you are my Man of Steel! My Superman!
I know I don't tell you often enough, but it is true. I appreciate all you have done and all you continue to do for me and our family! xoxo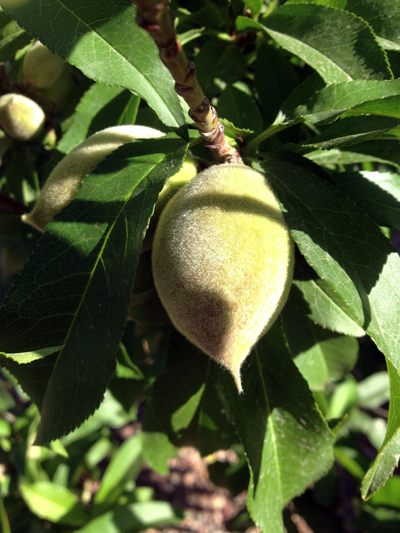 Yesterday, I woke up super early, before the sun, because a big ugly black bird, a grackle I believe, was sitting on the fireplace chimney of our master sitting room and he was yapping it up. The chimney creates a mega-horn effect that travels directly into our bedroom.
I went out front and threw rocks in his direction. I'm not very good at throwing rocks. I have no distance or aim, but he finally got tired of watching me try and flew off. If he returns tomorrow, I'm hauling out my Pellet Gun!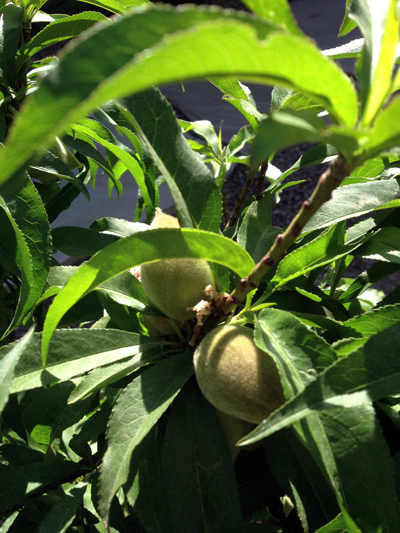 I normally reserve my prized pellet gun, given to me as a Mother's Day gift many years ago, for pigeons. But if that bird starts up with me again…
I may not be good with rocks, but I am an excellent aim with that gun, just ask the loved ones of the pigeons who are no longer around. Enough said!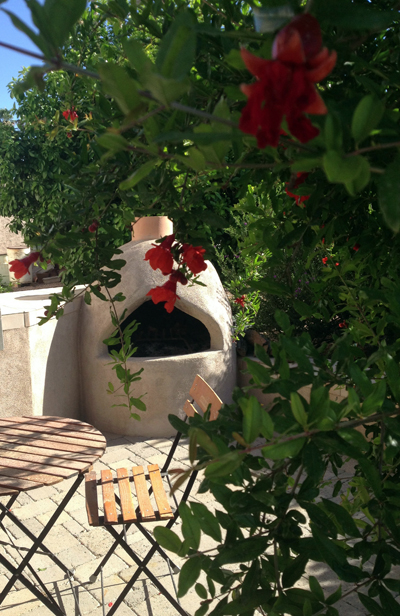 Anyhow, since I was wide awake and all riled up, I went out into my backyard and started checking out what was happening. It was a beautiful morning, so I took a bunch of photos and ended up posting them on Instagram.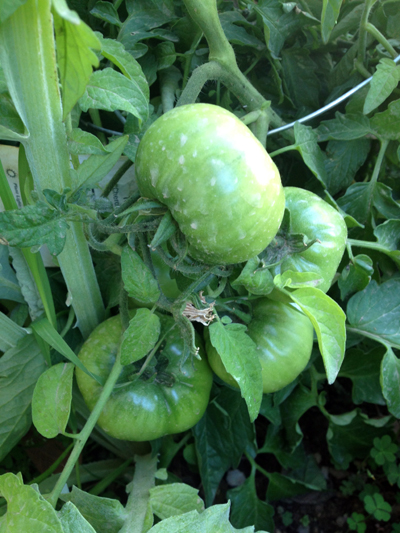 Peaches, pomegranates, Cherokee Purple tomatoes, and the herb garden…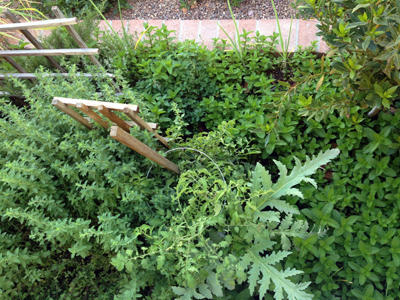 … which is being taken over by the oregano and mint at the moment! I need to get out there and do some serious cutting back!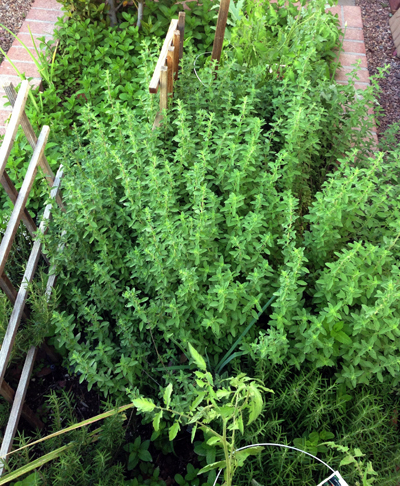 Are you on Instagram? If so, I'd love to follow you. You can find me HERE.
I also made a big jar of sun tea. It is SO good, it's already nearly gone… in only one day, with only one person drinking it… me!
Here's the recipe – plus there are still a couple more garden shots at the end of the post.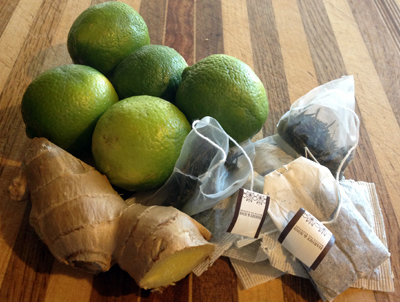 Ginger-Lime Sun Tea
2 to 3-inch piece of fresh ginger, washed and thinly sliced
Cold water
8 to 10 teabags
4 or 5 limes, washed and thinly sliced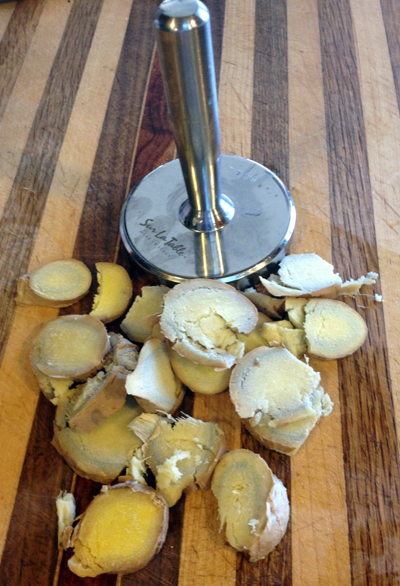 Place the ginger slices on a cutting board and lightly smash with a meat pounder or the side of a chef's knife.
Combine water, teabags, and ginger in a large glass jar or container. Add the limes slices, squeezing just slightly as you add them; cover with a lid.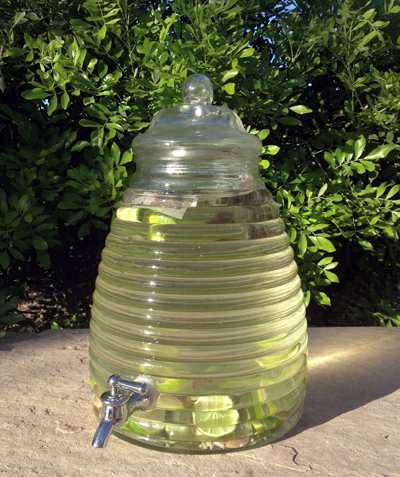 Take outside and let stand in full sun for 2-3 hours.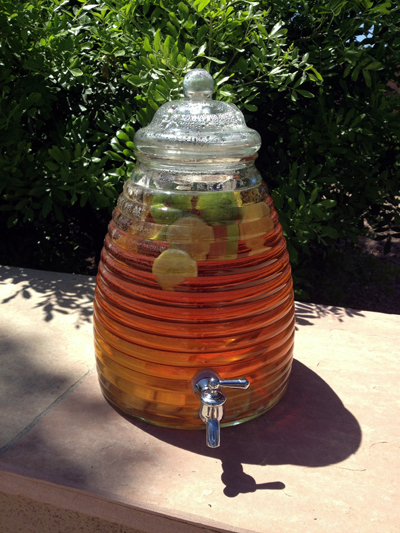 Use a slotted spoon or strainer to remove the teabags, ginger, and limes. Cover and chill. At serving time pour over ice and garnish with fresh ginger and lime or lemon slices.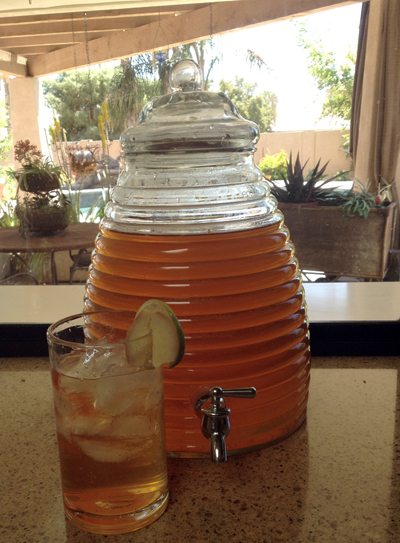 Serves a crowd or 1 girl who loves sun tea and is immune to caffeine
(Yeah, I'm lucky like that, caffeine has no effect on me! I suppose some people would consider this a curse, but happily, I've never needed it to wake me up in the morning.)