soup weather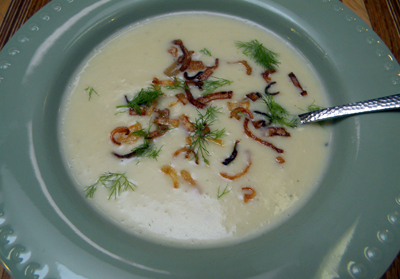 It's been raining for the last few days, so the weather is perfect for a steaming bowl of soup. But you already know how much I love soup, so really it doesn't need to be raining to be the perfect day for me!
As I was working on the computer yesterday, I took a break to check in on  Facebook, and right there on my wall, I saw this post from Chelsea's Kitchen (yes, the same same Chelsea's Kitchen that serves THIS amazing Brussels Sprout Salad).
"Chelsea's Kitchen is the perfect place on a rainy day to get some good 'ole comfort food. Try our potato fennel soup with crispy shallots and parsley!  It's amazing!"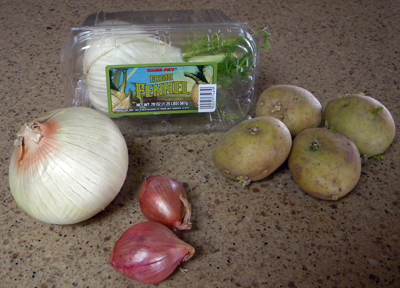 Mind you, I had no intention of driving the 9 miles, in the rain, to eat a bowl of soup and to lunch all by myself.  But… I did have a fennel bulb, potatoes, and shallots in my own kitchen.  Although I don't know if this soup is anything like the one served at CK… I can assure you, it too is amazing!

Potato and Fennel Soup with Crispy Shallots
2 tablespoons plus 1/4 cup olive oil, divided
1 large fennel bulb, trimmed and diced, fronds reserved
1 large onion, peeled and diced
1 pound potatoes, peeled, chopped
Salt and freshly ground pepper
4 cups chicken broth
1 cup milk or half-and-half
1 teaspoon fennel seeds, lightly crushed
1 teaspoon dried tarragon or 1 tablespoon fresh tarragon
2 shallots, peeled and thinly sliced
Heat 2 tablespoons of the olive oil in heavy large pot over medium-high heat. Add fennel, onions, and potatoes; season with salt and pepper. Sauté until onions are translucent, about 5 minutes. Cover pot and sweat for 5 minutes. Remove lid and add broth, bring to boil. Reduce heat, cover, and simmer until vegetables are very tender, about 30 minutes.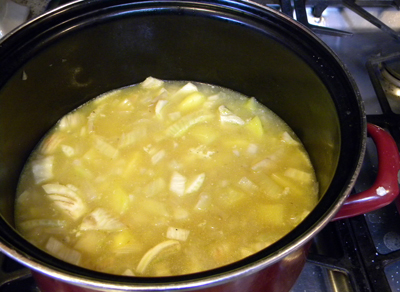 Meanwhile, bring milk, fennel seeds, and tarragon bring to a simmer in heavy small saucepan. Reduce heat to a low simmer for 5 minutes. Remove from heat; cover and let stand 20 minutes so that flavors blend.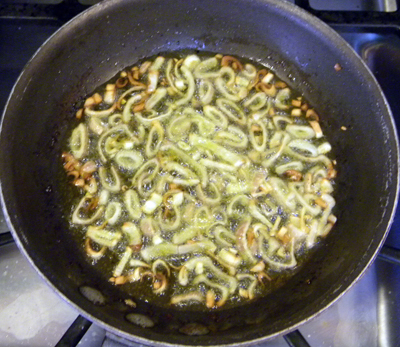 As soup continues to simmer; heat the remaining 1/4 cup olive oil in a small skillet over medium high heat.  When hot, add half of the shallots and cook, stirring frequently, until golden. Use a slotted spoon to transfer the shallots to paper towels to drain, repeat with remaining shallots.  (Cool and save the shallot-oil, use it the next time you sauté vegetables – yum.)
Puree soup in two batches in a blender until smooth. Return soup to same pot. Place a fine mesh strainer over the pot and add the milk mixture Stir to blend. Season to taste with salt and pepper.
Ladle soup into bowls. Garnish with reserved fennel fronds and serve.
Serves 8