sliders
Sliders are irresistible as part of an appetizer buffet. Small and easy to eat while standing, they are the perfect casual party food. If you want to prepare the sliders ahead, place patties on the grill or grill pan and just "mark" each side. Transfer to a baking sheet, allow to cool at room temperature for about 15 minutes, then cover with plastic wrap and refrigerate.  Toast the buns ahead of time, place them on another baking sheet, cover them with plastic wrap and leave them out at room temperature. About 30 minutes before you are ready to serve, preheat the oven to 400 degrees, and finish cooking the patties for 12 minutes. While the patties are in the oven, prepare the buns by spreading on mayonnaise and stacking on the onion, tomato, and lettuce. When the sliders are completely cooked, just assemble, put in decorative picks, cut in half, place on a platter and you're ready to entertain!
Jamaican Jerk Sliders
Chipotle Mayonnaise
1 cup mayonnaise
2 whole canned chipotle chilies
Jerk Sauce
1 bunch green onions, coarsely chopped (about 1 1/2 cups)
1 tablespoon chopped fresh thyme
2 medium jalapeño chilies, seeded
2 garlic cloves, peeled
1/2 cup (packed) golden brown sugar
1/2 cup vegetable oil
1/2 cup soy sauce
1 teaspoon ground allspice
2 pounds ground beef
16 sesame-seed slider buns or Kings Hawaiian sweet bread rolls, toasted
1/2 small onion, peeled and thinly sliced
2 Roma tomatoes, sliced
Lettuce leaves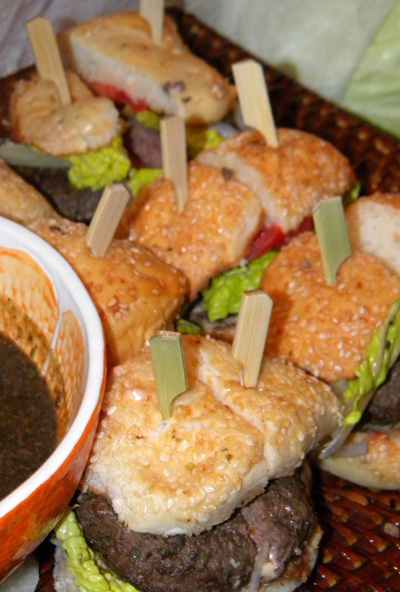 Chipotle Mayonnaise: Place mayonnaise and chipotle in a food processor and blend until smooth, season to taste with salt and pepper. Transfer to a small bowl and refrigerate until ready to use.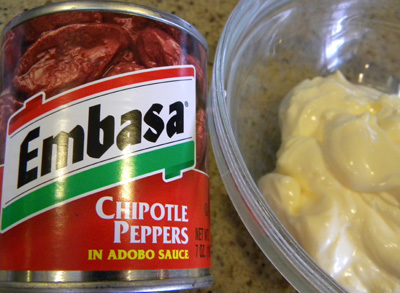 Jerk Sauce: Place green onion, thyme, jalapeño, and garlic in a food processor and pulse to finely chop. Add brown sugar, oil, soy sauce, and allspice and process until almost smooth. Season with salt and pepper.
Set aside 3/4 cup jerk sauce. Shape ground beef into 16 small patties; place in a 13x9x2-inch glass baking dish. Pour 1/2 cup of the jerk sauce over patties and turn to coat; let stand 20 minutes at room temperature.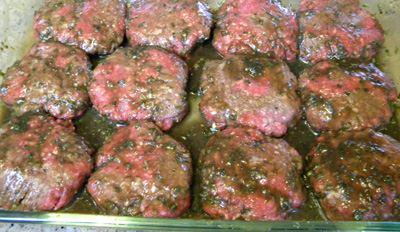 Prepare barbecue or grill pan to medium-high heat.
Grill to desired doneness, brushing occasionally with jerk sauce left in glass baking dish, about 4 minutes per side for medium.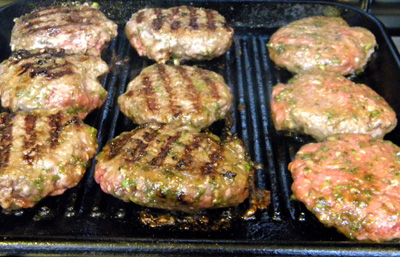 Spread mayonnaise over the toasted sides of buns. Place burgers on the bottom halves of buns. Top with onion, tomato, lettuce, and bun tops. Cut in half, placing a decorative pick in each half to hold it together. Serve, passing reserved 3/4 cup jerk sauce separately.
Makes 16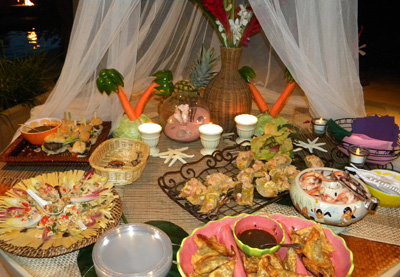 In the picture above, notice the carrot-pepper "palm trees" – cute, aren't they? Easy to make too, just peel the carrots, then place them in ice water to crisp them up.  Cut the peppers as pictured below, then use toothpicks to hold the palms together in a cabbage half.