I've got sole…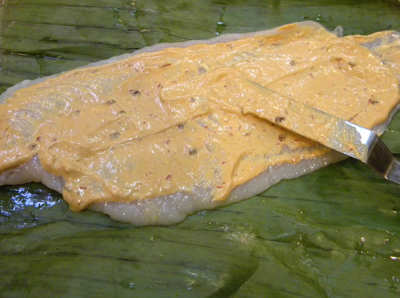 One of my favorite songs by The Killers is All These Things That I've Done. The chorus, "I've got soul, but I'm not a soldier" is my favorite part and was used in a Nike advertisement during the last summer Olympics. Hence the title:  I've got sole.  My niece, Raina, had a post on her Facebook page, right before Easter, that totally cracked me up…  "I've got ham, but I'm not a hamster."  I really did laugh out loud at that one!
I was the lucky and happy recipient of an "over-purchase" of fresh fillet of sole and banana leaves after Wednesday night's cooking class at Les Gourmettes. That meant that Thursday's dinner was on the table in less than 10 minutes! Fresh banana leaves are available at Asian markets, and are very inexpensive, give them a try!  The leaves tear easily, so it is important to quickly pass them over an open flame to make them more pliable and easier to handle. The exposure to heat brightens them and releases the leaf's natural oils and fragrance. When steamed, the leaves tend to lose their vibrant green color and turn a darker shade of olive green. Click here to make the chipotle mayonnaise, if you don't already have some on hand.
Banana Leaf Steamed Fillet of Sole with Chipotle Mayo
Fresh banana leaves
Sole fillets
Salt and freshly ground black pepper
Chipotle mayonnaise
Freshly cooked Jasmine rice, optional
Place water in a steamer pot and bring to a boil, cover the pot and reduce to a simmer while the fish is prepared.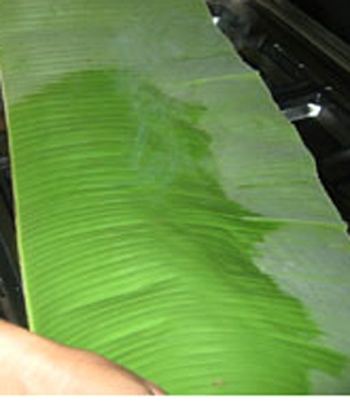 Turn a gas burner on high heat. Hold each banana leaf, one at a time, with tongs and quickly pass the leaf over the open flame. The leaf will turn a brighter green and become soft and pliable.  Cut each leaf to a size just a little longer than the size of each piece of fish.
Place a fillet in the center of a leaf and season with salt and pepper. Spread the top of the fillet with chipotle mayonnaise.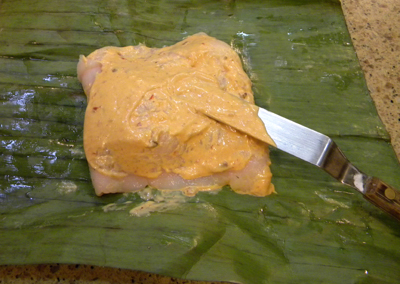 Fold the fillet in half and spread the top with more mayonnaise. Wrap fish as pictured below, then repeat with remaining leaves, fish, and mayonnaise.
Place all fish packets, seam side down in steamer; increase heat to high, cover, and steam for 5 to 6 minutes, or until fish is tender and flakey.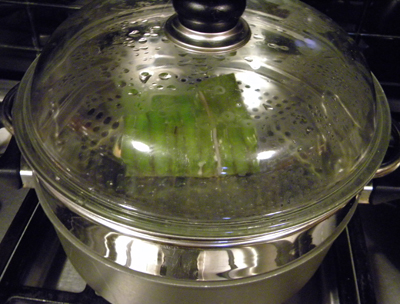 Use a spatula to transfer packets to dinner plates, allowing guests to unwrap their fish and enjoy the fragrant steam as it escapes.  Serve with hot Jasmine rice, if desired.