six months – six ingredients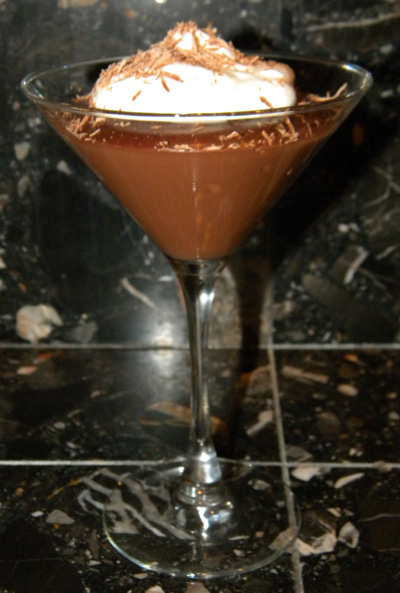 Six months, 185 days, 180 posts, 175 recipes! That's right, today is my 180th post in the past 185 days (which is 6 months) and during that time, I've put up 175 recipes – wow, I have actually kinda impressed myself! To celebrate, I'm having chocolate pudding with only 6 ingredients. OK, there is a pinch of salt that I am not counting as an official ingredient, although you do need to put it in, to punch up the chocolate, so don't leave it out just because it's not part of the ingredient list. I mean, we both know you have salt in your pantry!  And then there is the optional whipped cream and shaved chocolate… but, they are optional, so again, I'm not counting them! To add to the symbolism of it all, I'm using 6 tablespoons of both the cocoa powder and the cornstarch – but if you want to be a party-pooper and you don't want to play along – you can just use 1/3 cup plus 2 teaspoons of each, it's the same thing.
I not only chose chocolate pudding because of the six ingredients but also in honor of my dearly departed Aunt Connie, who was the best cook I knew when I was young and who was a major influence on me in the kitchen. Aunt Connie is my dad's older sister and she and Uncle Paul would invite our family of six to dinner every other month or so. I cannot remember a time that we did not have her made-from-scratch Chocolate-Mint Pudding for dessert. All four of us kids looked forward to that pudding the moment our parents told us we were going over for dinner. The minute that dinner was finished, we would ask to be excused and race to clear the table, wash, and dry the dishes so we could get back to the dinner table and have dessert. So as I dig into my pudding, I shall toast myself with the martini glass we are serving it in and say, "To my lovely and talented Aunt Connie. To another six months, and beyond!"
Old-Fashioned Chocolate Pudding
1 quart (4 cups) cold half-and-half
1/2 cup sugar
6 tablespoons cocoa powder
6 tablespoons cornstarch
1 fresh vanilla bean, split lengthwise, seeds removed with
the backside of a knife
1/3 cup chopped bittersweet chocolate
Cream whipped to soft peaks if desired
Shaved chocolate, if desired
Pour the half-and-half into a medium saucepan. Sift the sugar, cocoa powder, cornstarch and a generous pinch of salt into the half-and-half and whisk until completely blended, add the vanilla seeds that have been scraped from the bean. Place pan over medium-high heat and stir constantly with a large heatproof rubber spatula until the mixture thickens and begins to bubble on the sides of the pan, 9 to 12 minutes. Reduce the heat and stir another 2 or 3 minutes as it continues to thicken.
Stir in the chopped chocolate, stirring constantly for one additional minute. Divided between 6 martini glasses and place plastic wrap directly on the surface of the pudding to prevent a skin from forming. Place glasses in the refrigerator and chill for at least 2 hours or up to 8 hours. Serve with softly whipped cream and shaved chocolate, if desired.
* If you would like to make it "Aunt Connie's Chocolate-Mint Pudding", stir in a scant 1/4 teaspoon mint extract when the chopped chocolate is added.
Serves 6