Shrimp Canapes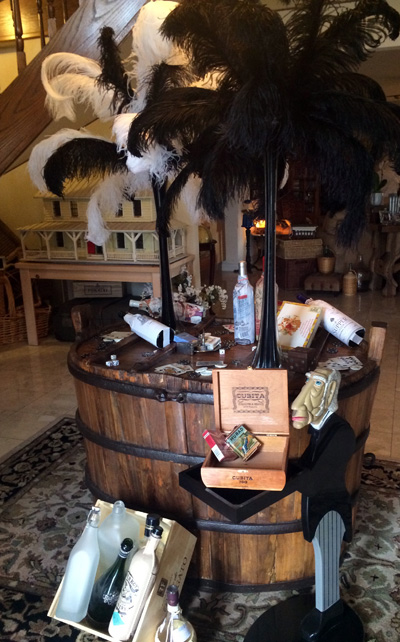 Saturday night was our 10th annual neighborhood Progressive Dinner. The theme this time was "Speakeasy" and we had so much fun with it.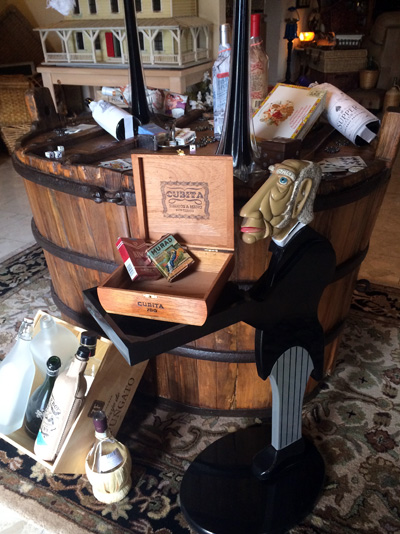 We started with appetizers at Ronnie's beautiful home, then split up to have dinner at the various host homes and finally gathered back together at our house for desserts.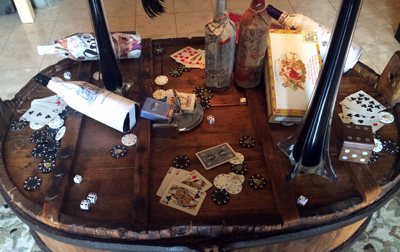 This was what greeted guests when they entered our house.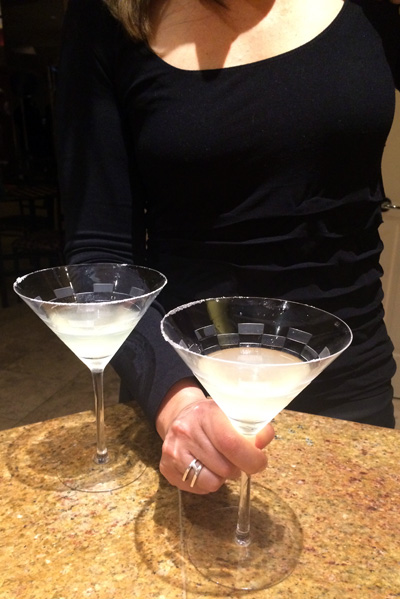 At Joanne's, my "dinner host" home, I enjoyed a wonderful meal where we indulged on Lemon Drops and…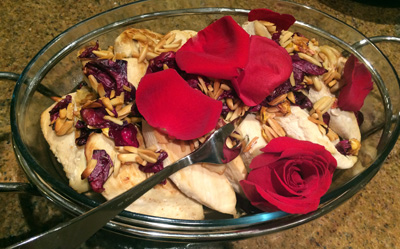 … not only delicious, but beautiful Chicken a la Rose, made by Kim…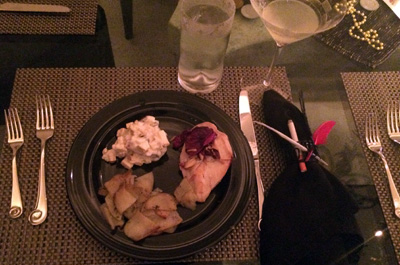 … along with Waldorf Salad and Rosemary Potatoes…
… all in a perfectly jazzy dining room! Pictured are Flapper Ronnie, Cool Cat Scott (with his faux cigarette) and Flapper Kim. Can you even imagine a more perfectly themed dining room than this one, with its life-sized jazz band mural?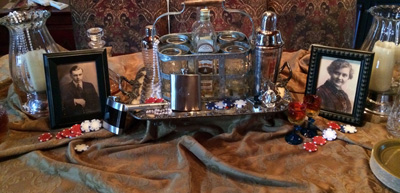 It all began at Ronnie's and her beautifully set hor d'oeuvres table!
I made the appetizers for Ronnie's house and she provided the desserts for mine. I made Piglets in a Warm Puffy Blanket, Bacon Wrapped Cheesy Mushrooms, Spinach Deviled Eggs, and the following recipe for Shrimp Canapes.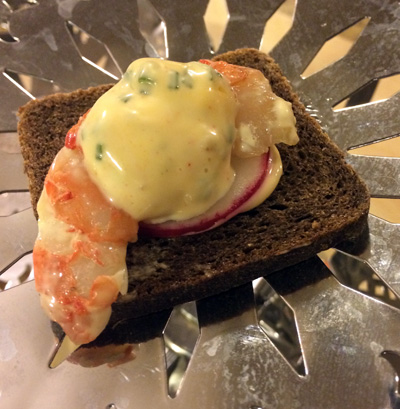 Shrimp Canapes
12 large shrimp, slit down the back and deveined, shells left on
24 slices pumpernickel cocktail bread
24 slices unpeeled English cucumber or radish slices
1/3 cup mayonnaise
2 tablespoons chopped fresh chives
1 teaspoon fresh lemon juice
1/4 teaspoon smoked paprika
Salt and freshly ground pepper, to taste
Fresh chives, for garnish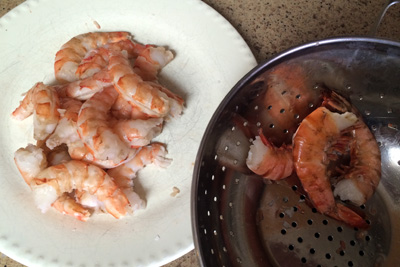 In pot of simmering salted water, poach shrimp for 3 to 5 minutes or just until pink. Drain well and let cool until they are cool enough to handle. Peel shrimp and cut in half horizontally.

Place bread slices on a serving tray; top each with a cucumber or radish slice, then with a shrimp half.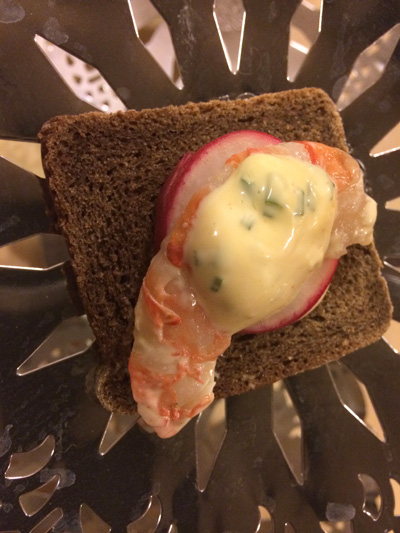 In small bowl, stir together mayonnaise, chives, lemon juice, smoked paprika, salt and pepper. Place a dollop of the mayonnaise on top of each shrimp. Serve immediately.
Makes 24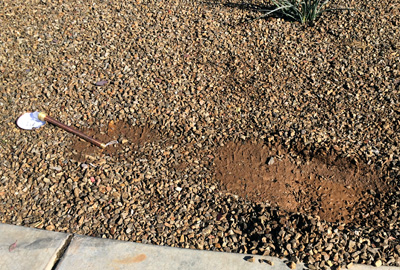 One last note… when you host a party at your house, don't be surprised if someone unintentionally and maybe even unknowingly runs their car over your landscape lighting …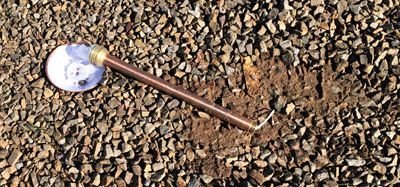 … and basically annihilates it!  No worries, I've repaired it and all is forgiven.