shredded chicken ease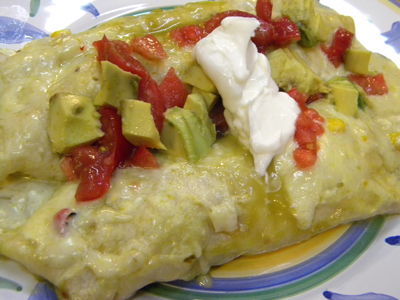 This is meal #1, using the idea of "Cook Once – Eat All Week". Yesterday we roasted 2 chickens, shredded the meat, and will use that for several meals. Each meal will be simple to slam together and slap on the table during busy weeknights. Use as many or as few convenience items as you please. For example; roast, peel, core, and seed your own fresh red bell pepper – or use the jarred version. Shred a block of cheese, or buy pre-shredded. Grind cumin seed or use already ground. You get the drift – make it easy on yourself! This takes only a few minutes to assemble and just 20 minutes to bake. Serve with the garnishes or not.
Tomorrow's shredded chicken dinner will be – Honey Mustard Potato and Chicken Salad.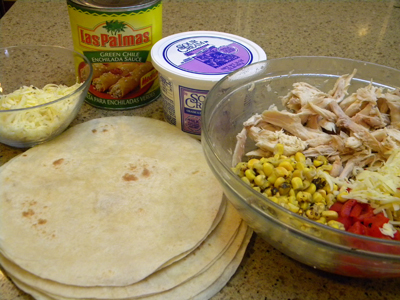 Creamy Chicken and Corn Enchiladas
2 cups shredded roast chicken
1/2 cup diced roasted red bell pepper
1 cup frozen corn, thawed
1 3/4 cups shredded pepper Jack cheese, divided
1 teaspoon ground cumin
Salt and freshly ground pepper
8 flour tortillas
2 cups purchased green chili enchilada sauce, divided
1/2 cup sour cream
Garnishes
1 tomato, chopped
1 avocado, peeled and cubed
Sour cream
Preheat the oven to 350 degrees.
Combine shredded chicken, roasted bell pepper, corn, 1 cup of the shredded pepper Jack cheese, and the ground cumin; season with salt and pepper.
In another bowl whisk together 1 cup of the enchilada sauce with the sour cream. Spread 1/2 cup of the sauce in the bottom of a 13×9-inch baking dish
Divide the chicken mixture between the tortillas, roll up and place in the prepared baking dish. Spoon the rest of the sour cream-enchilada sauce over the enchiladas down the length of the pan in three stripes. Use the remaining 1 cup of enchilada sauce to spoon over the enchiladas down the length of the pan in-between the stripes to make a pattern of dark green and light green sauce stripes. Sprinkle with the remaining 3/4 cup shredded pepper Jack cheese.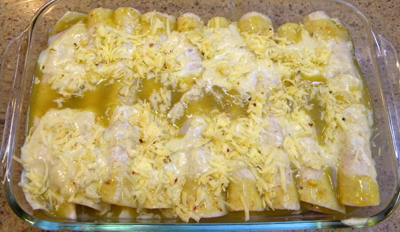 Bake in preheated oven until heated through and cheese is melted about 20 minutes.
Garnish with chopped tomatoes, avocado, and sour cream.
Serves 4