salty sweet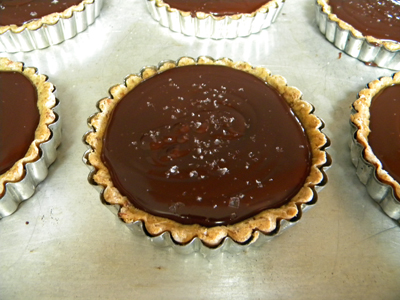 There's nothing like a little salt with your chocolate, the flavor combination is irresistible, no wonder peanut M&Ms are a snacking favorite. The pretzels can be difficult to make into crumbs for this crust, but not to worry, the mixer will do the finishing work for you. Be sure to use the pulse button of your food processor to coarsely chop the pretzels, otherwise, you'll just have a pile of fine crumbs. Then when you add them to the butter and powdered sugar in the mixer and let it go to town, they'll end up being a perfect consistency. Picture proof below!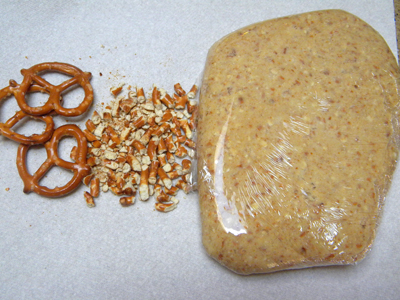 Valentine's Day is only 2 weeks away. This is a special little something you might like to consider making for the sweethearts in your life.
Pretzel-Ganache Tartlets
1/2 cup (1 stick) unsalted butter, softened
1  1/4 cups coarsely crushed pretzels
3/4 cup powdered sugar
1/2 cup cake flour
1 egg
6 tablespoons Nutella
1  1/2 cups heavy cream
2 cups bittersweet or semisweet chocolate chips
2 tablespoons sea salt
In the bowl of a standing mixer fitted with the paddle attachment, beat butter with the pretzels and powdered sugar on high speed for 1 full minute, until creamy. Beat in flour and egg.  Form dough into a disk and wrap in plastic wrap, refrigerate to firm for 30 minutes.
Preheat the oven to 350 degrees. Cut dough into six equal portions and press each portion into 4-inch tartlet pans with removable bottoms (alternately, you may make 1 large tart in a 1—inch tart pan) taking care to press into the corners and up the sides. Place pans on a cookie sheet and refrigerate for 30 minutes.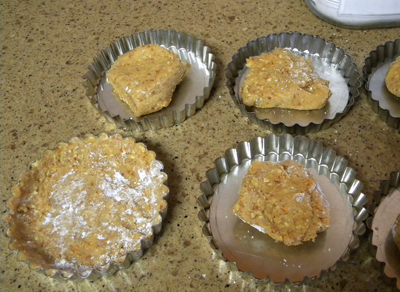 Lay a piece of foil over the tartlet pans and press foil down into each. Fill each tartlet with pie weights or dried beans and bake for 30 minutes.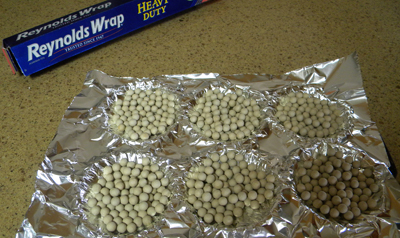 Remove the foil and pie weights and bake 10 minutes more or until firm, browned, and set. Let the shells cool slightly and then drop 1 tablespoon of Nutella into each and use the pack of a spoon to spread into a thin even layer and refrigerate while making the ganache.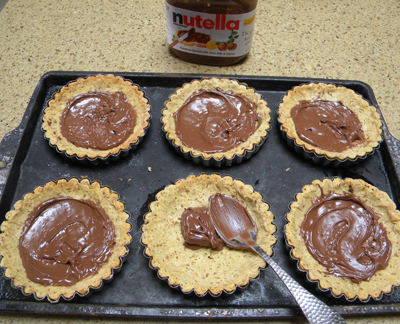 Pour cream into a 4-cup glass measuring cup and microwave on high for 4 to 6 minutes, depending on the power of your microwave, until cream comes almost to a boil; add chocolate, let stand 5 minutes.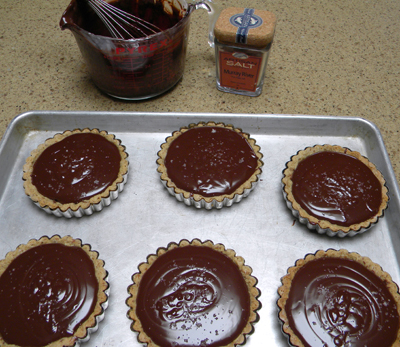 Whisk until completely smooth. Cool ganache slightly before pouring into the crusts.  Sprinkle with sea salt and refrigerate until set, at least 4 hours.

Makes 6 tartlets or 1 large tart