rule breaker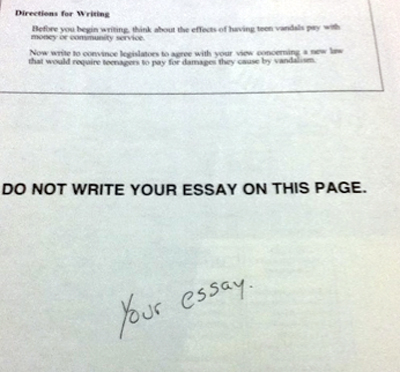 Yesterday I shared with you the details of my typical day of summer cooking school.  What I failed to mention is that I NEVER, and I mean NEVER, do anything in the evenings after classes.  I don't go out with friends. I don't have friends or family over. I don't entertain or want to be entertained. I am basically a hermit crab, retreating into my shell and just trying to rejuvenate for the next day.  Sounds like a great life for 5 or 6 weeks, doesn't it?  On the weekends in-between, I don't plan or do much either. Maybe we'll take in a Diamondbacks game or have my dad over on Sunday, but in general, I don't like to have people over to the house because it's a mess and honestly just way too much work and effort.
All that being said… last night… I broke my own unwritten self-imposed rule. And you know what? It wasn't all that bad. After I finished cleaning up from class at about 2:30, I got busy setting up my tablescape and cooking. As you can see in the photos below, I had it pretty much under some semblance of control amid the chaos by 4:00 PM.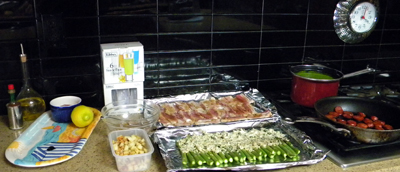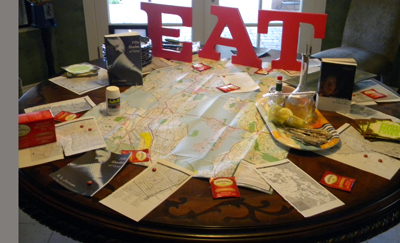 At 6:30 a handful of lovely ladies from my neighborhood arrived for our first-ever book club night. OK, it wasn't just any book club night, we actually named it the "Dirty Book Club".  With those three words, you may have already guessed the book we had read.  And, yes, you are on the money – the book in question is 50 Shades of Grey, by E. L. James.
No need for me to give you a "spoiler alert" if you haven't read the book and plan to do so.  I will not be giving anything of importance away unless knowing that the book is set in the cities of Portland and Seattle would just ruin it for you.  Oops, now you know that. Honestly, nothing of plot significance will be revealed, so read on with confidence.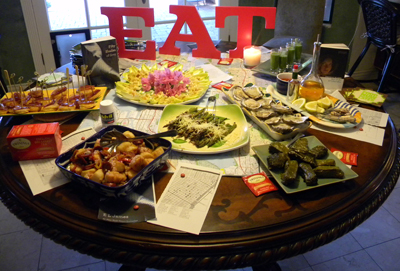 I had fun with the theme, and not for the reasons that just inadvertently popped into your own dirty mind. The book makes specific references to the food they ate; from the pancakes and bacon that Anastasia has for breakfast most mornings, to specific meals they have at fancy restaurants, to the many varietals of wine, almost always white wine, that they drink. In addition, Anastasia loves Twinings English breakfast tea and Christian is constantly telling her she needs to eat and to take Advil.  Along with the food and drink specifics, there are many references to music… making a playlist was a no-brainer.  Without further ado – here is your complete party plan.
My 50 Shades Menu and Party Plan
Food
Pancake Bites with Brown Sugar Bacon lightly drizzled with Maple Syrup
Parmesan Roasted Asparagus
Individual Chicken Caesar Salad Spears
Seared Scallops and Chorizo with Roasted Bell Peppers and Shallots
Stinging Nettle Soup Shooters (with spinach in place of the impossible-to-find stinging nettles)
Raw Oysters on the Half Shell with Cocktail Sauce, Lemon Wedges, Tabasco, and Jalapeno Vodka as condiments
Chilled Wine
Pouilly Fumé
Pinot Grigio
Rosé
Chablis
Prosecco
MIA Dessert
50 Shades of Grey mini-cupcakes
Playlist
Witchcraft by Frank Sinatra
Canon and Gigue in D Major: I. Canon by English Concert & Trevor Pinnock
Spem in alium by  The Sixteen & Harry Christophers
24 Préludes, Op. 28, No. 4 in E Minor: Largo by Alexandre Tharaud
The Blower's Daughter by Damien Rice
La Traviata – Prelude by Giuseppe Verdi
The Lightning Strike by Snow Patrol
I'm On Fire by Bruce Springsteen
Misfit by Amy Studt
Adagio from Concerto No 3 in D Minor, BWV 974 by James Rhodes
Sex On Fire by Kings of Leon
Lakmé (Act I): Flower Duet by Alain Lombard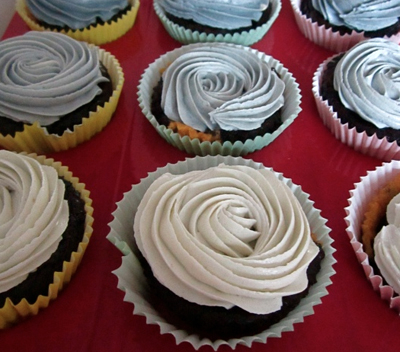 Photo and recipe from Tracy at PaleYellow.net.  CLICK HERE to get the recipe.
Unfortunately, I did not have time to make the cupcakes, but I still wanted to include them on the menu plan for you… just in case you decide to have your own 50 Shades Party.  I planned on making them mini, instead of full-sized, as pictured.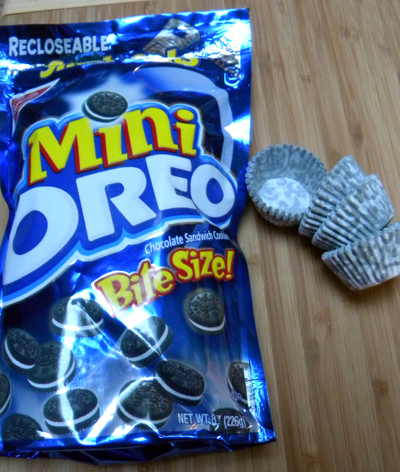 I even found cute little gray cupcake liners – and yeah, you are seeing that correctly – each cupcake has an Oreo inside … darn, how cute they would have been – if only I'd had an extra hour of time!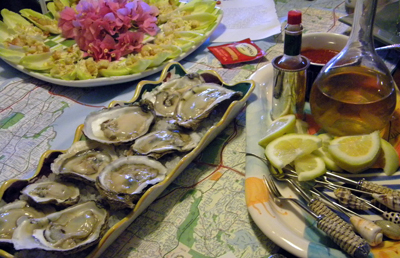 OK, back to what I did make. Oysters on the half shell are easy, as long as you have an oyster knife to open each one. If you haven't worked with raw oysters before,  CLICK HERE to learn how to open them correctly.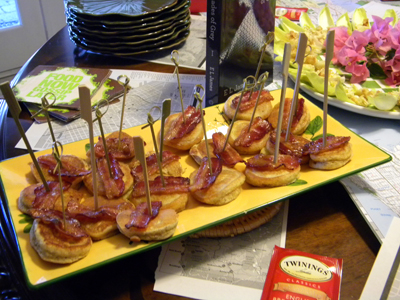 For the Pancake Bites, I just used a pancake mix and cut the bacon in thirds, and threw it in the oven for my Brown Sugar Bacon.  Easy!
Oh, and for decor, I covered the table with maps of Seattle and Portland, and scattered Advil pills and Twinings tea bags around. I propped up a copy of 50 Shades of Grey by E. L. James and a copy of Tess of the d'Urbervilles by Thomas Hardy (an important novel talked about in the book) on either side of the table. Finally. I took my big red E A T letters off the kitchen wall and stood them at the top edge to anchor the whole thing – Done. Easy!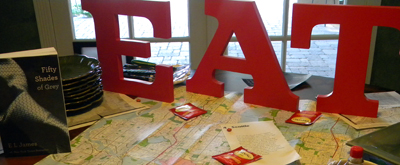 Tomorrow, I will post the recipe for the Seared Scallops and Chorizo with Roasted Bell Peppers and Shallots. Today, I give you the recipe for the Caesar spears.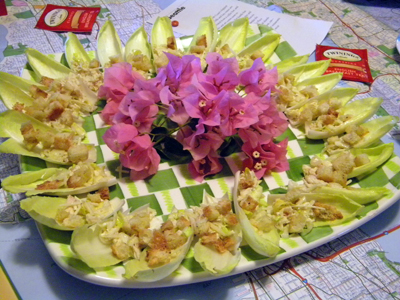 Individual Chicken Caesar Salad Spears
1 cup 1/4-inch diced country white bread
3 tablespoons olive oil, divided
1 anchovy fillet
1 small garlic clove, peeled and smashed
Salt and freshly ground pepper
2 tablespoons  mayonnaise
1 teaspoon finely grated lemon zest
1 tablespoon fresh lemon juice
1/4 cup freshly grated Parmesan cheese, divided
3 Belgian endives
1/2 cup cooked and finely shredded boneless skinless chicken breast (I use breast meat from a rotisserie chicken)
Preheat the oven to 350 degrees. In a medium bowl, toss the bread with 1 tablespoon of olive oil and season with salt and pepper.  Spread the bread cubes on a baking sheet and toast in preheated oven for about 10 minutes, stirring after the first 5 minutes, until golden and crisp. Set aside the bowl, you will use it to make the dressing.
Meanwhile, place the anchovy, smashed garlic clove, and a pinch of salt on a cutting board and minced into a paste.  Place the paste in the same bowl used for the croutons.  Whisk in the mayonnaise, lemon zest, and lemon juice. Slowly whisk in the remaining 2 tablespoons of olive oil and season with salt and pepper, to taste. Stir in 2 tablespoons of the Parmesan cheese.
Trim the bottom of each endive and remove the largest leaves from the heads. Thinly slice the remaining centers of the endive. Add the sliced endive and the chicken meat to the bowl and toss with the dressing.
Spoon the salad into each spear and garnish with the croutons and remaining Parmesan cheese.  Serve immediately.
Makes about 24