Roasted Cauliflower Mac & Cheese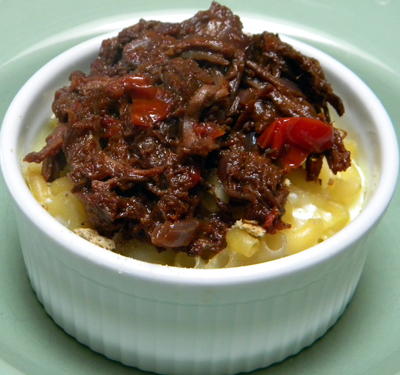 This recipe combines parts of two recipes already posted here; the mac & cheese part is of this recipe. Plus roasted cauliflower from this recipe, which I posted nearly three years ago.
I've made a few tweaks to the original recipes and combined them.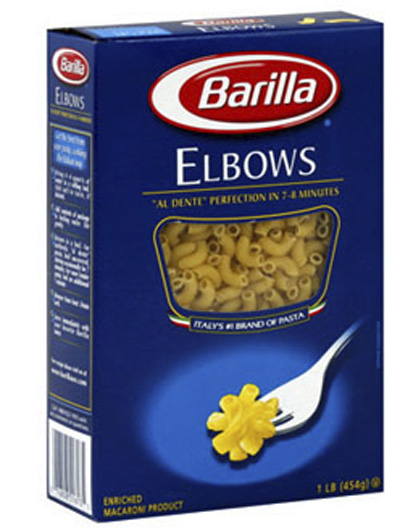 One problem, I did not read my recipe and made the mac & cheese pictured below with a full pound of macaroni instead of the 8 ounces called for.  It was still delicious in flavor, just dry instead of creamy, as it should be.
If you don't make the same mistake, your family will love this version of good old mac & cheese!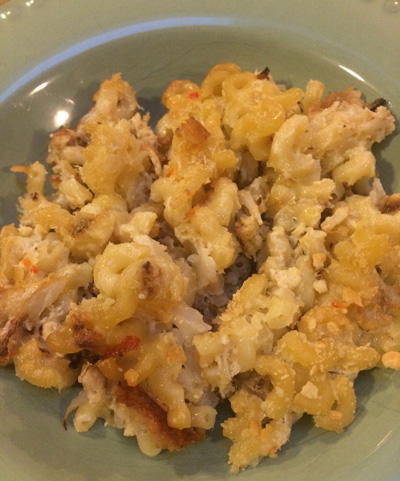 Roasted Cauliflower Mac & Cheese
Roasted Cauliflower
1 head cauliflower
3 tablespoons olive oil
1 tablespoon chopped fresh thyme leaves
Salt and freshly ground black pepper
Mac & Cheese
1 cup crushed buttery crackers (such as Ritz), plus 6 more crackers for the topping
2 cups grated white sharp cheddar, divided
2 tablespoons unsalted butter, melted
1 tablespoon salt
8 ounces uncooked elbow macaroni
2 cups grated Fontina cheese
1 cup grated fresh mozzarella cheese
2 large eggs
1/2 cup milk
1/4 cup plain yogurt
1/2 teaspoon salt
1 jalapeño pepper, seeded and minced
Roasted Cauliflower: Preheat oven to 425 degrees.
Wash the cauliflower. Cut off and discard the stem. Cut the cauliflower into small pieces.
In a large bowl, combine the olive oil, thyme, salt, and pepper. Add the cauliflower pieces and toss to thoroughly coat each piece.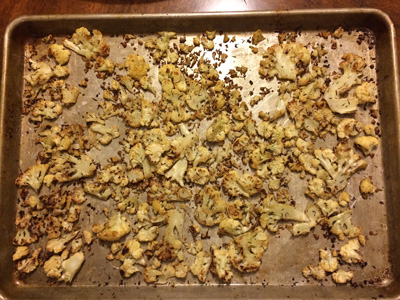 Place cauliflower on a baking sheet, leaving space between the pieces. Roast until the cauliflower is tender and a golden brown, about 15 minutes on each side, for a total of about 30 minutes.  Set aside to add to macaroni mixture.
Mac & Cheese: Reduce the oven to 350 degrees. Grease an 8 x 8-inch baking dish with cooking spray and set aside.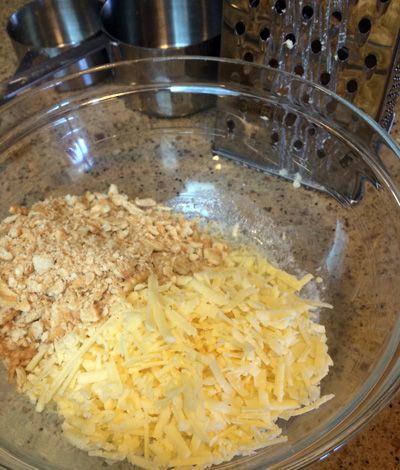 In a large bowl, combine the crushed crackers, 1 cup of the shredded cheddar cheese, and the melted butter, mixing well. Remove 1 cup of the mixture and set aside. Spread the rest into the bottom of the greased pan.
Meanwhile, bring a large pot of water to a boil, add 1 tablespoon salt and the 8 ounces of elbow macaroni and cook according to package directions, for about 8 minutes, drain and immediately dump into a large bowl.
Add the remaining cheddar, Fontina, and mozzarella to the hot pasta in the bowl, stirring to melt the cheeses.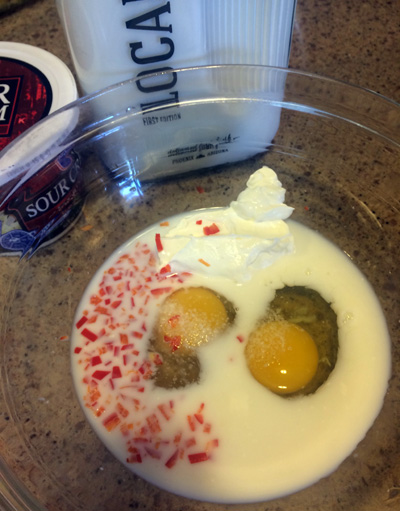 In a separate small bowl, combine the eggs, milk, yogurt, salt, and jalapeño and mix well.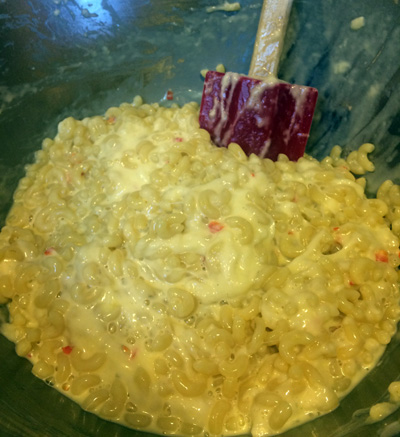 Add the egg/milk mixture to the cooked macaroni, mixing until all the ingredients are melted and smooth, and well combined. Stir in the roasted cauliflower until evenly mixed.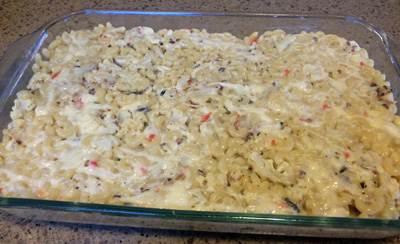 Pour the mixture into the 8 x 8-inch prepared dish (not a larger dish, as shown above) and sprinkle with the reserved cheese/cracker mixture.
Bake in the preheated oven until lightly golden on top, about 25 to 35 minutes.
Serves 6