red velvet heaven or "SMTh" – Part 4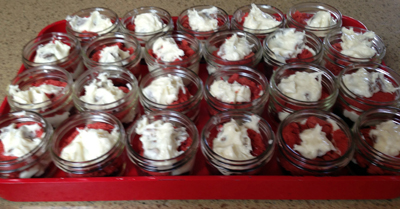 This post should be called "Surprise Me Thursday – Part 4" except we didn't make this dessert on Thursday.  No, we made it to serve 24 at our Teen Week graduation lunch on Friday.  Although, I did find it on Pinterest… and originally I had planned to make it on a Thursday.  Until, one of the students wrote down "Red Velvet Cake" on their menu suggestion card (which I have the teens fill out on Monday mornings), and I thought, "Hey this is the perfect opportunity to make those cute mason jar cakes I see daily all over Pinterest."  Two Birds – One stone.
These are so delightful and oh so delectable, that they are now my go-to party dessert!
By the way, we made the recipe twice to get 24 jars.  You may double the frosting but don't try to double the cake portion… instead, make two separate batches.

Red Velvet Mason Jars
Cake
2  1/2 cups cake flour
2 tablespoons cocoa powder
1 teaspoon salt
1 cup buttermilk
2 tablespoons liquid red food coloring
1  1/2 cups sugar
3/4 cup  (1  1/2 sticks) unsalted butter, room temperature
2 eggs
1 teaspoon vanilla extract
1 teaspoon baking soda
1 teaspoon white distilled vinegar
Cream Cheese Frosting
8 ounces cream cheese, room temperature
1/2 cup (1 stick) unsalted butter, room temperature
1 cup marshmallow fluff
1 pound (about 4 cups) powdered sugar
1/2 cup shredded coconut
1/2 cup chopped pecans
Plus you will need
Twelve 1/2-pint wide mouth mason jars
Cake: Preheat oven to 350 degrees. Butter and flour a 17 x 12 1/2-inch (approx.) baking sheet.
In a medium bowl, whisk together the flour, cocoa powder, and salt; set aside.
Measure 1 cup buttermilk in a liquid measuring cup and whisk in the red food coloring until combined; set aside.
In the bowl of a standing mixer, cream together the sugar and butter, and beat until light and fluffy. Add the eggs one at a time, mixing well after each addition.
Add flour mixture to the creamed butter/sugar mixture alternately with the red buttermilk. Blend in vanilla.
In a small bowl, combine baking soda and vinegar and mix into the batter. Pour batter into the prepared pan. Bake for 25 minutes, or until a toothpick inserted into the center comes out clean. Remove from oven and cool completely.
Frosting:  Beat cream cheese and butter together in a mixing bowl until light and fluffy. Add marshmallow fluff and powdered sugar, and mix until smooth and creamy.
Place about 2/3 of the frosting in a pastry bag fitted with a large open star tip.  Fold the coconut and pecans into the remaining 1/3 of the frosting left in the bowl. Set both aside while you cut the cake.

Once the cake has cooled, use a 2 1/2-inch round cookie cutter to cut out 24 circles. Place 1 cake round in the bottom of each mason jar (you may add some of the scraps to each too if you would like). Evenly divided the coconut-pecan frosting between the mason jars by placing a dollop on top of the cake round in each jar.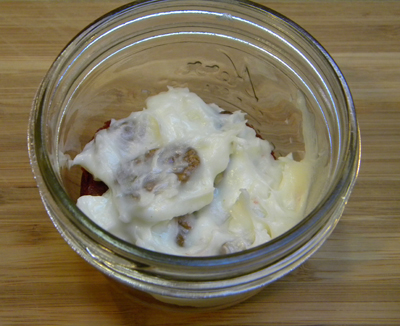 Top each with another cake round. Using the pastry bag, pipe a large swirl of frosting on top of each.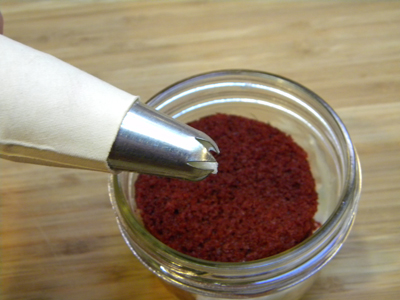 Hand out spoons and listen as the room goes silent while everyone floats off into heaven.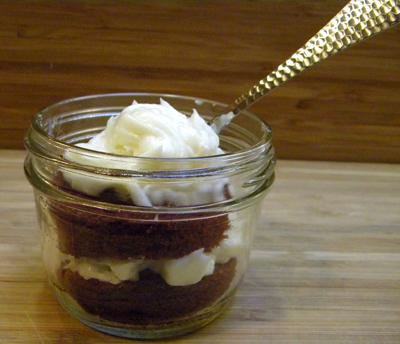 Then the oohs and aahs can be heard as everyone goes to town on those jars! YUM!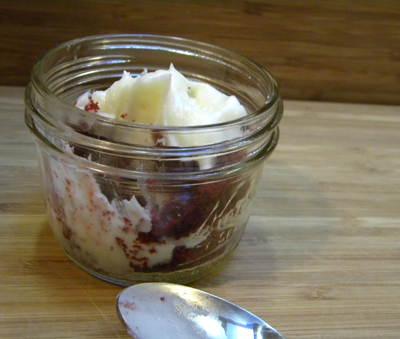 Makes 12 jars