Ratatouille Gratin
I found the recipe for this next dish on Food52 and made it for Paul's "Welcome to the Lake" dinner on Saturday night. It is a delicious and stunningly beautiful dish.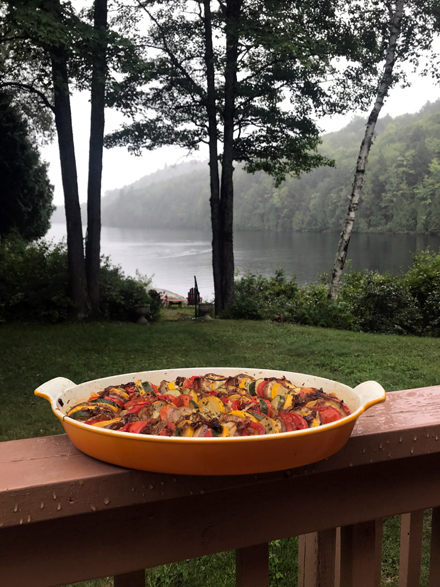 I added and omitted a few ingredients from the original recipe. In the photos, you'll see 2 zucchini, 2 yellow squash, and 2 eggplants, but that was too much for the baking dish, so in the recipe, I say to use one of each.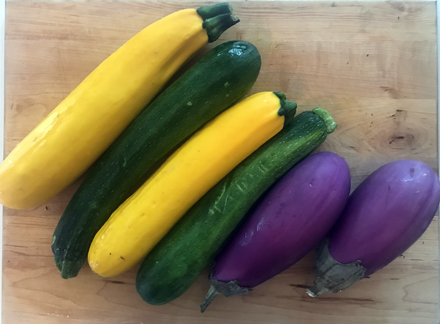 Don't worry, we didn't let those go to waste. I spread the excess on a sheet pan, seasoned and baked them off for another meal.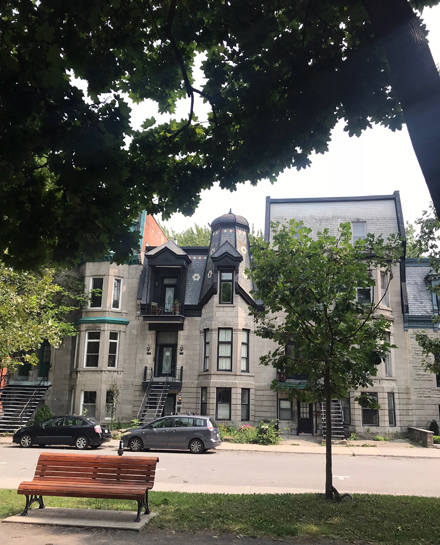 We picked up Paul at Montreal-Pierre E Trudeau International Airport at around 10:30 am.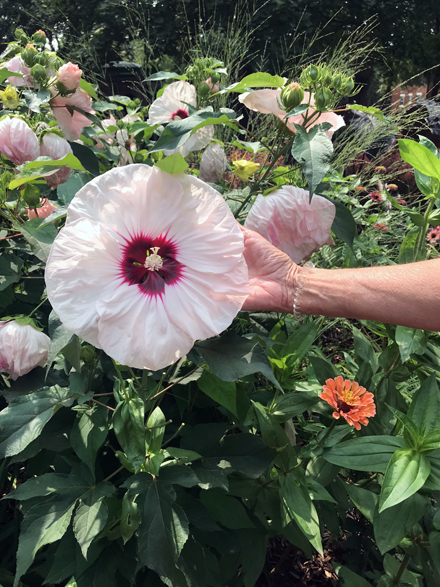 We then drove to Old Montreal, parked, and walked about a mile and a half to Schwartz's for their famous smoked meat sandwiches.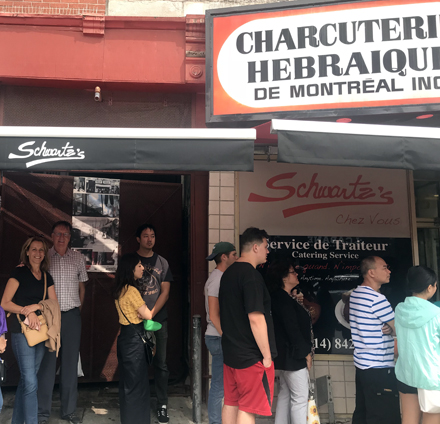 That sandwich was just as spectacular as I remembered from when I visited in October, 2010.
 
Ratatouille Gratin
4 tablespoons olive oil, divided
2 garlic cloves, peeled and minced
1 tablespoon fresh thyme leaves
1 tablespoon fresh oregano leaves
1 tablespoon fresh rosemary, minced
1 large onion, peeled and thinly sliced
Salt and freshly ground pepper, to taste
4 large Roma tomatoes, sliced into thin rounds
1 large zucchini, sliced into thin rounds
1 large yellow summer squash, sliced into thin rounds
1 Japanese eggplant, sliced into thin rounds
3 red bell peppers, roasted, seeded, peeled, and cut into pieces of similar size to the tomatoes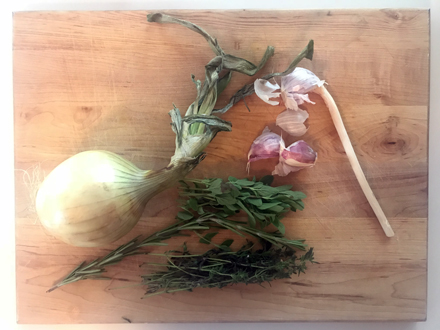 Preheat an oven to 400 degrees.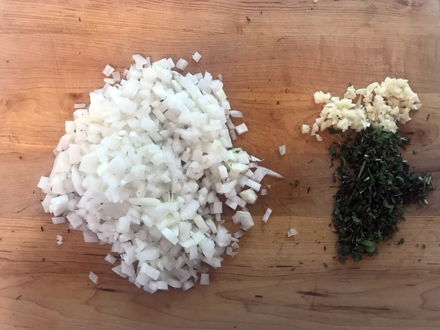 Heat a 12-inch stainless-steel gratin or oven-safe skillet* over medium heat, and add 1 tablespoon of the olive oil.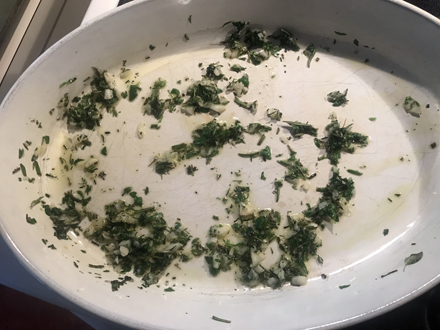 Add the garlic and thyme and cook, stirring just until fragrant, less than 1 minute. Transfer to a large bowl and set aside.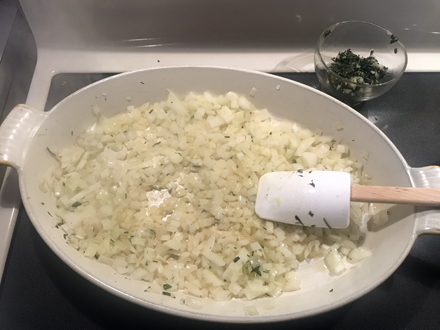 Add another tablespoon of the olive oil to the gratin and return to medium heat. Add the onion and sauté, stirring occasionally, until the onions are lightly caramelized about 12 to 15 minutes. Remove from the heat, season to taste with salt and pepper, and spread the onions to cover the bottom of the gratin.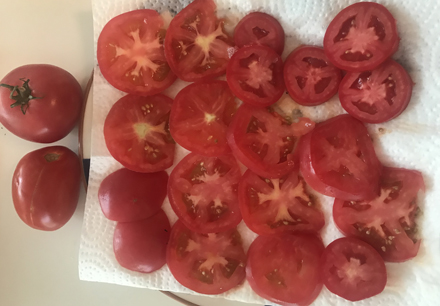 Arrange the tomato slices in a single layer on a paper towel-lined plates to absorb any excess liquid. Season with salt and pepper. Set aside.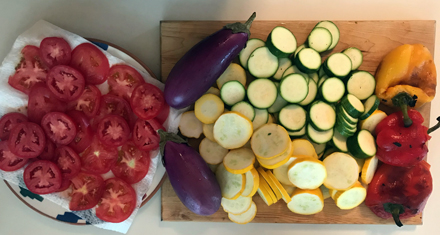 Add zucchini, squash, eggplant, and pepper slices along with the remaining 2 tablespoons olive oil to the large bowl with the garlic-thyme mixture. Toss until well combined and season with salt and pepper.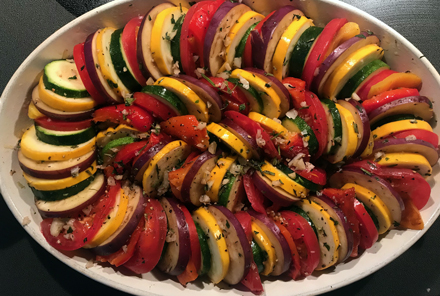 To build the gratin; arrange overlapping slices of tomato, squash, eggplant, and pepper, as if they were shingles, around the outside edge of the gratin.
Continue by making a second ring of overlapping vegetable slices inside the first ring and finish with a row of overlapping slices down the center of the gratin.
Bake until the vegetables are lightly browned and tender, about 45 minutes. Let rest 5 minutes before serving.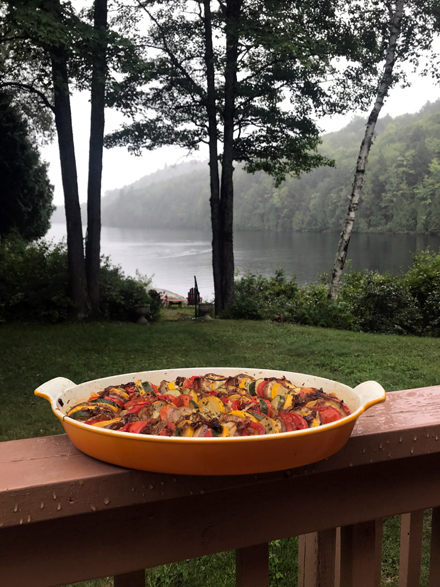 Serves 6
*To make any skillet oven-safe, double wrap the handle with heavy-duty foil.