quick chicken pasta dinner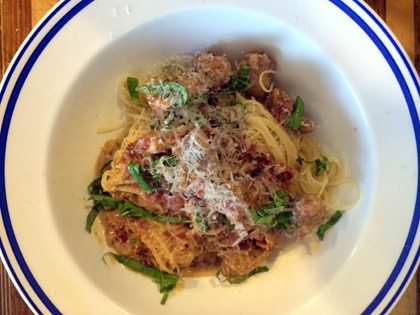 We're on a chicken kick at my house. Boneless skinless chicken breast is what I make for dinner when I'm uninspired. Not that that's a bad thing.
After all, one can't be creative and "in the mood" to make a "wow" dinner every night!
Even so, this quick and easy pasta dinner put smiles on the family's faces.
The best part …. even though the cupboards are quite bare … I had everything on hand and didn't have to make a trip to the grocery store.
Winner Winner Chicken Dinner!
Creamy Cajun Chicken Pasta
2 boneless skinless chicken breasts, cut into bite-size chunks
6 ounces linguine, spaghetti, or capellini; cooked al dente
2 teaspoons Cajun seasoning
1 tablespoon each; unsalted butter and olive oil
1/2 red onion, peeled and diced
2 garlic cloves, peeled and minced
1/4 cup chopped sun-dried tomatoes
1 cup half and half
1/4 cup fresh basil, julienned
1/4 cup grated Parmesan cheese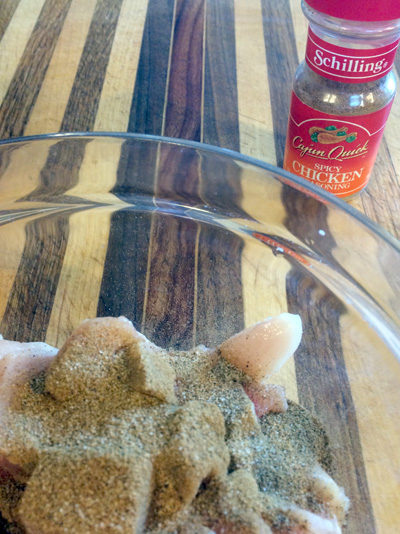 Place chicken chunks and Cajun seasoning in a bowl and toss to coat.
In a large skillet over medium heat, melt the butter and olive oil together and sauté the chicken until tender, about 5 minutes. Transfer chicken to plate.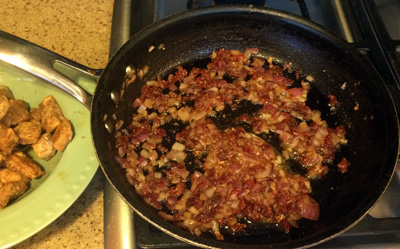 Reduce heat on skillet add onion and garlic and cook until soft and translucent, stir in sun-dried tomatoes.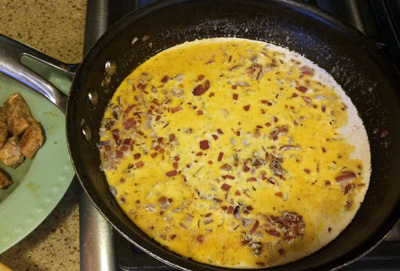 Add half-and-half and reduce slightly. Return chicken to skillet and heat through. Pour over hot pasta and toss. Sprinkle with basil and Parmesan cheese.
Serves 4