pork stir-fry
For Christmas I make one big dinner on Christmas Eve for my mother and our family and then another big dinner on Christmas day for my dad and our family – yes, my parents are divorced, so multiple big dinners are a must. Like many of you, there are many different "family" dinners that take place over the season. Thankfully, (at least for this time of year) my in-laws don't live in town (Illinois) so we don't have to go from one house to another for all that family time! All those big dinners produce a lot of leftovers. On one of those nights, I generally serve a crown pork roast, which leaves plenty of leftovers. But if you serve, turkey, beef, or ham, whatever; use that cooked leftover meat for this dish! After all the traditional Christmas recipes, Asian stir-fry is a perfect change of pace for any palate!
Here it is December 15th and my garden is still producing herbs and cherry tomatoes. We've had a couple of nights of freeze, but the garden is still holding on, gotta love Arizona!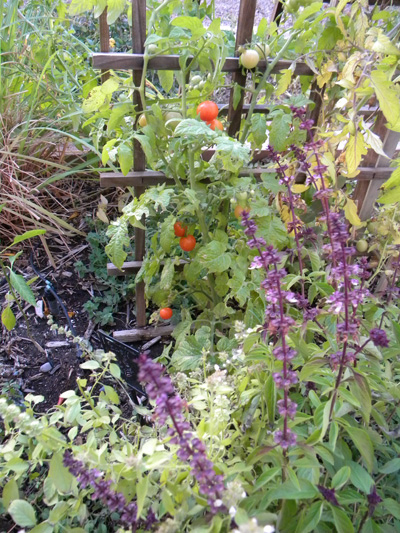 I also love using broccoli in stir-fry, but not only the florets. The stems are wonderful too, don't discard them! Cut off the florets, then peel the stems and cut them into matchsticks. The stems are crispy and delicious!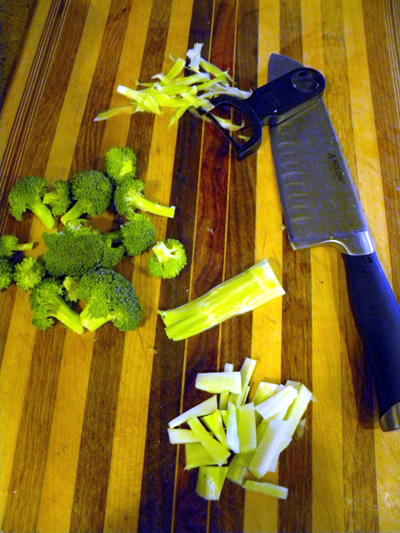 When stir-frying, be sure to prep all the various components and set them right next to the stove. Stir-frying happens quickly and having everything ready and at hand is more than important, it is a necessity!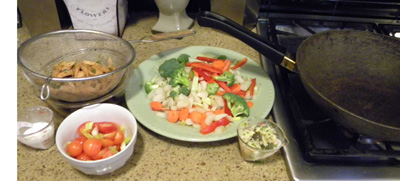 Leftover Pork Stir-Fry
Sauce
1/3 cup dry sherry
1/4 cup soy sauce
2 tablespoons Oriental sesame oil
1 heaping tablespoon hoisin sauce
1 tablespoon red wine vinegar
1 tablespoon Chinese chili sauce
1 teaspoon sugar
1/2 teaspoon salt
3 tablespoons minced fresh basil
Grated zest of 1 lime
10 ounces cooked pork sliced into match-stick size pieces (about 2 1/2 cups)
Seasoning
1 heaping tablespoon peeled and minced fresh ginger root
2 garlic cloves, peeled and minced
1 tablespoon finely minced jalapeno
Hard Vegetables
1 medium stem broccoli, florets, and stalks cut into matchsticks
2 medium carrots, peeled and cut into coins
1 red bell pepper, cored, seeded, and cut into matchsticks
8-ounce can of sliced water chestnuts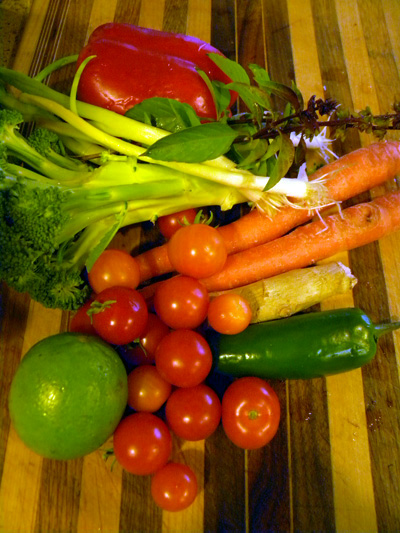 Soft Vegetables
12 cherry tomatoes, halved
1/2 bunch of green onions, sliced into 1/2 inch pieces on the diagonal
1 heaping tablespoon cornstarch mixed with 1 tablespoon water in a small bowl
Peanut or canola oil for stir-frying
1 cup peanuts
4 cups cooked Jasmine, brown, or Basmati rice
In a medium bowl, stir together the sauce ingredients. Add the pork to the bowl and immediately lift out the pork and place in a strainer, set a strainer in the bowl over sauce to drain. Set bowl next to the stove.
Place the Seasoning ingredients in a small bowl and set it next to the stove.
Place all the hard vegetables on one plate or bowl and the soft vegetables on another plate or bowl and set them next to the stove.
Set the bowl with the cornstarch/water mixture next to the stove.
Stir-Fry: Place a wok or a large sauté pan over the highest heat.  Once the wok is very hot, add 2 tablespoons of oil to the center and tilt the wok or pan to coat the bottom and sides with oil. When the oil just beings to smoke, add the Seasoning mix to the wok, sauté for only a couple of seconds, then add the hard vegetables and stir-fry for about 2 minutes, stirring the vegetables around the wok to cook evenly.  Transfer mixture to the same plate or bowl from which they came.
Return the wok to heat add another tablespoon of oil and add the pork and soft vegetables and stir-fry for about 2 minutes, return hard vegetables to the wok and heat through for about 1 minute.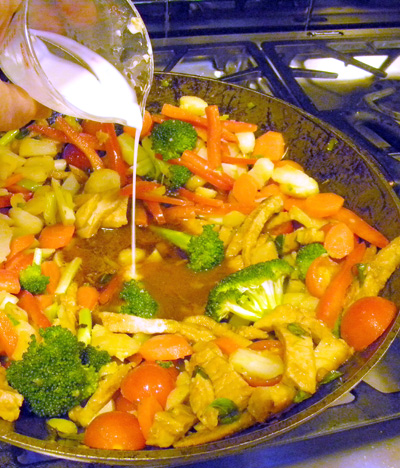 Make a well in the center of the wok and add the sauce; bring to a boil. Once boiling, stir the cornstarch mixture into the center of the wok, add the peanuts and stir for about 1 minute to thicken and heat through. Remove from heat and serve immediately with cooked rice.
Serves 4