vinegar + panko = succulent pork chops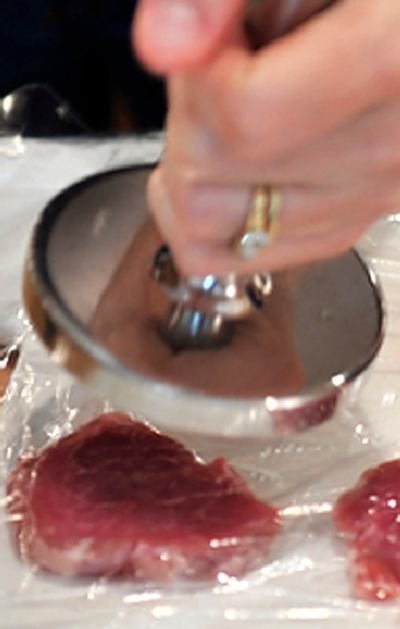 Several techniques help keep these pork chops tender and juicy. First, pounding the chops thin helps the acid (vinegar) penetrate the meat right to the center. The vinegar not only acts as a tenderizer but also adds a delectable level of flavor. Next, by dredging in flour, egg, and panko – the juices are sealed in and a crispy delicious crust puts these chops over the top. Lastly, by using an instant-read meat thermometer, you are sure to not overcook.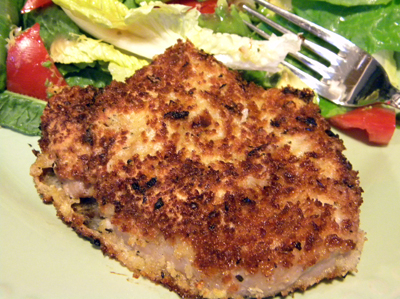 Seriously Juicy Pork Chops
6 center-cut pork chops
1 cup red wine vinegar
1 cup flour
2 large eggs, beaten
2  1/2 cups panko breadcrumbs
Zest from 1 lemon
2 tablespoons fresh thyme leaves
2 tablespoons chopped fresh oregano
Salt and freshly ground black pepper
6 tablespoons olive oil, divided
One at a time, place each pork chop between sheets of plastic wrap and pound to 1/2-inch thickness with the smooth side of a meat pounder or the bottom of a small heavy pan.
Arrange pork in a single layer in a large baking dish and cover with vinegar. Cover with plastic wrap and refrigerate for 1 hour, remove from refrigerator and let sit for 20 more minutes at room temperature.
Set up your dredging stations; one plate with flour, one flat bowl with eggs, lightly beaten, and another plate with a mixture of the panko, lemon zest, thyme, and oregano.
Heat a large cast-iron or heavy nonstick skillet over medium heat and add 3 tablespoons of olive oil. Season each chop generously with salt and pepper.
Dredge each chop first in the flour, then in the egg, then in the panko mixture; coat the sides as well as the tops and bottoms of each chop.
Working in 2 batches, cook pork chops, until crispy and cooked through and an instant-read thermometer inserted into the center of each chop registers 145 degrees, 12 to 14 minutes total.
Wipe out the skillet with a paper towel after the first batch and add the remaining 3 tablespoons of oil to the skillet and heat through before adding the remaining chops.
Serves 8