poppers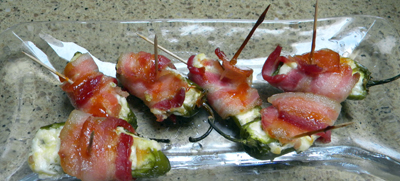 Remember last weekend when I told you we'd been to a graduation party for Megan, who is my BFF Laura's daughter? What I didn't tell you is that Laura's husband and Megan's dad, Jack, is a fabulous cook, especially when it comes to BBQ and smoked meats. 
Jack made the most delicious smoked brisket and sausages for the party. But there was something that actually rivaled Jack's main course – Megan's appetizer.  She put out these "out of this world" jalapeño poppers. Turns out the recipe is from The Pioneer Woman Cooks: Recipes from an Accidental Country Girl by Ree Drummond.
I had heard of Ree before, and of the cookbook, but I hadn't made anything of hers. Big mistake!  After tasting and now making those poppers and looking over her blog, I am a fan!  And I'm not the only one, Gourmet Live (the recently shuttered Gourmet Magazine's reincarnation) just named Ree as one of the "50 Women Game-Changers" of the food world. She is #21, well ahead of some big names you will recognize (Paula Deen, Ina Garten, Cat Cora, and Nigella Lawson).
So, thank you, Megan, for turning me on to the Pioneer Woman and these poppers!
Disclaimer: When you look at the pictures, you'll notice that I thought I might like to make the poppers using whole jalapeños, instead of cutting them in half, as the recipe called for. Once I had them all cut open, cleaned out, and stuffed, I changed my mind and ended up cutting them in half anyhow. They were just too big when left whole. So follow the recipe, not the photos.
Jalapeño Poppers
18 fresh jalapeño peppers
8-ounce package cream cheese, room temperature
1/2 cup grated pepper Jack  cheese
1 green onion, diced (white and light green portions)
18 slices bacon, cut in half crosswise
Apricot preserves
Toothpicks
Preheat the oven to 275 degrees. Line two baking sheets with foil.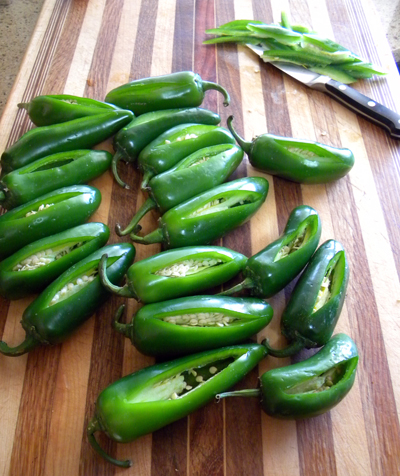 Begin by cutting jalapeños in half lengthwise, leaving the stem intact on one half. (Wear rubber gloves or if you don't have any, at least lightly grease your hands to prevent the natural oils of the peppers from penetrating your skin as much.  Be certain to wash your hands well with warm soapy water before touching any sensitive areas of your face or body. A squeeze of lemon or other citrus juice also will help get off "the burn" from your skin.)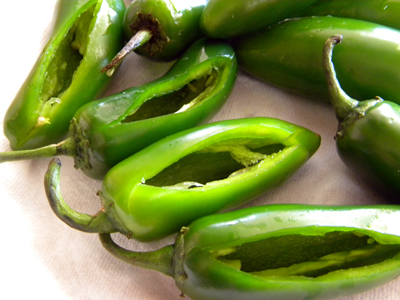 With a small spoon, scrape out the seeds and membranes from the center of each pepper half.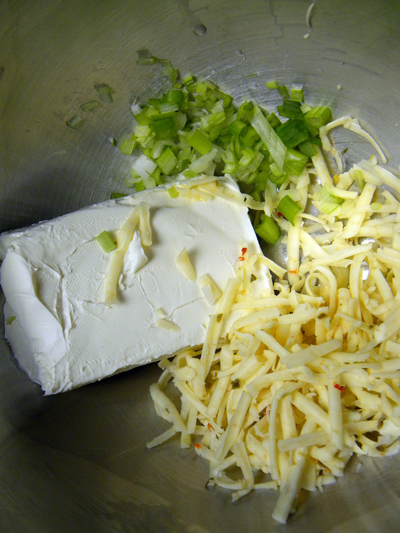 In a medium bowl, stir together the cream cheese, pepper Jack cheese, and green onion.  Spoon into a pastry bag (no tip needed).
Pipe cheese filling into each hallowed-out jalapeño half.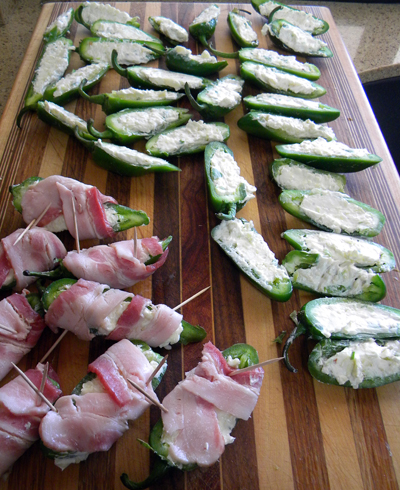 Wrap bacon slices around each half, covering as much of the cheese area as possible. Be careful not to stretch the bacon too tightly around the jalapeño, as the bacon shrinks as it cooks. Secure the bacon onto the peppers with toothpicks, and place on prepared baking sheets.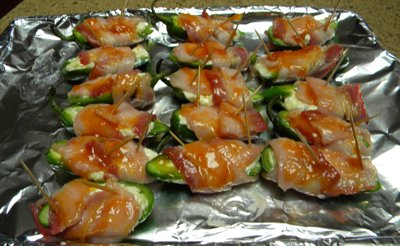 Brush the top of each with the apricot preserves. Bake in preheated oven for 75 minutes, switching the position of the baking sheets, on the oven racks, halve-way through the cooking time. After 75 minutes, remove baking sheets from the oven and carefully drain off most of the bacon grease. Return to the oven and bake another 15 minutes, or until the bacon is sizzling and crisp.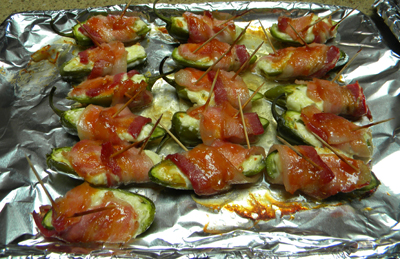 Allow to cool for at least 10 minutes before serving, then serve hot or at room temperature.
Makes 38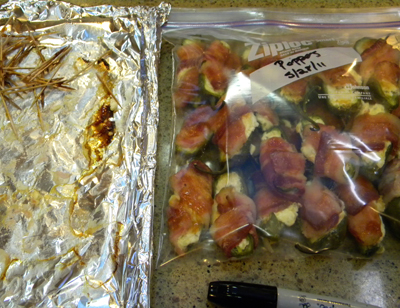 The poppers may be assembled up to a day ahead, covered, and refrigerated.  Or they may be fully cooked and frozen in plastic bags. Just thaw and warm up in a 275-degree oven before serving. (We ate 12 and I froze the rest… don't know how long they'll last in the freezer though, I'm tempted to go get a couple out right now!)

Recipe adapted from The Pioneer Woman Cooks: Recipes from an Accidental Country Girl by Ree Drummond
P.S.  I've added both The Pioneer Woman and Gourmet Live to my blogroll, over there on the right-hand side of the page, for your future convenience.
Save