Peggy's turn to cook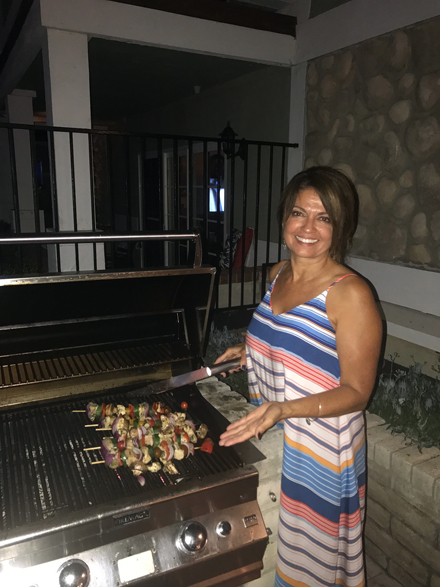 This deliciousness was Tuesday night's dinner. Peggy not only manned the grill but was master of the kitchen as well.
Since it was my night off, it didn't even cross my mind to take any preparation photos. Sorry, but I'm on vacation! I will try to do better when Anne takes over the duties tonight.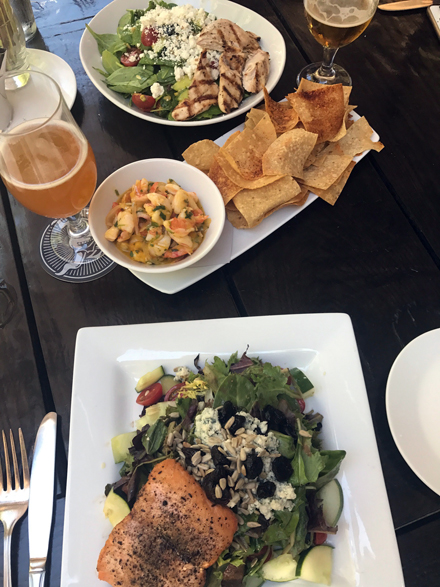 We spent Tuesday afternoon having lunch at Stone Brewery and wine tasting at Orfila Vineyards & Winery, with a little T*J*Maxx on the side.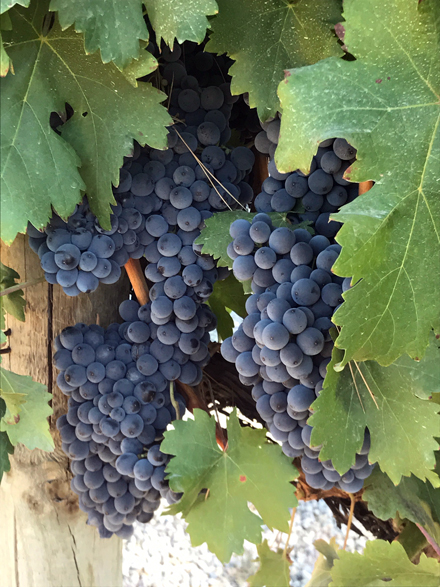 We were ultimate Maxxinistas. Peggy was looking for a swimsuit and I was looking for a barstool. The Carlsbad patio has only two stools. There are three of us. I had no choice but to find another stool!
I was successful, Peggy was not. I picked up this industrial-style barstool for $29.99. I'm keeping the tag on it in case I decide to return it after the week is over, although I'm leaning towards keeping it for future visits. Decisions, decisions.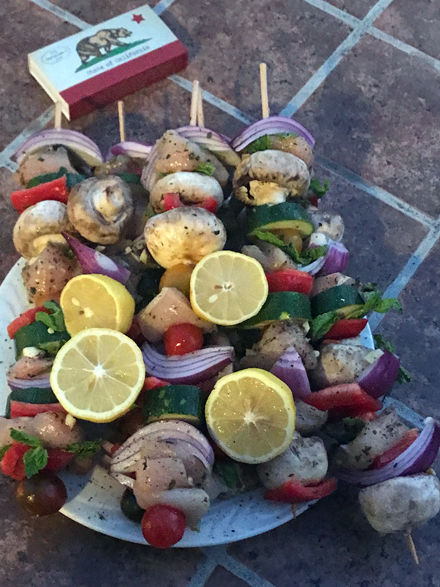 Peggy's Chicken Skewers
6 wooden skewers, soaked in warm water for 30 minutes
1½ pounds skinless boneless chicken breast halves, cut into 1½-inch pieces
4 tablespoons olive oil, divided
4 garlic cloves, peeled and minced
1 teaspoon dried mint
1 teaspoon dried oregano
1 teaspoon salt
1 teaspoon freshly ground black pepper
3 tablespoons fresh lemon juice
Large leaves from 1 bunch fresh mint
1 red onion, cut into 1½ -inch pieces
1 red bell pepper, cut into 1½-inch pieces
1 zucchini, thickly sliced
16 to 20 cherry tomatoes
1 package mushrooms, cleaned and trimmed
4 small lemons, halved
Mix chicken, 2 tablespoons of olive oil, garlic, mint, oregano, salt, and pepper in a medium bowl. Cover, refrigerate, and marinate for 30 minutes. Whisk the remaining 2 tablespoons of oil and lemon juice in a small bowl to blend, and set aside.
Alternate chicken, mint leaves, onion, bell pepper, zucchini slices, tomatoes, and mushrooms on skewers; sprinkle with salt and pepper. Brush with any marinade left in the bowl.
Prepare grill to medium-high heat. Grill skewers until chicken is just cooked through, turning and basting occasionally with the reserved lemon-olive oil mixture, about 12 to 15 minutes.
Serve with lemon halves.
Makes 6
Inspired by a recipe from Epicurious.com