Pecan Pie for Karen
In the comments of the "help me, help you" post, Karen asked for "Pecan Pecan Pecan stuff!"  There are pecans in some of my Thanksgiving recipes.
My favorite Thanksgiving recipe with pecans is my stuffing. Man, I really love that stuffing recipe!
But I double-checked and realized I did not have a recipe up for pecan pie. I haven't made a pecan pie in years… it's just so rich … and our family really loves pumpkin pie, so I figure, why bother?
But Karen asked, and I shall deliver!
And not just with any old pecan pie, but a pecan pie with chocolate … and with bourbon … and Cinnamon Whipped Cream … BOOM!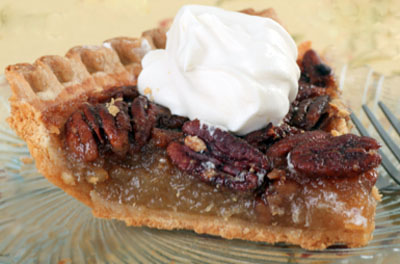 Chocolate Bourbon Pecan Pie with Cinnamon Whipped Cream
1 purchased or homemade pie crust
1 cup sugar
1/2 cup corn syrup
1/2 cup brown sugar
1 tablespoon molasses
1 tablespoon heavy cream
1 tablespoon unsalted butter
3 tablespoons cocoa powder
1 teaspoon vanilla extract
2 tablespoons bourbon or whiskey
3 eggs
1   1/2 cups pecan halves
Cinnamon Whipped Cream
1 cup heavy cream
2 tablespoons powdered sugar
1/2 teaspoon ground cinnamon
Preheat the oven to 400 degrees. Arrange the rolled-out pie dough in a pie pan. Cover with foil and line the foil with pie weights, dried beans, or rice. Blind bake for 15 minutes or until the crust is blonde but not brown; remove foil and weights and set aside.
Reduce the oven to 350 degrees.
In a heavy medium saucepan, combine the sugar, corn syrup, brown sugar, molasses, cream, butter, and cocoa powder over medium-low heat. Warm slowly, stirring, until the sugars are dissolved and the butter is melted and the mixture is smooth and thick; remove from the heat. Stir in the vanilla and bourbon. Cool the mixture slightly. Beat the eggs together and whisk into the mixture, a little at a time.
Arrange the pecan halves on the bottom of the pie crust. Pour the filling over the pecans. The pecans will float to the top. Bake for about 40 minutes or until the pie is set in the center.
While the pie bakes, make the Cinnamon Whipped Cream: Using a standing or hand-held mixer, whip the cream, powdered sugar, and cinnamon until soft peaks form.  Cover and refrigerate until ready to serve.
Let the pie cool to room temperature before slicing and serving, garnished with cinnamon whipped cream.
Serves 6 to 8
Note: If you're a subscriber, I am sorry you received an email 12 hours ago saying this recipe was posted before it was actually posted. Technology, love it most of the time, not so many other times.