Patriotic Kabobs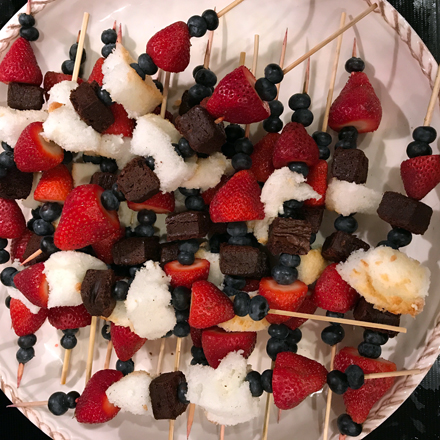 Independence Day has come and gone, but there are plenty more patriot holidays between now and July 4, 2018. Labor Day is only eight weeks from today. Columbus Day is a month after that and before you know it, Veterans Day is upon us! The point is, don't wait a year to make these fun and easy dessert kabobs.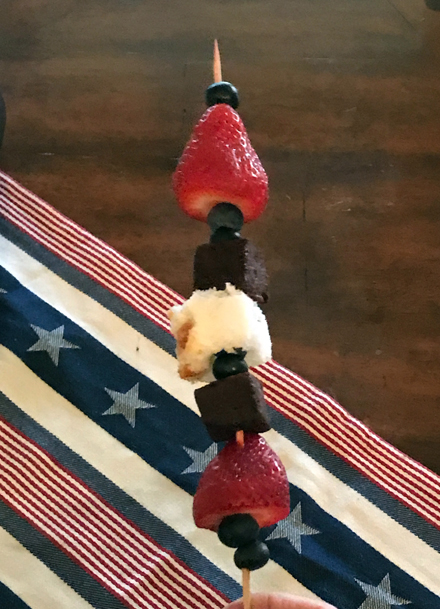 I whipped a few of these up for the grilling tips segment I did last week and then made them again the next day for a 4th of July party I was invited to. Technically, I may have invited myself. But I tried to make the hosts feel it was worth it by bringing these kabobs along with an awesome flag appetizer, the recipe for which I will post tomorrow.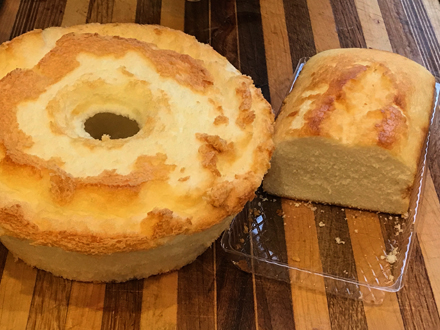 When I made the kabobs for television, I used pound cake. I quickly discovered that pound cake is not the best choice. Angel food cake works better, so that is what I used on the 4th. The pound cake is too dense and has a tendency to break apart when skewered. The angel food cake is light and fluffy and stays in place. Large marshmallows would be a great choice too.
I'm not providing you with any quantities here. I made as many as I could until I ran out of one of the ingredients. The first thing I ran out of was strawberries, then I was done.
After making four or five, it was getting tedious, so I decided to make three at once. I held three skewers in my left hand and added the ingredients with my right. I was done in no time.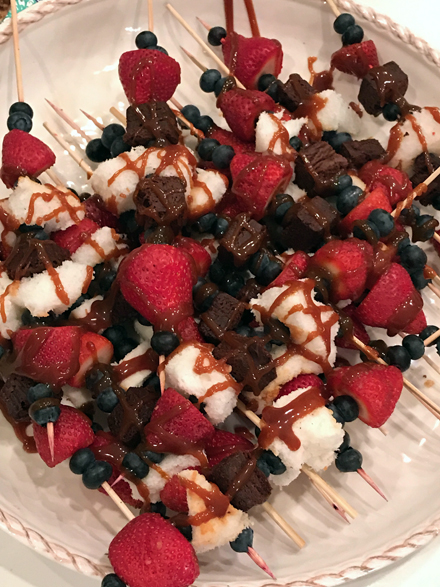 Red, White & Blue Dessert Kabobs
Wooden skewers
Blueberries
Strawberries, hulls cut off
Brownie bites
Angel food cake, cut into cubes
Salted caramel sauce
Place two or three wooden skewers in one hand, thread each skewer with 2 blueberries, 1 strawberry, a brownie bite, 2 more blueberries, a cube of angel food cake, 2 more blueberries, another strawberry and 2 more blueberries. (obviously, you can add more brownie bites per skewer, or more angel food cake … basically more or less of whatever you like.)
Place kabobs on a platter and continue with the remaining ingredients.
Just before serving, drizzle the platter of kabobs with salted caramel sauce.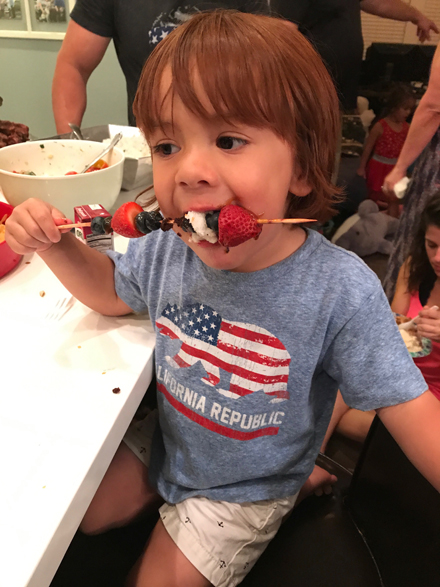 Find some cute kids and have a drippy, messy, fun, and tasty time!