panini
Not much to say here, except these are pretty fabulous sandwiches!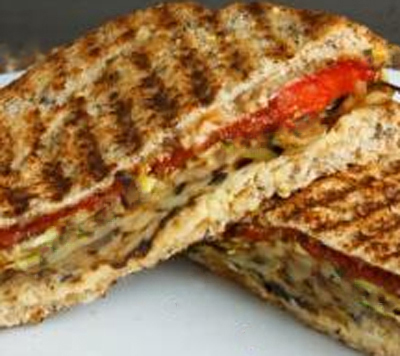 Roasted Vegetable and Mozzarella Panini
1/4 of the Roasted Vegetable yield from HERE
Salt and freshly ground black pepper
2 ciabatta rolls (from Trader Joe's) or other bread of your choice
1/4 cup purchased hummus or pesto
4-ounces fresh mozzarella cheese, drained and sliced
6 large basil leaves
Olive oil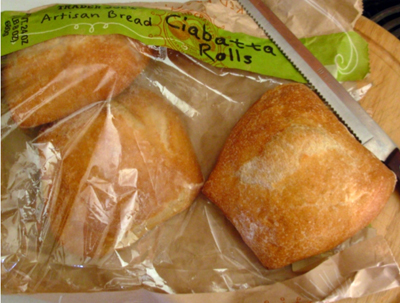 Cut the roasted vegetables into strips. Cut both of the rolls in half horizontally.
Spread both sides of each roll with the hummus or pesto. Working with the bottom half of each; cover first with roasted vegetable strips, then with 2 or 3 slices of mozzarella. Season with salt and pepper, and finally with 3 fresh basil leaves on each. Place top halves of rolls on top and press together firmly.
(The sandwiches can be made to this point, 6 hours ahead. Wrap each tightly with plastic wrap and refrigerate.)
Lightly brush the outside of both sides of the sandwiches with olive oil.
Heat a panini press or a grill pan over medium-high heat.  Place one sandwich at a time on the bottom of the press and close the lid on the panini press (or in the grill pan, press down with a large heavy skillet weighted down on top with cans, such as cans of beans). When the sandwiches are brown and crisp and the cheese has melted, cut in half and serve.
Makes 2 sandwiches