olive, canola, peanut, corn… what oil if best?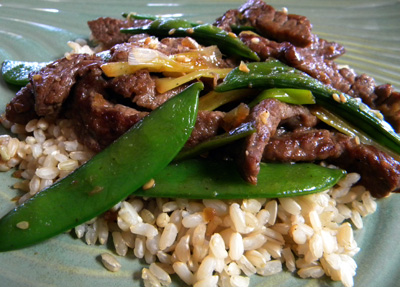 Different fats and oils have different uses. Each performs best within a certain range of temperature. Some are made for high-heat cooking, while others have intense flavors that are best enjoyed only lightly heated or uncooked and straight from the bottle drizzled on food or used in vinaigrettes.
As with many Asian recipes, today's calls for peanut oil. Especially in stir-fry, peanut oil is the fat of choice. It has a higher smoke point than many other oils and lends a light peanut flavor that complements so many Asian-inspired dishes. The smoke point of an oil or fat is the temperature at which it gives off smoke when heated.
Other important considerations are food allergies and the type of fat the oil contains; saturated, polyunsaturated, or monounsaturated. Here are the differences, straight from the American Heart Association.
"Saturated fat:  Saturated fat is the main dietary cause of high blood cholesterol. Saturated fat is found mostly in foods from animals and some plants. Foods from animals include beef, beef fat, veal, lamb, pork, lard, poultry fat, butter, cream, milk, cheeses, and other dairy products made from whole and 2 percent milk. All of these foods also contain dietary cholesterol. Foods from plants that contain saturated fat include coconut, coconut oil, palm oil, palm kernel oil, and cocoa butter.
Polyunsaturated and monounsaturated fats: Polyunsaturated and monounsaturated fats are the two unsaturated fats. They're found in many fish, seeds, nuts, and oils from plants. Some examples of foods that contain these fats include salmon, trout, herring, avocados, olives, walnuts, and liquid vegetable oils such as soybean, corn, safflower, canola, olive, and sunflower."
So, although, I am calling for peanut oil for this Sesame-Ginger Beef recipe, use what oil works for you; keeping in mind allergy and health concerns, as well as flavor and smoke points.
Smoke Points for Common Cooking Oils and Fats
Oil or Fat                          Degrees in Fahrenheit                    Type of Fat
Extra virgin olive oil                                320 degrees                                           M
Butter                                                            350 degrees                                           S
Vegetable shortening                               360 degrees                                           S
Lard                                                               370 degrees                                           S
Canola oil                                                    400 degrees                                          M
Corn oil                                                        410 degrees                                            P
Sesame oil                                                   410 degrees                                            P
Virgin olive oil                                           420 degrees                                           M
Almond and Hazelnut oils                     430 degrees                                           M
Peanut oil                                                    450 degrees                                           M
Extra light olive oil                                   465 degrees                                           M
Clarified Butter (Ghee)                            480 degrees                                            S
Avocado oil                                                520 degrees                                            M
Sesame-Ginger Beef and Sugar Snap Peas over Brown Rice
1 pound sugar snap peas
2 pounds boneless beef top sirloin, sliced into thin strips
1 1/2 tablespoons cornstarch
4 to 5 tablespoons peanut oil or canola oil, divided
1 tablespoon oriental sesame oil
1 large bunch of green onions, cut on diagonal into 1 1/2-inch pieces
4 large garlic cloves, peeled and minced
1/4 cup peeled and minced fresh ginger
1  1/3 cups beef broth
1/4 cup soy sauce
2 tablespoons fish sauce
2 teaspoons sugar
1/4 cup toasted sesame seeds
4 cups cooked brown rice
Bring a large saucepan of water to a boil, add 1 tablespoon of salt and the sugar snap peas and boil for 30 seconds. Drain; plunge into ice water and drain again. Transfer to a large bowl and set the blanched peas aside.
Combine beef and cornstarch in another large bowl. Use hands, to coat well.
Heat 2 tablespoons of the peanut oil in a large skillet over high heat. Working in batches, add beef, leaving space between pieces, and brown on all sides, about 3 to 4 minutes for each batch, if needed add another tablespoon of oil, between batches. Transfer browned meat to a plate until all beef is browned. Do not wash the bowl, set it aside.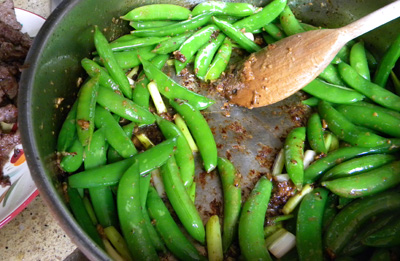 Heat the remaining 2 tablespoons of peanut oil and sesame oil in the same skillet over medium-high heat. Add blanched sugar snap peas, green onions, garlic, and ginger; sauté until vegetables are crisp-tender, stirring and scraping the pan to bring up browned bits from the bottom, about 3 minutes.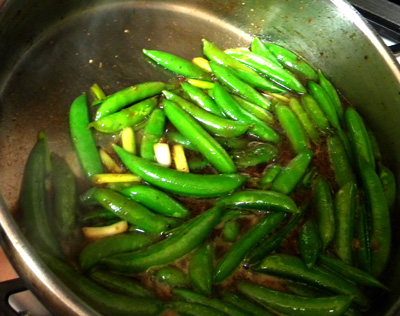 Pour broth, soy sauce, and fish sauce into the bowl that held the beef, add the sugar and stir around the bowl to pick up any cornstarch left in the bowl; pour into the pan and bring to boil, scraping the pan all the while to pick up all remaining browned bits of flavor in the pan. Return beef and any juices on the plate to skillet and cook until sauce is slightly thickened about 1 minute. Transfer to a platter, garnish with sesame seeds, and serve with brown rice.
Serves 8