oldie but goodie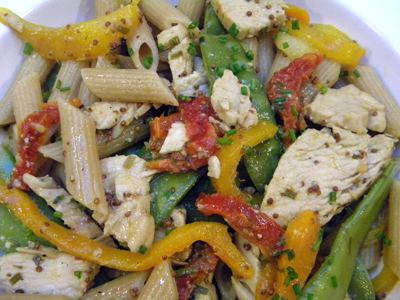 I developed this recipe about a dozen years ago. It's been featured in two cookbooks, FamilyFun Cooking with Kids and Reflections Under the Sun, and I will be making it on Channel 12 NBC Valley Dish with Tram Mai next month (4:30 PM, Wednesday, June 3rd). The thing I love about it is how quickly it comes together and how, with just an itty bitty bit of planning, you can get it on the table in about 10 minutes. How is that possible? Make the marinade in the morning before you head out the door, (it literally takes less than 5 minutes to do) throw in the chicken, cover, and refrigerate. When you come home, get the water for the pasta boiling while you drain the peppers and sun-dried tomatoes and stem/string the peas (or purchase them already strung in the bagged lettuce area of your supermarket), steam or blanch the peas in the "pasta water" – before you add the pasta to it. Once you throw the pasta in the salted water, you get busy browning the chicken – and by the time you're done reducing the sauce and heating it all through, the pasta will be ready – hopefully, you've gotten one of the kids to set the table, because dinner is ready!
Penne Pasta with Maple Mustard Chicken
3 tablespoons olive oil, divided
2 large garlic cloves, peeled and minced
2 tablespoons chopped fresh rosemary
2 tablespoons chopped fresh chives
2 tablespoons apple cider vinegar
1/3 cup pure maple syrup
1/4 cup spicy brown mustard
3 or 4 skinless boneless chicken breast halves, pounded thin
1 cup white wine
1 cup chicken broth
1 1/2 cups fresh or jarred roasted red or yellow bell peppers, drained
1/2 cup jarred sun-dried tomatoes, drained and chopped
1/2 pound snow peas, stemmed and lightly steamed or blanched
1 pound penne pasta, cooked according to package directions

Heat 2 tablespoons of the olive oil in a heavy large skillet over medium heat.  Add garlic; sauté for 30 seconds.  Add rosemary, chives, and vinegar; cook 30 seconds.  Pour into a large bowl; cool.  Whisk in maple syrup and mustard.  Add chicken to bowl; turn to coat.  Cover; chill for at least 1 hour or up to overnight.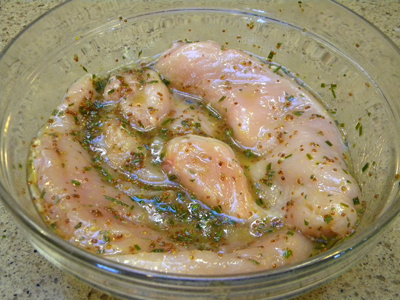 Heat the remaining 1 tablespoon of oil in a heavy large skillet over medium-high heat.  Remove chicken from bowl, reserving marinade.  Sprinkle chicken with salt and pepper.  Add to skillet and sauté for 2 minutes per side.  Reduce heat to medium.  Continue cooking until chicken is cooked through and browned, about 2 more minutes per side.  Transfer to cutting board.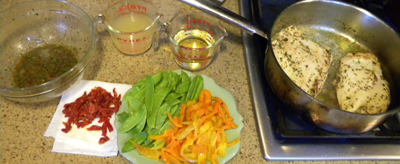 Add wine to the pan to deglaze and reduce wine by half.  Add chicken stock and the reserved marinade to the pan, bring to a boil over high heat and reduce to a thick sauce, about 3 or 4 minutes.  Meanwhile, slice chicken breast on a diagonal, and cut larger slices in half.  Add chicken, roasted peppers, tomatoes, and snow peas to reduced sauce and heat through.  Season to taste with salt and pepper.
In a large serving bowl, toss the chicken mixture with pasta and serve immediately.
Serves 4