new item alert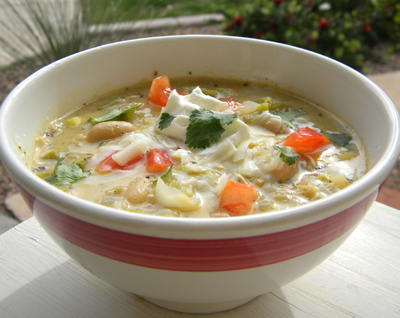 I recently learned of a great new convenience item available in the frozen food section of the local supermarket. OK, maybe it's not new to the supermarket or even new to you, but it is new to me.
Frozen chopped green chiles and chopped red chiles can be found in plastic containers, similar to a sour cream container, in the freezer section. Locally, I've found them at Safeway, Fry's, and Food City. Supposedly they come in hot and mild, but I was only able to find the hot, so I'm combining them with mild canned green chiles for this recipe.
Feel free to roast, seed, and peel your own mild long green chiles, if you prefer.  Pictured below: Frozen chile container (do not worry if you don't find the same brand, any brand will do)plus a side-by-side comparison of mild canned diced chiles on the left and hot frozen diced chiles on the right.

It's been in the mid to high 80's the last few days here in AZ, but we're expecting rain and a cooling trend for the rest of the week.  It may be our last chance to really enjoy a nice steaming bowl of chili for many months to come. Marissa requested this recipe so she could make "roomie" dinner tomorrow for her four beautiful roommates; Kaley, Petra, Kelsey, and Paige.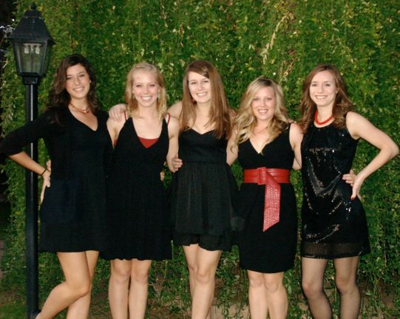 Petra, Paige, Marissa, Kelsey, and Kaley
Girls, I hope you enjoy it, 'cause summer and 100+ degree temps are just around the corner!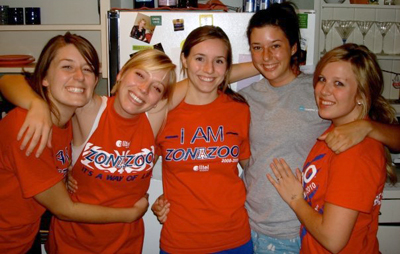 Chili Blanco
3 tablespoons olive oil
2 medium onions, peeled and diced
3 garlic cloves, peeled and finely minced
1/4 cup frozen hot chopped green chiles, thawed
4-ounce can fire-roasted mild green chiles, drained and diced
1 tablespoon ground cumin
1  1/2 teaspoons dried oregano
1 teaspoon hot pepper sauce
Two 15 to 16-ounce cans white beans (such as Great Northern or Cannellini), drained
4 cups chicken broth
3 cups shredded rotisserie chicken
1 cup grated Queso Fresco or Monterey Jack cheese
1/2 cup sour cream
Salt and freshly ground black pepper
Garnishes
Chopped fresh cilantro
Diced tomatoes
Minced green onions
Additional grated cheese and sour cream
Heat a heavy large pot over medium heat.  Add oil and onions and sauté until tender and translucent, about 12 minutes. Add the garlic, both types of green chiles, cumin, oregano, and hot pepper sauce, and continue to cook for 3 more minutes, stirring occasionally.
Add the white beans and 4 cups of broth and bring to a boil. Reduce temperature and simmer gently to blend flavors, about 20 minutes.
Just before serving, add the shredded chicken, grated cheese, and sour cream to the chili; stir just until chili is heated through and cheese melts (do not allow it to boil). Taste and season with salt and pepper. Ladle chili into bowls and serve.  Allow guests to garnish with cilantro, tomatoes, green onions, cheese, and sour cream as they wish.
Serves 8