My new favorite recipe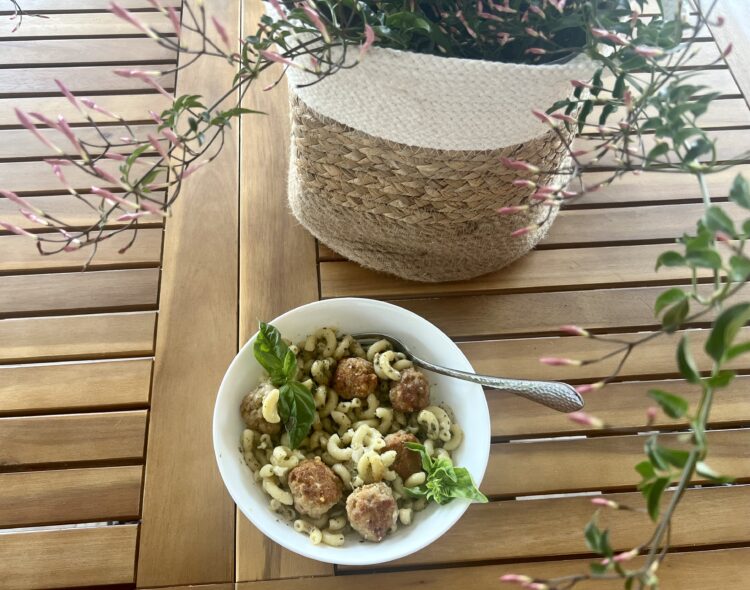 One thing about me, with the exception of holidays, I rarely make a recipe twice, let alone 3 times in the span of a few weeks! This recipe is now a family favorite. I don't know exactly what it is. Maybe it's the fact that I don't often use ground chicken. Ground turkey, all the time, so I may be a bit sick of ground turkey. Ground chicken seems to taste milder to me. It carries other flavors better. I don't know, I'm just all about ground chicken right now. Then there's the richness of the dish; cream cheese, Parmesan, mozzarella, pesto; all the good stuff! Give this a try and let me know if it becomes a part of your meal rotation.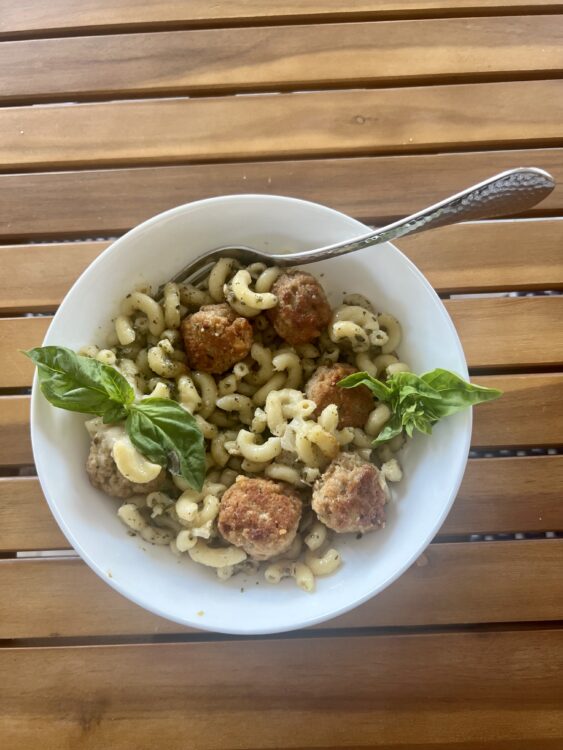 Baked Pesto Pasta with Chicken Meatballs
Pasta and Pesto Sauce
10 ounces pasta (I used small elbow)
2 tablespoons butter
2 large shallots, peeled and diced
2 cloves garlic, peeled and minced
1/2 cup prepared pesto
1 cup reserved pasta water
4 ounces cream cheese
1/2 cup freshly grated parmesan cheese
3/4 cup shredded mozzarella
Pinch red pepper flakes
1/4 teaspoon freshly ground black pepper
Fresh basil leaves, for garnish
Chicken Meatballs
1 pound ground chicken
1 egg
1 tablespoon olive oil
1/2 cup Italian breadcrumbs
1/2 cup grated parmesan cheese
1/2 teaspoon onion powder
1/2 teaspoon garlic powder
1/2 teaspoon dried oregano
1/2 teaspoon salt
1/4 teaspoon freshly ground black pepper
1/4 cup vegetable oil
Preheat the oven to 350 degrees. Boil a large pot of water and cook the pasta according to the package.
Reserve about 1 cup of pasta water and drain the remaining water using a colander. Return the pasta to the large pot and set aside.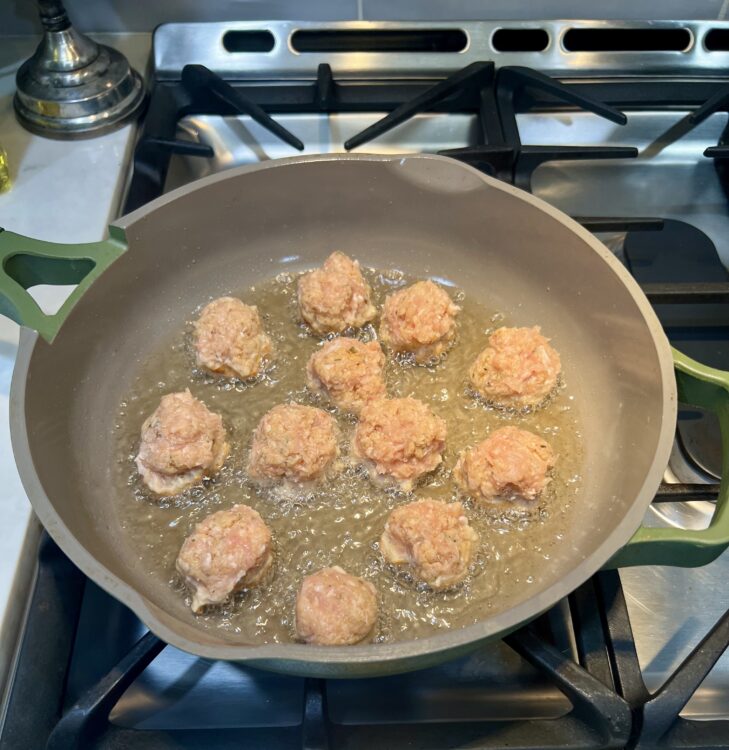 In a mixing bowl, combine ground chicken, egg, olive oil, Italian breadcrumbs, grated parmesan cheese, dried oregano, onion powder, garlic powder, salt, and pepper. Mix until well combined then form the mixture into small bite-size meatballs. You should end up with about 2 dozen. Heat vegetable oil in a large skillet over medium-high heat.
Lightly fry the meatballs until they are golden brown on all sides. Place them on a paper towel to absorb the excess oil.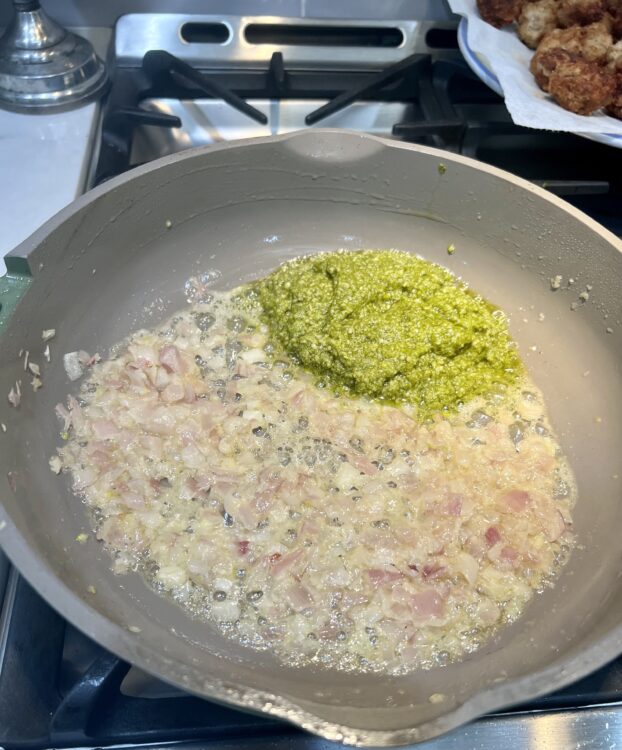 Drain off the oil, wipe out the skillet, and return to the stove. Heat the skillet over medium-high heat. Add butter and sauté the diced shallots until soft and translucent, then add the garlic. Next, stir in the pesto and ½ – ¾ cup pasta water. Mix well.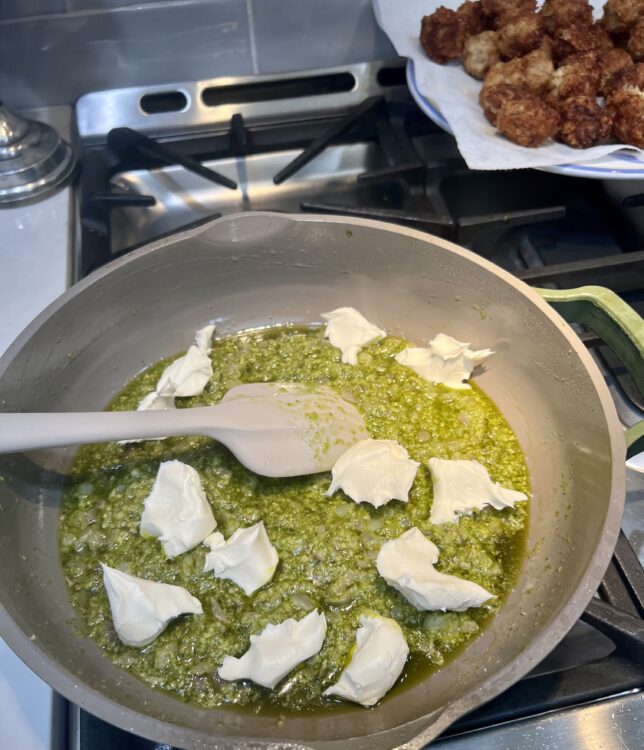 Whisk in the cream cheese until everything is well combined. If the sauce gets too tight, add more pasta water. Remove from heat.
Next, add the cooked pasta to the skillet with the pesto sauce, stir to combine, then stir in grated parmesan cheese and mix well.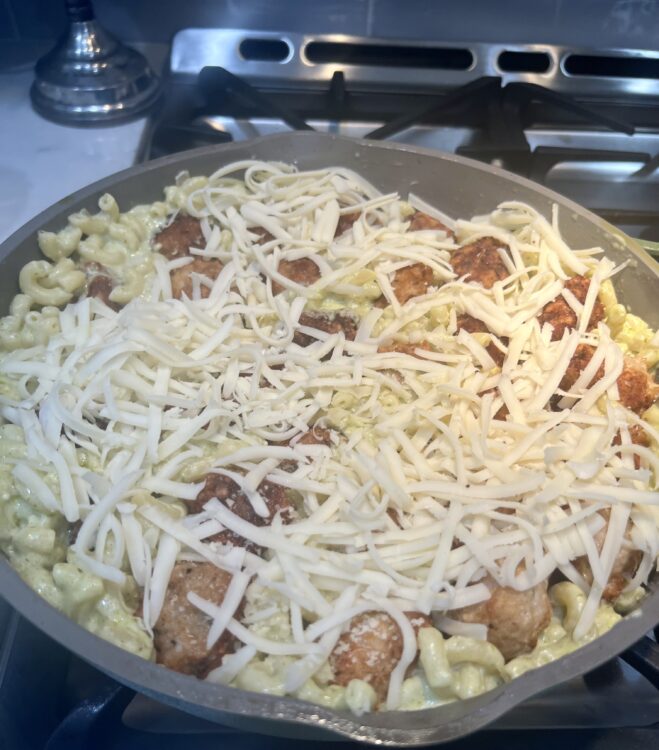 Nestle the meatballs into the pasta and sauce. Top with shredded mozzarella cheese, red pepper flakes, and freshly ground black pepper.
Cover and bake for 20 minutes. Serve hot, garnished with fresh basil leaves.
Serves 6