mulled cider time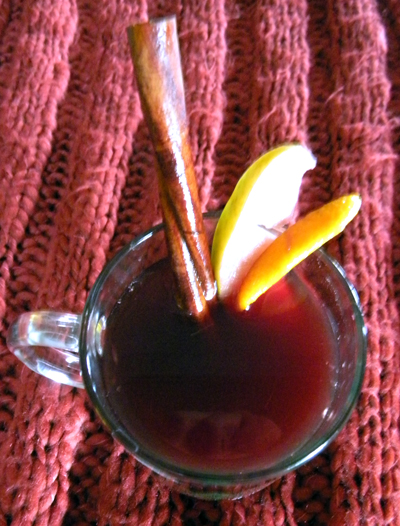 For me, once November hits, it is cider time. Even though it's still not quite fall temperatures during the day (today's high is predicted to be 87 degrees!), the evenings are nice and cool, so I'm ready for a hot beverage!  Here's one of my favorites – spicy and just a little sweet.
Seriously Spiked Mulled Cran-Apple Cider
2 quarts (8 cups) apple cider
2 quarts (8 cups) cran-apple juice
1 bottle (750 ml) red wine
1  lemon, cut into quarters
1  orange, cut into quarters
1 Granny Smith apple, cored and quartered
12 whole cloves
1 piece (1/2-inch) peeled fresh ginger, lightly smashed
4  cinnamon sticks
1/2 cup brandy
1/2 cup Grand Marnier
In a large pot or crockpot, combine the apple cider, cran-apple juice, and wine.  Add the lemon and orange wedges. Stud the apple quarters with the whole cloves and add to the pot along with the ginger piece and cinnamon sticks.
Heat the mixture over the lowest heat for 2 hours, do not allow it to boil.  Just before serving, remove the ginger piece and cinnamon sticks, then stir in the brandy and Grand Marnier.
Ladle into mugs and garnish with an apple slice and a cinnamon stick, which makes a great straw too!
Makes 20 (1-cup) servings