meyer lemon pasta
This was my horoscope on Tuesday.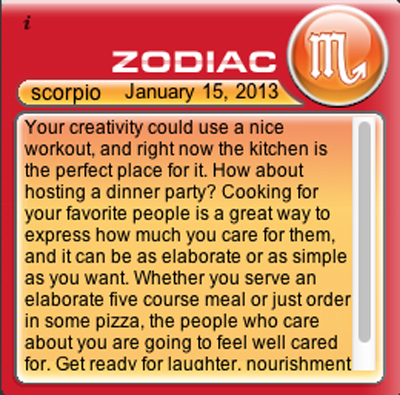 How perfect is that? Oh, here are the last few words you can't see, "… nourishment and warm feelings."
It's perfect because I already had on my calendar two dinner parties this week.
Peggy and Anne were over last night and my dear friend, Karen, who was a bridesmaid in my wedding 27 years ago, and her husband Bob, are coming over for dinner tomorrow night. Got to Love It!
Are you ready for the onslaught of Meyer lemon recipes? I hope so, that is what I'll be making for quite a while now!
Don't have Meyer lemons? Not to worry. You can use regular lemons in any of my recipes that call for Meyer lemons.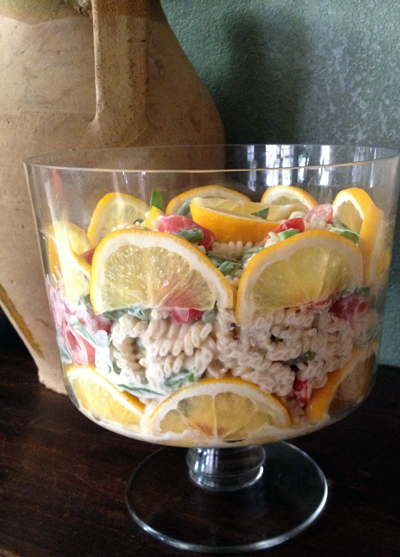 I saw a photo of a version of this salad on Pinterest and was inspired by the use of a trifle bowl to serve it in. I created the recipe from scratch but stole the visuals and serving idea. If you don't have, but have always wanted, a trifle bowl – Crate & Barrel always has them in stock.
It's so pretty and springtime fresh and it turned out to be a delicious main course salad. I'm sure Peggy and Anne will attest to that. It would be lovely as a side salad on a buffet too.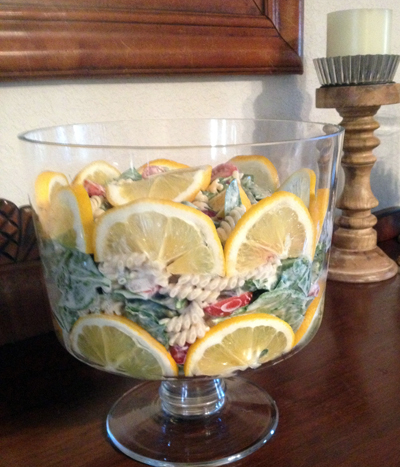 Meyer Lemon Pasta Primavera Salad
12-ounces rotini pasta (I used Barilla mini rotini)
1 tablespoon olive oil
2 garlic cloves, peeled and  minced
1 cup half-and-half
1 cup chicken broth
Zest and juice from 2 medium Meyer lemons
Salt and freshly ground black pepper, to taste
2 cups fresh baby spinach leaves, packed
1 cup grape or cherry tomatoes, halved
2 cups blanched or roasted green beans, asparagus, or snap peas; cut on the diagonal into bite-size pieces – or a combination of any or all  (I used leftover roasted and chilled green beans and asparagus)
1 cup freshly grated Parmesan cheese
1 or 2 additional Meyer lemons, for garnish
Bring a large pot of water to a boil, add at least 1 tablespoon of salt and cook pasta according to package directions. Drain, run under cold water, and drain well.
Meanwhile, heat olive oil in a large saucepan. Swirl to coat the bottom of the pan and cook the garlic for about 2o seconds.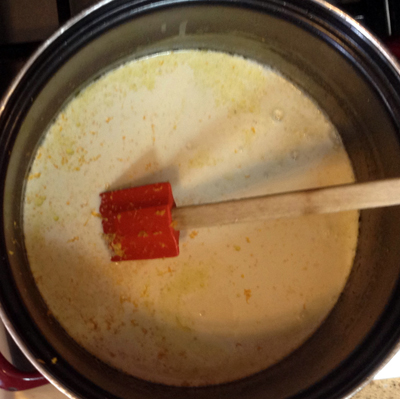 Add the half-and-half, chicken broth, lemon zest, and lemon juice, and season to taste with salt and pepper. Bring the mixture to a boil, then lower the heat. Simmer sauce for about 12 minutes, to reduce and thicken.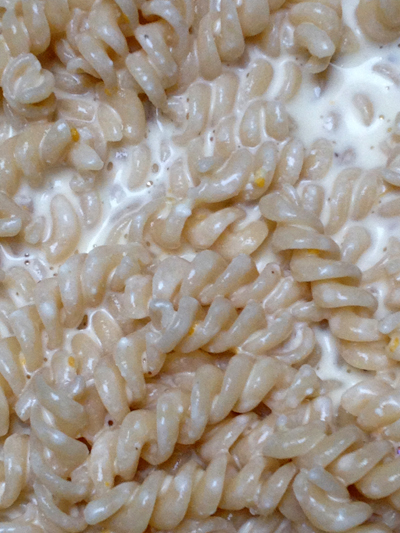 Add the sauce to the cooked pasta, stir well and let cool to about room temperature before continuing.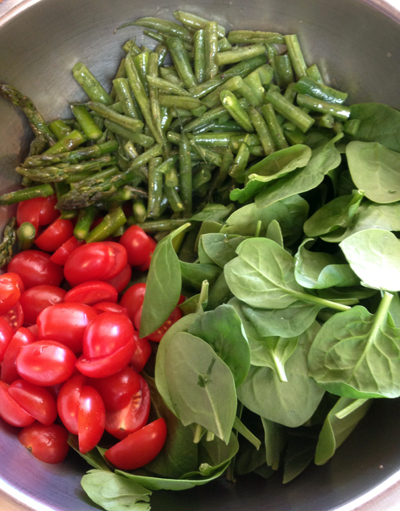 Stir in the vegetables and the cheese. The sauce on the salad may seem a little runny, but not to worry, the pasta will absorb the sauce as it chills.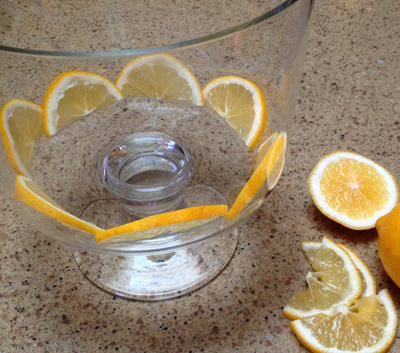 Thinly slice another Meyer lemon, or two. Cut the slices in half and line the bottom rim of a trifle bowl, as shown. Carefully spoon the pasta mixture into the bowl.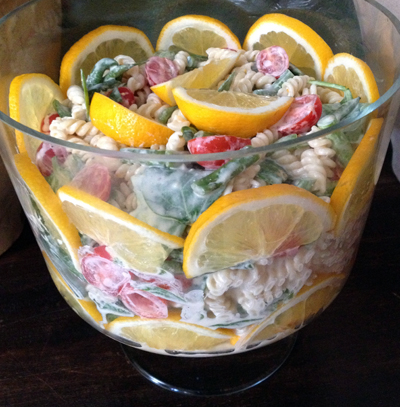 Place another row of Meyer lemon half slices around the top rim of the bowl, and three wedges in the center.
Cover with plastic wrap and refrigerate for at least 2 hours and up to 6 hours before serving.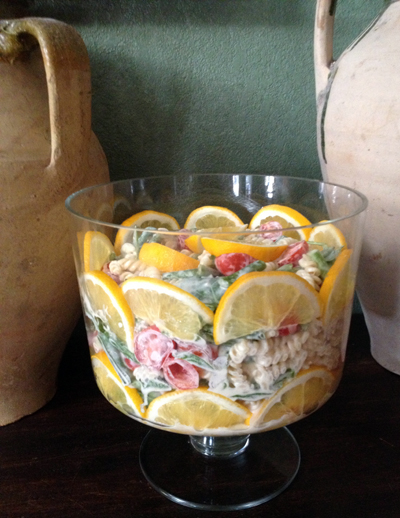 Serves 6 as a main course