meaty tapas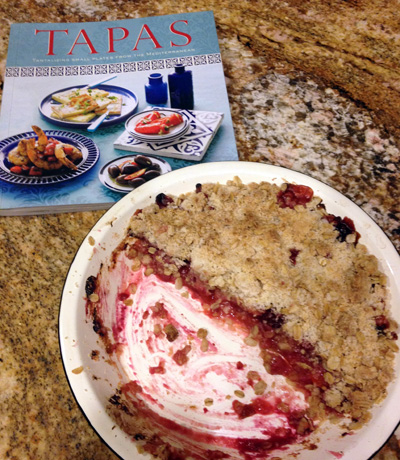 This is the fourth and final tapas recipe from Peggy's dinner party. But before I share it with you, I nearly forgot to mention that I brought a Stone Fruit Crumble for dessert.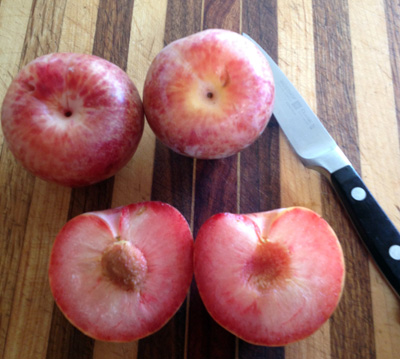 This time around, I used plumcots in place of the apricots and plums. Have you tried plumcots before?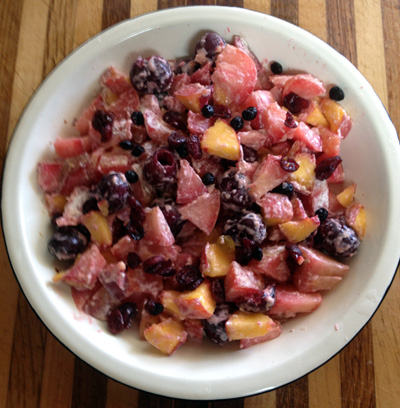 If not, be sure to search them out and give them a go. They are not only tasty … but so very pretty too.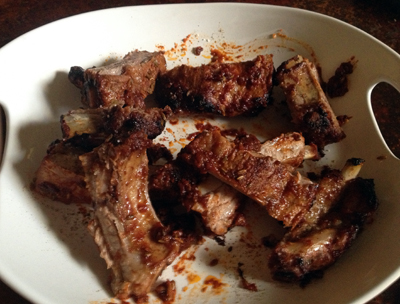 Fennel and Garlic Roasted Pork Ribs
1 tablespoon fennel seeds
1/3 cup tomato paste
1 tablespoon brown sugar
1/4 cup sherry vinegar
4 garlic cloves, peeled and crushed
2 teaspoons smoked paprika
1/4 cup olive oil
2 racks pork spare ribs (about 2 pounds total)
Lemon wedges
Combine the fennel, tomato paste, sugar, vinegar, garlic, paprika, and oil in a shallow dish. Remove 1/4 cup of the marinade and set it aside. Add the ribs to the baking dish, turn to coat, then cover and refrigerate for 1 hour.
Preheat oven to 400 degrees.
Place pork on an oiled wire rack set over a large baking sheet that is lined with foil; roast, uncovered, for 30 minutes.
Increase oven temperature to 425 degrees, brush ribs with the reserved marinade; roast about 20 more minutes, or until cooked through.
Slice between the bones; pile on a platter and garnish with lemon wedges.
Serves 6 to 8