meaty, chunky, hearty chili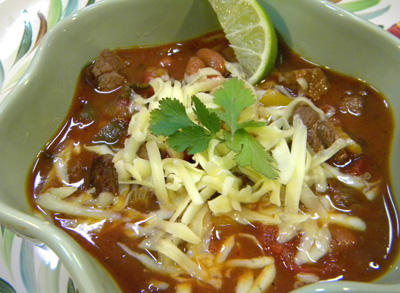 "Next to music, there is nothing that lifts the spirits and strengthens the soul more than a good bowl of chili." Harry James (1916-1983) band leader and trumpeter.
OK, I wouldn't go quite that far; to say that nothing lifts the spirits more, but just like most people, I do enjoy a spicy and steaming bowl of chili. There are more chili recipes, and really great chili at that, than one can count. Chili is a truly American dish with so many great variations; with and without beans, mild to very hot and spicy, vegetarian, or made with any type of meat imaginable. Hope you enjoy this chunky beef version… until you have time to try it out, one more quote from a famous chili-loving American.
"Wish I had time for just one more bowl of chili." Alleged dying words of Kit Carson (1809-1868), Frontiersman, and Mountain Man.

Four Chile and Pepper Chili
2 tablespoons olive oil
1 large onion, peeled and diced
2 red, orange, or yellow bell pepper, seeded and diced
3 garlic cloves, peeled and minced
Salt and freshly ground black pepper
3 pounds beef chuck, cut into 1-inch cubes
2 (28-ounce) cans diced tomatoes with juices
2 poblano peppers, roasted, peeled, seeded, and diced
2 Anaheim or Hatch long green chilies, peeled, seeded, and diced
1 canned chipotle chile with adobo sauce, chopped
1 tablespoon dried oregano, crumbled
1 tablespoon smoked paprika
1 tablespoon whole cumin seed, toasted and ground
1 tablespoon chili powder
2 (14-ounce) cans pinto beans, with juices
Garnishes
Grated queso fresco or Monterey Pepper Jack cheese
Fresh cilantro leaves
Lime wedges
Heat a large heavy-bottomed pot over medium heat; add olive oil. Add the onions and bell peppers, and sauté until the vegetables are soft and beginning to caramelize for about 12 minutes. Stir in the garlic, season with salt and pepper, and cook another minute. Remove the vegetables to a large bowl and set them aside.
Pat the beef cubes dry and season with salt and pepper. Add beef, in small batches, to the pot and brown on all sides. As the batches brown, remove the beef and add to the bowl with the onions and peppers. Once the last batch is browned, add all the browned meat and vegetables, from the bowl, back to the pot.
Stir in tomatoes and all the remaining ingredients, except for the garnishes. Bring to a boil, reduce to a very low simmer, cover, and cook for 60 minutes, stirring occasionally. Stir in the beans and cook another 30 minutes.
Taste and adjust seasoning, as desired. Garnish with the queso fresco, cilantro, and lime.
Serves 6