mashed potato apps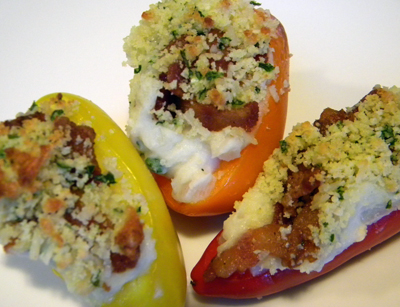 Apps are all the rage these days, so I've decided to create one of my own! OK, so not the sort of app that you're thinking of, although that would be terribly cool of me too. No, "apps" – as in appetizers.
On the Friday of each summer "teen week"  class, the students help to create the menu they will cook and serve to their guests. Three of the ten students requested mashed potatoes this past week.  Mashed potatoes in June? Hey, I love mashed potatoes, after all, I'm 100% Irish!  But in the 100+ degree heat of the summer – not so much. The potatoes would generally be the side dish to something too heavy and hot for such sweltering temps. On the other hand, how can I ignore the request of 30% of the class? How could I get the mashed potatoes to stand on their own? Turn them into an appetizer, of course … brilliant!
Mashed Potato-Stuffed Peppers
3 pounds baking potatoes, peeled, cut into
1 – inch cubes
1/2 cup half and half
3 tablespoons unsalted butter
4-ounces cream cheese, room temperature
Salt and freshly ground black pepper
2 tablespoons olive oil, divided
1 onion, peeled and finely chopped
3 garlic cloves, peeled and minced, divided
1 cup shredded Parmesan cheese, divided
2 tablespoons minced Italian parsley
6 slices bacon, chopped and cooked crisp
1/2 cup fresh bread crumbs
1/4 cup minced green onion
2-pound package mini sweet peppers
(found at Costco in the cold produce section)
Additional olive oil, for drizzling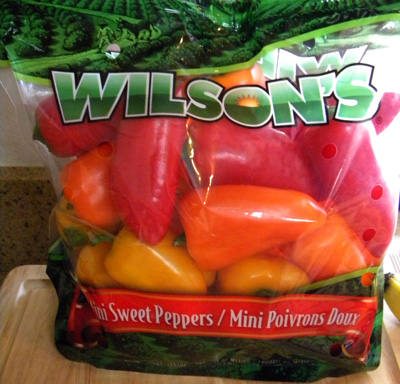 Cook potatoes in a large pot of boiling salted water until tender, about 30 minutes.  Meanwhile, bring the half and half and butter to a low simmer in a small saucepan over medium-high heat.  Remove from heat.
Drain potatoes and return to pot.  Add the hot half and half mixture and mash.  Add cream cheese and mash until well blended.  Taste and then season with plenty of salt and pepper.
Preheat the oven to 400 degrees and line a baking sheet with foil.
In a medium skillet, heat 1 tablespoon of the olive oil over medium-high heat.  Add the onion and two-thirds of the garlic and cook until softened, about 3 minutes, season to taste with salt and pepper.
In a medium bowl, combine the mashed potatoes with 1/2 cup Parmesan cheese and the parsley.   Stir in the onion mixture and crumbled bacon and set aside.
In a small bowl, combine the bread crumbs and green onion with the remaining 1 tablespoon of olive oil, the remaining one-third of the garlic, and the remaining 1/2 cup Parmesan cheese.
Lay a mini pepper on its side on a cutting board and cut a thin slice from the side edge of each of the peppers.  Carefully remove and discard the seeds and white membranes from the inside. Repeat with the remaining peppers. Safe the sliced-off portions of peppers for either crudités or to dice for another recipe.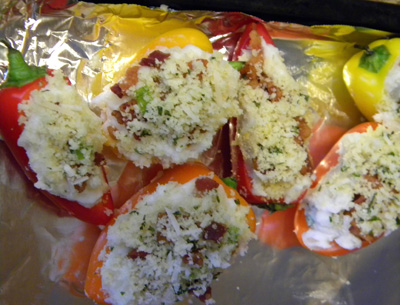 With either a pastry bag or a small spoon, stuff each pepper with the potato mixture, dividing evenly between them.  Place stuffed peppers on a baking sheet and top each with the bread crumbs and drizzle very lightly with olive oil.  Roast the peppers in the preheated oven until tender, about 25 to 30 minutes.   Serve hot or at room temperature.
Serves a crowd