Marissa-recommended and Connor-made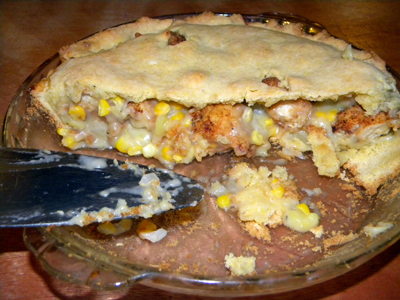 Marissa told me about a dish she and Jeff had at Hard Knox Cafe in San Francisco. Fried Chicken Pot Pie! OH MY, yes, please. I chose to not look up their version before coming up with a take on it myself.  As an added bonus, Connor asked if he could help me make dinner that night… What? Of course!
After Connor and I did our magic and we devoured the fruits of our labor, I Googled the Hard Knox menu and found that their recipe consists of boneless fried chicken, roasted pearl onions, potatoes, carrots, and herb gravy topped with a homemade puff pastry.  Sounded good, but I just know that ours was better! Our crust was out-of-this-world-amazing! Plus we did not have the carrots (Yay, no carrots!)  So amazing, in fact, that Connor wanted to make it again the very next night. Which I am a tiny bit embarrassed to tell you – we did! The second time around I added some roasted hot peppers to the filling for added color (OK, the only color) plus a bit of heat. Wonderful both ways!
You may notice from the photos that I made it in a pie dish. While creating the recipe, I'd planned on using a deep-dish pie pan, but could not find it when the time came to fill the pie. The dish I used was not deep enough and only held 1 quart. You need at least a 2-quart pan, so use an 8×8-inch square Pyrex pan if you too can't fit or don't have a deep-dish pie pan. You know how it goes… do as I say, not as I do.
This is rich, as you would expect, so serve with a big green salad. Trust me, it's worth every ounce of guilt you may feel!  Plus we'll make up for it on the upcoming Wednesday post with a super YUMMY and super healthy dish I created after hearing about some things we all should be eating according to Today Show Nutrition & Health Expert, Joy Bauer.

Fried Chicken Pot Pie
Dough
1  3/4 cups flour
3/4 cup yellow or white cornmeal
2 tablespoons sugar
1 teaspoon baking powder
3/4 teaspoon salt
8 tablespoons (1 stick) cold unsalted butter, cut into small pieces
2 tablespoons cold vegetable shortening, cut into small pieces
1/2 cup buttermilk
Fried Chicken
Canola or vegetable oil, for frying
2 boneless skinless chicken breasts, cut into bite-size pieces
Salt and freshly ground black pepper
1 egg
1 cup buttermilk
1 cup flour
2 tablespoons cornmeal
1 tablespoon sugar
1 teaspoon salt
1 teaspoon freshly ground black pepper
Filling
1/2 cup (1 stick) unsalted butter
1 small yellow onion, peeled and diced
1 garlic clove, peeled and minced
3 tablespoons flour
1 cup milk
1 cup chicken broth
1  1/2 cups prepared mashed potatoes (mashed with a fork, still a little chunky)
1  1/2 cups sweet corn kernels, cut from 2 fresh cobs or frozen
1 hot or sweet red pepper; roasted, peeled, cored, seeded, and diced
1 teaspoon dried thyme
3/4 teaspoon salt
1/2 teaspoon freshly ground black pepper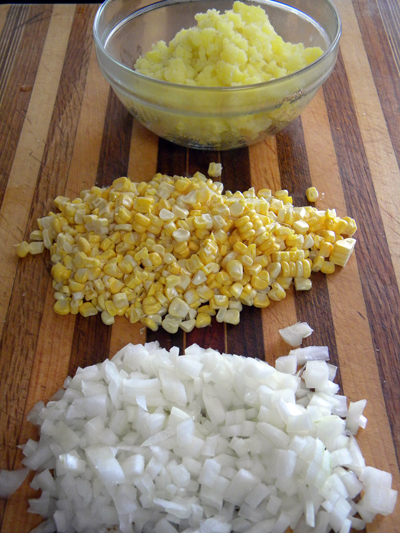 Dough:  Place the flour, cornmeal, sugar, baking powder, and salt in the bowl of a food processor; pulse until combined.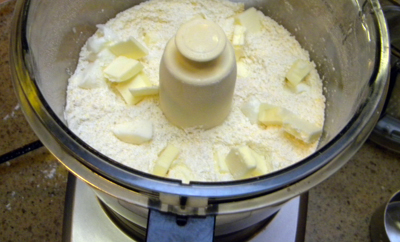 Add butter and shortening; pulse until crumbly and pea-sized lumps form. Add buttermilk, and pulse until the dough just begins to come together. Shape dough into 2 squares, wrap in plastic wrap and chill for 30 minutes.
Fried Chicken:  Pour the oil into a large skillet to a depth of about 1-inch. Heat until the oil reaches 350 degrees.

Meanwhile, generously season the chicken pieces with salt and pepper. Whisk together the egg and buttermilk in a large flat bowl. Place the chicken pieces in the buttermilk mixture and let soak for 5 minutes. Mix together the flour, cornmeal, sugar, salt, and pepper in another flat bowl or plate.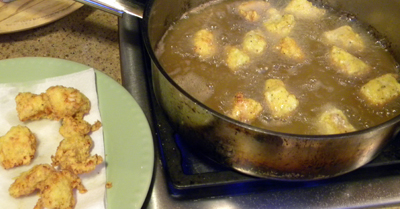 A few pieces at a time, remove chicken from buttermilk and dredge in the flour mixture and fry in the hot oil, turning until brown on all sides. Remove with tongs to a paper towel-lined plate.
NOTE: Although it is not typical to add an egg to the buttermilk  – I believe this is what kept the chicken crispy inside the pie, so don't leave it out.
Heat oven to 400 degrees.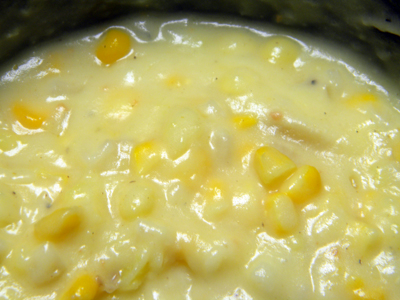 Filling: Melt butter in a large saucepan over medium heat; stir in onion and cook 6 minutes, or until tender.  Whisk in flour and garlic and cook for 2 minutes, whisking the entire time. Whisk in milk and chicken stock, and bring to a simmer, whisking constantly, until thickened. Stir in mashed potatoes, corn, roasted pepper, thyme, salt, and pepper until well combined.  Set aside.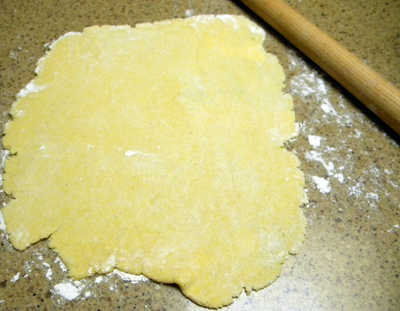 On a lightly floured surface, thinly roll out one dough square, to a 1/8-inch. Transfer dough to an 8×8-inch (2 quarts) Pyrex baking dish, and fit into the bottom and up the sides.  Pour the potato-corn mixture onto the bottom crust, and top with the fried chicken pieces.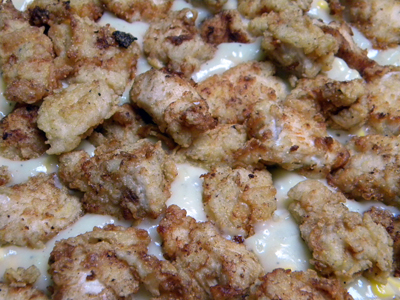 Thinly roll out the remaining dough square, to a 1/8-inch thickness, and place on top of the chicken.  Pinch and crimp dough edges to seal.  Cut 5 or 6 slits in the center of the top crust to allow steam to escape.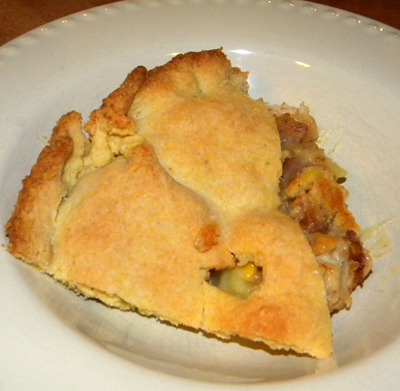 Bake 20 to 25 minutes or until golden brown. Loosely cover with foil, and bake an additional 10 to 12 minutes or until filling is hot and bubbling. Let cool for 5 minutes before cutting and serving.
Serves 8