maple + mustard = yum!
We love flank steak, it's a favorite "go-to" meal at our house. I usually make THIS version, with soy sauce, sesame oil, garlic, ginger, and brown sugar.
For a change of pace, I tried something new, that was even easier. My boys – Dave, Connor, and my dad – gave it six thumbs up!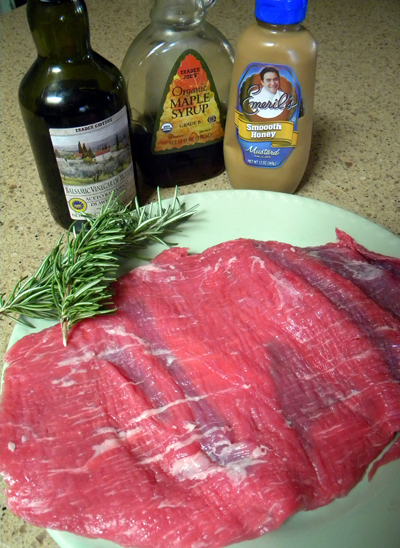 Maple-Mustard Flank Steak
2/3 cup balsamic vinegar
2/3 cup maple syrup
1/2 cup honey mustard
1 sprig of rosemary, leaves finely minced; plus more for garnish
1 or 2 flank steaks
Salt and freshly ground black pepper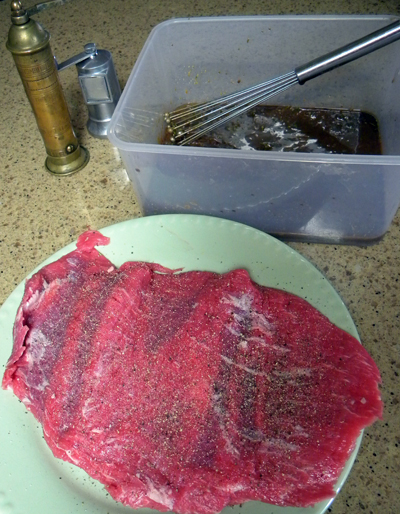 Combine vinegar, maple syrup, mustard, and minced rosemary in a bowl. Pour 1 cup of the mixture into a baking dish or a 1-gallon zip-lock bag and add the steak. Toss to coat and then cover or seal and refrigerate for 4 hours.
Cover and reserve the remaining marinade in the refrigerator.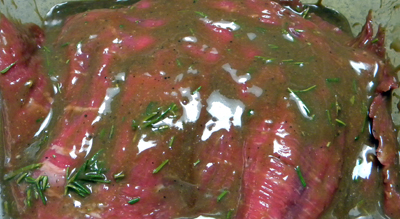 Remove steak from the marinade and discard the marinade left in the baking dish or bag.
Pour reserved marinade into a saucepan and place over low heat. Simmer and cook for 4 minutes to reduce slightly.
Generously season both sides of meat with salt and pepper.
Heat grill to high. Oil the grill grate, using an oiled rag. Place the steak on the grill. For medium-rare, cook for 3 to 4 minutes per side for a 1/2- inch thick steak, and 5 to 6 minutes per side for a 1-inch thick steak.
Remove steak from the grill. Let rest for 3 or 4 minutes.  Slice steak thinly and across the grain, on the diagonal. Pour reduced marinade sauce over steak, garnish with sprigs of rosemary and serve.
Serves 6 to 10