lasagna – an all-time favorite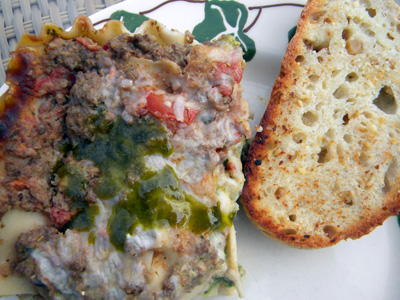 Do you know anyone who doesn't like lasagna? I certainly don't! It's right up there with hamburgers, spaghetti, and mac and cheese as the all-time family favorites. All those classics have been posted here already, it is now lasagna's turn.
Toasted and skinned hazelnuts are used in the pesto. To learn how to do this procedure, either go to the Tip Index at the left and look under "Hazelnuts" or click on this link.

Lasagna
1 pound dried lasagna noodles
1 pound lean ground beef
1 pound ground sweet Italian sausage
1 large onion, peeled and coarsely chopped
1 garlic clove, peeled
2 carrots, peeled and coarsely chopped
2 stalks celery, coarsely chopped
2 tablespoons fresh basil leaves
1/4 cup packed Italian parsley leaves
1 tablespoon fresh oregano leaves
2 tablespoons flour
1 cup red wine
28-ounce can chopped tomatoes, undrained
2 tablespoons heavy whipping cream
1/4 teaspoon ground cinnamon
1/2 teaspoon freshly grated nutmeg
15-ounce container ricotta cheese, divided in half
1/2 cup grated Parmigiano-Reggiano
2 ounces goat cheese, room temperature
1 egg, beaten
1/2 pound mozzarella cheese, shredded
1/3 cup grated Parmigiano-Reggiano
Pesto
1/2 cup hazelnuts, toasted and loose skins rubbed off in a kitchen towel
2 cups loosely packed fresh Italian parsley leaves
3/4 cup grated Parmigiano-Reggiano
1 garlic clove, peeled
1/2 teaspoon salt
1/2 teaspoon freshly ground black pepper
1/4 cup plus 2 tablespoons olive oil, divided
Cook the lasagna noodles in boiling salted water until just tender, about 10 minutes. Drain the noodles thoroughly and coat with olive oil to keep them from sticking together, set aside.
Heat a large skillet, add beef and sausage and cook until browned, about 10 minutes.  Season meat with salt and pepper.   In a food processor, combine the onion, carrots, celery, garlic, basil, parsley, and oregano. Process until pureed, add to the pan with the meat, and stir to combine. Stir in the flour, and stir for 2 minutes to cook the raw taste out of the flour. Add the wine and cook for 3 minutes. Stir in the tomatoes, cream, cinnamon, and nutmeg.
Preheat the oven to 350 degrees.
In a small bowl, combine 1/2 container of ricotta, 1/2 cup Parmesan, and goat cheese. Stir in egg, and season with salt and pepper. Set cheese mixture aside.
Pesto: Puree all ingredients, except olive oil, in a food processor. With the machine running, add 1/4 cup of the olive oil through the feed tube and puree until pesto is smooth.
In a medium bowl stir the remaining ricotta, and 1 cup of the parsley pesto, until combined well. Then, in a small bowl, stir together 2 tablespoons pesto and the remaining 2 tablespoons oil for drizzling over cooked lasagna, set aside.
Assemble: In a 13 x 9-inch pan, spread 2 ladles of sauce. Arrange 4 noodles lengthwise in a slightly overlapping layer on the sauce. Then, line each short end of the pan with a lasagna noodle to form a collar that holds in the corners. Dollop 1/2 of the cheese mixture over the pasta, and spread to the edges with a spatula.  Spread 1/2 of the meat mixture over the cheese.  Sprinkle 1/3 of the mozzarella on top of the meat. Spread 1/2 of pesto over mozzarella. Top with 2 ladles of sauce, spread evenly.
Repeat with the next layer of noodles, remaining 1/2 of the cheese mixture, remaining 1/2 of the pesto, 2 ladles of sauce, and 1/3 mozzarella.
Top last layer with noodles, remaining sauce, remaining 1/3 of the shredded mozzarella, and 1/3 cup Parmesan. Shake the pan to settle. (Can be assembled a day ahead, covered, and refrigerated. Remove from the refrigerator for 30 minutes before uncovering and placing in the preheated oven). Bake for 1 hour. Allow lasagna to rest for 30 minutes to firm up and cut easily.   Cut into 12 squares and serve drizzled with pesto oil.
Serves 12