knee deep
I am nearly buried in cooking classes at the moment, so I only have a couple of minutes to slap up a few photos and a couple of recipes – if you can call them recipes. They are more like quick and super easy ideas for tasty bits… almost too easy to even label "easy breezy"!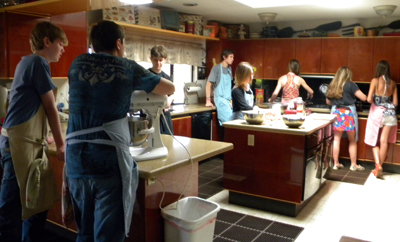 A few students are missing from this photo. One was homesick, another was late because she was coming from lacrosse practice, yet another was just running late, and so on. We start at 10:30 sharp because there is a lot to do and we can't wait. So this is a glimpse of what it looks like at the very start of class – when the students are just getting underway. Trash cans are empty, counters are relatively clear, the floor is still rather clean, and my two assistants are observing, rather than washing, drying, and well, basically "assisting".
The gentlemen in the forefront are mixing up bread dough, for English muffin bread. My assistants, Connor and Troy, are waiting for something to do. The young lady in the orange shirt is frying up bacon for the Bacon Strip Pancakes, the two on the right are starting on a batch of Cinnamon Roll Pancakes and the young lady in the center, at the island, is working on a batch of granola.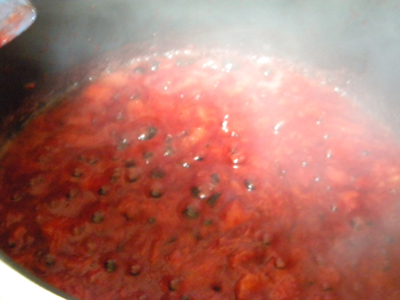 For our breakfast-themed meal yesterday, one of the dishes we made was English muffin bread with quick homemade strawberry jam – here is the jam simmering away. You could use a potato masher to crush the berries, but donning gloves and using your hands is so much more fun!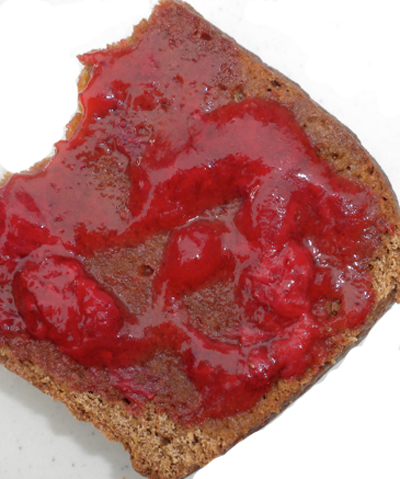 Quick Strawberry Jam
1 pound of strawberries, hulled
2 tablespoons sugar
1 teaspoon balsamic vinegar
Wash berries and place them in a wide pot.  Wash your hands thoroughly or put on kitchen gloves.
Add the sugar to the pot then smash and squeeze the berries with your hands until the desired consistency is reached -basically until it looks like a runny jam.
Turn the heat to medium-high and bring to a boil.  Reduce the heat to low and simmer, stirring occasionally, for about 20 to 22 minutes or until it is very thick.
Add the vinegar and cook for an additional 2 minutes.
Use a rubber spatula to scrape the jam out of the pot and onto a dinner plate to cool.
Serve once cooled, or transfer to a jar, cover and refrigerate, and use within 3 days.
Makes about 1 cup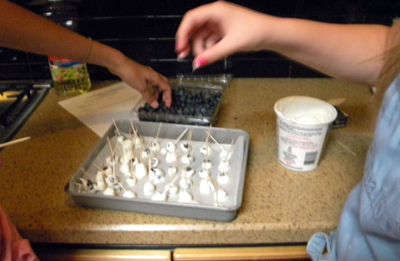 And here is what I'm talking about when I say, no recipe is needed. Frozen Yogurt Covered Blueberries.  You got it – just poke a blueberry with a toothpick, dip it in Greek yogurt, place it on a plate or a small pan and throw it in the freezer for an hour.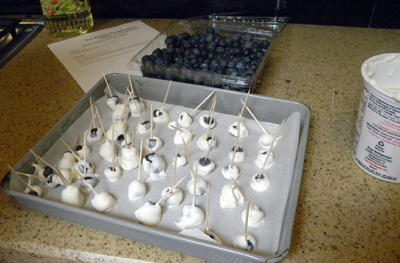 These are the perfect quick and healthy treat for a hot summer day – which would be any and every single day in Arizona! Enjoy.