Kim week
The remaining days of this weeks posts may end up all mentioning my beautiful friend and co-worker, Kim. And that would be a good thing, indeed! Last night Kim and I went out for a glass of wine, to catch up. Before leaving the house, I received a call from her asking if I could use some dill. Turns out her friend and neighbor has a garden and her dill runneth over. Of course, I'd love to have dill, or anything else from someone's garden.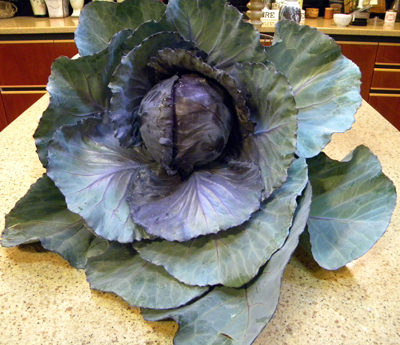 When Kim arrives to pick me up, she not only has a bag of dill but a huge head of purple cabbage too – look at that monster! Now, cabbage isn't my favorite vegetable, I'll eat it and I find it tolerable, but not on the top of my list. Not to worry, Kim has a recipe for a fabulous cabbage soup. OK, I trust her taste 100%, so I tell her to send me that cabbage soup recipe.
In the meantime, I used the dill to make a dill pesto as a garnish for a carrot soup that Dave and I enjoyed for dinner last night. I was so distracted by that head of cabbage, that I neglected to take a photo of the lovely pile of dill, but you'll at least see it in the final product below.  As for the cabbage… that story will be continued tomorrow.

Fresh Dill Pesto atop Quick Carrot Soup
Carrot Soup
1 tablespoon unsalted butter
1 tablespoon olive oil
6 medium carrots, peeled and thinly sliced
1 large onion, peeled and diced
2 garlic cloves, peeled and minced
2 or 3 sprigs fresh dill
Salt and freshly ground black pepper
4 cups chicken broth
Dill Pesto
1 cup packed stemmed fresh dill leaves
2 tablespoons toasted slivered or sliced almonds
2 tablespoons olive oil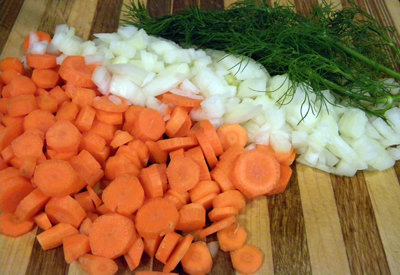 Soup: Melt butter with olive oil in a heavy large pot over medium heat. Add carrots, onion, garlic, and dill and sauté until onion is translucent and tender about 10 minutes.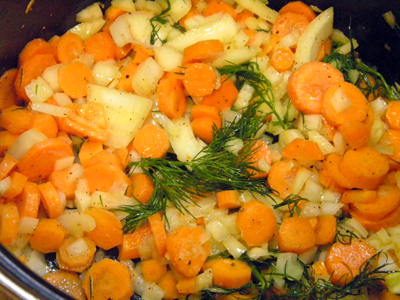 Season with salt and pepper and add the broth and bring to a boil. Reduce heat and simmer until carrots are very tender about 25 to 30 minutes.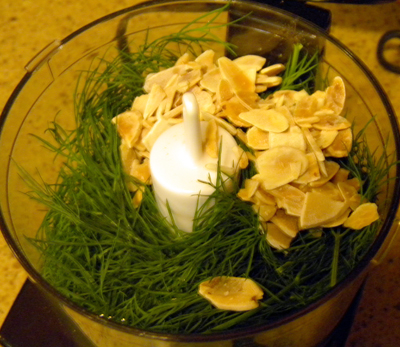 Pesto: Meanwhile make the pesto by combining the fresh dill and almonds in a processor and chopping finely using the pulse button. With the processor running, slowly add oil and process until well blended.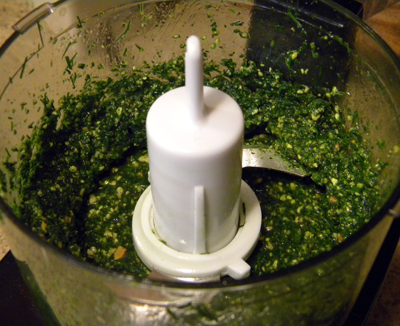 Season to taste with salt and pepper. Transfer to a small bowl. No need to clean out the processor, you will be using it to blend the soup. (You may not even notice, but just in case some of you do… I must confess. I mistakenly used a mini-chop to make the dill pesto. I realized it was a mistake just about the second I turned it on and began.  Everything can be done in a regular food processor. That way there is only one processor bowl to wash…. do as I say, not as I stupidly do!)
Transfer soup to the processor and puree. Return soup to the pot to rewarm.  Taste and season with salt and pepper, if needed.
Ladle into bowls. Dollop dill pesto atop the soup.
Soup and pesto can be prepared up to 2 days ahead, covered separately, and refrigerated.
Serves 4