it's Greek to me…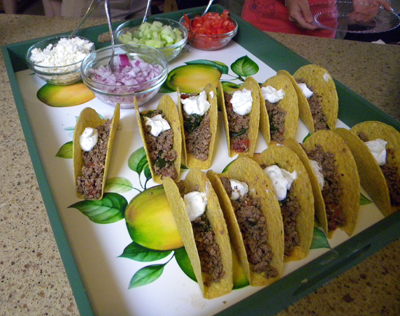 During the "decision-making" time about what to make for our graduation class last week, I had several suggestions to choose from for one of the main courses, among them, tacos or Greek salad.  Both are good ideas and both work well on a buffet, but we already had decided on another salad, and "Plain Jane" tacos seemed a bit tame for the rest of the menu.  So we combined the two and made Greek Tacos… they were a huge hit with students and guests alike.  If your family is the more adventurous type, go with the ground lamb, otherwise, either ground beef or ground turkey work perfectly well.

Greek Tacos
Yogurt Dill Sauce
1 cup Greek yogurt
1 teaspoon freshly grated lemon zest
2 teaspoons lemon juice
1 tablespoon minced fresh dill
Taco Meat
1 pound ground lamb (or ground turkey or lean ground beef)
14.5 ounce can diced tomatoes, do not drain
1 tablespoon Greek seasoning
1 garlic clove, peeled and minced
1/4 teaspoon freshly ground black pepper
2 cups fresh baby spinach, thinly sliced
Toppings
12 packaged crunchy taco shells
2 cups diced tomato
2 cups peeled, seeded, and diced English cucumber
1/2 cup pitted and diced Kalamata olives
1/2 cup peeled and diced red onion
1 cup crumbled feta cheese
Yogurt Dill Sauce: In a medium bowl, blend together yogurt, lemon zest, lemon juice, and dill.  Cover and refrigerate until ready to serve.
Taco Meat: In a large skillet, cook ground lamb over medium heat until no longer pink; drain.  Stir in the tomatoes along with their juices, Greek seasoning, garlic, and pepper.  Bring to a simmer, then reduce heat; cook for 8-10 minutes or until thickened.  Add spinach and cook, stirring occasionally for 2-3 minutes or until spinach is wilted.
Toppings: Meanwhile, preheat the oven to 300 degrees.  Place taco shells on a baking sheet and bake for 3-5 minutes or until heated through.
Spoon about 1/4 cup of meat mixture into each shell.   Place the tomatoes, cucumber, olives, onion, feta cheese, and yogurt sauce in separate small bowls and allow guest to top their own tacos.
Makes 12