mangosteen-another "superfood"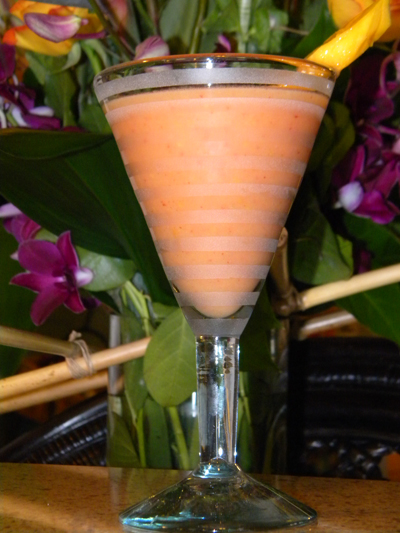 How can it only be Wednesday? Isn't it strange how some weeks just fly by and others never seem to end?!  I'm going to pretend it's Friday and give you a cocktail recipe today, albeit a somewhat healthy one! (now that is a true oxymoron) It has a texture somewhat like a smoothie and with all that alcohol, it is smooth!  Now you'll have time to get to the store and be prepared when the weekend finally does roll along…
Mangosteens are one of the new "superfoods" making a buzz around the culinary world. Mangosteen is a dark purple-skinned fruit with white flesh from Southeast Asia, Thailand being one of its largest producers. Although mangosteen sounds like a type of mango, it is actually a very different fruit. Now available in Asian markets across North America, (since an import ban was lifted in 2007) mangosteen is a deliciously sweet and juicy fruit. Shop for fresh mangosteens at your local Asian market. Both the white fruit and the purple skin are suffused with disease-fighting antioxidants, anti-radicals, anti-aging agents, and cancer-fighting agents. Mangosteens are the size of a tangerine and have orange-like segments of fruit, though the taste is very different.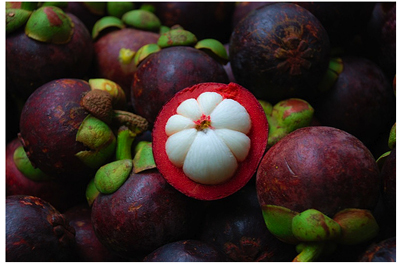 When shopping, look for fruit that is firm and deeply colored with stems and leaves that are green and fresh.  Avoid buying mangosteens that have blotchy-looking skin or crispy-brown leaves, as this means the fruit is old. Another sign of overripe mangosteens is a powdery yellow appearance on both skin and stem. To open, use a sharp knife, and make a cut around the middle of the fruit. Take in hands and use both thumbs to pry open the fruit, while twisting slightly. Remove the segments from the skin and enjoy in salads, sorbets, beverages, or straight out of hand.
Mangosteen fruit segments sometimes have small to medium-size pits. If the pits are small and soft, you can eat them, otherwise, spit them out as you would watermelon seeds.  Mangosteens usually come down in price by a few dollars a pound in the late summer months.
Mango-Mangosteen  Margaritas
12- ounce can frozen margarita mix
2 1/4 cups mango-mangosteen juice (available at Trader Joe's)
1 1/4 cups light rum
1/2 cup tequila
1/3 cup triple sec
10 cups frozen mixed tropical fruit (which I found at Costco)
3 ripe mango, peeled and sliced, for garnish
Lime wedges, for garnish
Pour the frozen margarita concentrate,  juice, rum, tequila, and triple sec into a blender.  Blend.
Gradually add the frozen fruit, and continue blending until smooth.
Pour into tall glasses and garnish with mango slices and lime wedges.
Serves 12