iLove!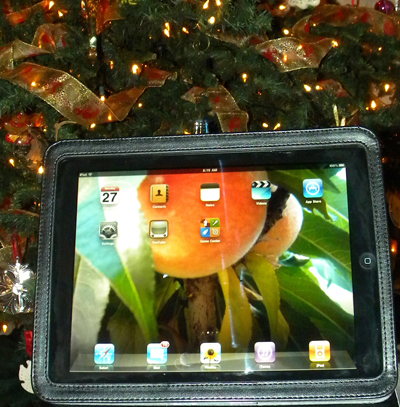 I hope your Christmas was merry and bright! It was at the Hopkins' house and I have a very good reason for not posting a recipe yesterday… it is pictured above. Santa brought me an iPad for Christmas and I'm having a blast with it! Thankfully it wasn't opened until AFTER I had gotten Christmas Eve dinner and Christmas morning breakfast on the table, otherwise people may have gone hungry! Somehow, I did manage to make Christmas dinner, but the day after Christmas… it was all iPad, all day long! And I'm feeling the itch to get back to it right now. Before that happens, here is the potato dish I made for Christmas Eve to accompany pomegranate molasses lamb chops -yummers!
Meyer Lemon Potato Gratin
1/4 cup (4 tablespoons) unsalted butter, divided
4 pounds Yukon gold potatoes
1 tablespoon fresh thyme leaves, minced
1/4 teaspoon freshly grated nutmeg
Zest of 2 Meyer lemons, grated
Salt and freshly ground black pepper
2 cups half-and-half
Place an oven rack in the center setting and preheat the oven to 400 degrees. Place a sheet of foil on the rack below to catch any drips. Generously grease a 15 x 9-inch baking dish or gratin dish with 1 tablespoon of butter.
Peel the potatoes and use the slicing blade of a food processor to thinly slice. Set aside 1/3 of the potato slices that are "perfect looking" for the final top layer.
Cover the bottom of the buttered gratin dish with half of the remaining "imperfect" potato slices, in an even layer. Do not worry about the slices being laid out orderly, this and the next layer will not be visible.
Sprinkle potatoes with one-third each of thyme, nutmeg, and lemon zest; season with salt and pepper. Dot with 1 tablespoon of the butter. Add the second layer of "imperfect" slices; season and dot with another tablespoon of butter.
Top with the "perfect" potatoes, neatly arranged in an overlapping pattern. Pour the half-and-half over the potatoes. Sprinkle with the remaining thyme, nutmeg, and lemon zest, and dot with the final tablespoon of butter. Season with salt and pepper. Cover with aluminum foil. (Gratin may be made and then refrigerated to this point 8 hours in advance, add an extra 15 minutes to the baking time.)
Bake for 1 hour and 20 minutes, or until the potatoes are tender when pierced with the tip of a paring knife.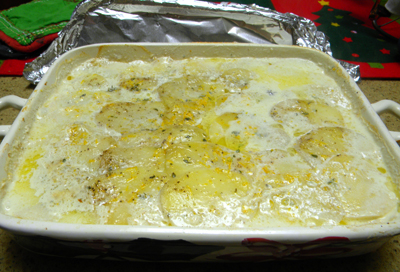 Remove foil, and continue to bake for about 10 minutes, or until the top is golden brown.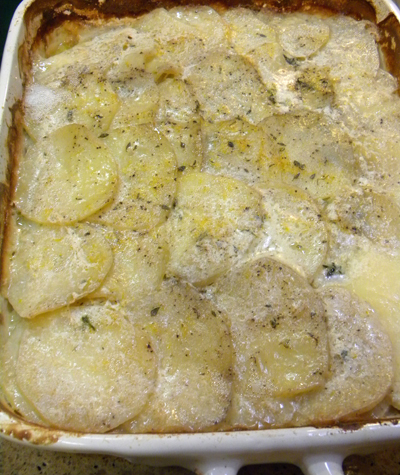 (Gratin may be baked 3 hours in advance. Let sit at room temperature for 1 hour, then cover with foil and return to a 200-degree oven for 1 hour before serving)
Serves 8 – 10