healthy hard work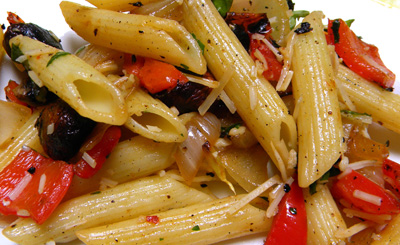 One important lesson quickly learned by the summer students these past few weeks… it takes a bit more effort to not only eat healthily but also to cook healthy. That may seem obvious to most adults… cruise through the drive-thru window vs. grilling a burger yourself – obvious. But how about throwing fat and juicy T-bone on the grill vs. grilling vegetables? A bit more effort with the vegetables, but effort well worth it, not only for the fabulous color and flavors – but also for your heart and soul!
Feel free to tweet and add to this recipe all you want. I would have included zucchini, eggplant, tomatoes, etc., but those were already on the menu of the day in a variety of other vegetarian dishes. So scour the farmer's market or pluck from your own garden and heat up the grill – enjoy!
Penne with Grilled Vegetables
8  (4-inch) portobello mushroom caps
4  medium red bell peppers, quartered and seeded
2  medium sweet onions, each cut into 4 slices
Pam
Salt and freshly ground black pepper
1 1/2  tablespoons balsamic vinegar
2 tablespoons olive oil, divided
1/4 teaspoon crushed red pepper flakes
4 cups hot cooked penne (about 8 ounces dried)
1/4 cup coarsely chopped fresh Italian parsley
1/4 cup coarsely chopped fresh basil
1/2 cup shredded Parmesan cheese

Prepare grill to medium-high heat.
Arrange mushrooms, gill sides up; bell pepper quarters; and onion slices on a baking sheet. Coat vegetables with cooking spray. Sprinkle evenly with salt and pepper. Drizzle vinegar over mushrooms.
Place vegetables on grill rack; grill 5 minutes on each side or until tender. Cool vegetables until able to handle, coarsely chop vegetables.
Heat 1 tablespoon oil in a large nonstick skillet over medium heat.  Add grilled vegetables to pan; cook 4 minutes or until thoroughly heated, stirring occasionally.  Stir in 1/4 teaspoon salt, 1/4 teaspoon black pepper, and crushed red pepper. Remove from heat.
Combine pasta, parsley, basil, remaining 1 tablespoon olive oil, 1/2 teaspoon salt, and 1/4 teaspoon black pepper in a large bowl; toss well.  Add grilled vegetables; toss well.  Sprinkle with cheese and serve hot or at room temperature.
Serves 8