grown-up spiderweb cake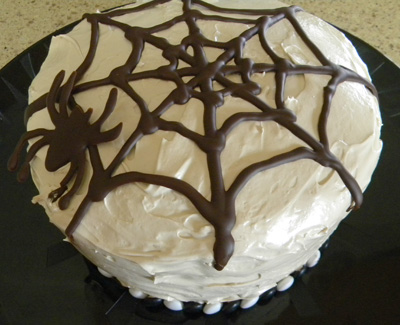 I had a lovely birthday, thank you for all your sweet birthday wishes.  My wonderful friends, Ronnie, Amy, and Lori took me to the Queen Creek Olive Mill for lunch; it was a gorgeous afternoon that we spend under the olive trees enjoying wine, antipasto, and sandwiches. Afterward, we headed off to the Pork Shop, and unfortunately, we discovered that they are closed on Mondays and Tuesdays, so no amazing bacon, sausages, or chorizo for us to take home…next time we'll remember that!
For my birthday dinner, Dave took me to Prado at the InterContinental Montelucia Resort and Spa where we shared a bottle of wine and Paella with mussels, clams, and scallops. It was tasty, but I have to say my paella is really much better; I include sausage, chicken, and shrimp plus peas.  I'll have to make it next time the kids come home and post the recipe.  Until then, we have Halloween to contend with, so here is a fun Spider-Web cake that is fun for kids but has an adult taste, with the addition of Espresso in the frosting.
You will find the Medaglia D'Oro instant espresso powder at any Italian Deli or locally at A.J.'s or on the web at this link. (I've even seen it recently at Target) I use it often in baking and once you try it you will too, so invest in a jar now and I promise I'll be posting more recipes using it in the future.  I am working tonight, and certainly don't need to have a whole cake around the house, so I'll be dropping it off at our monthly neighborhood Bunko night for the ladies to enjoy.
For the 7-minute frosting, or anytime you are beating egg whites, be sure the bowl and the beaters are completely clean and free of any grease.  The egg whites will not beat up and increase in volume with even a trace amount of fat, such as from the egg yolk, present.  Also, eggs separate much easier when they are cold, straight from the refrigerator, but they whip up best when they are at room temperature, so separate them a little bit ahead of time. Finally, ever wonder what my kitchen looks like after I'm done cooking and taking all these pictures and ready to put up a new post? You'll see at the bottom of this recipe – scary indeed!


Halloween Spiderweb Candy Cake with 7-Minute Espresso Frosting
Cake
1 package (18.25 ounces) devil's food cake mix
Water, vegetable oil, and eggs as called for on the cake mix box
Web and Spider
3/4 cup semisweet chocolate chips
Frosting
2 large egg whites
1 cup granulated sugar
1/4 cup water
1 tablespoon instant espresso powder
6 ounces (16 mini-trick-or-treat sizes) Twix candy bars cut into chunks
48-50 black and white M&M's or other small Halloween candies of your choice (such as licorice pieces, candy corn, Reece's pieces, etc.)
Bake cake in two 8-inch round cake pans with cake mix, water, oil, and eggs following the directions on the back of the cake mix box. Remove from oven and allow to cool for 12 minutes in pans on racks, remove from pans and cool completely on racks before frosting.
While the cake is baking and cooling; make the spider and her web: On a sheet of paper draw an 11-inch circle with a pen or pencil and draw a spiderweb on it, extending the ends beyond the circle.  On another sheet of paper draw a spider. (see pictures). Place the pictures on the counter and place a piece of parchment paper over the drawings and tape parchment to the counter to keep in place.
In a microwave melt chocolate chips for about 2 minutes, stirring occasionally until smooth. Transfer chocolate to a pastry bag fitted with a #3 plain tip.  Pipe chocolate onto the parchment outlining and filling in the spider. Then outline the web, beginning with spokes, and then the circles.  Transfer parchment to a baking sheet and place in freezer until very firm, at least 1 hour and up to 1 day.
Frosting: In a metal bowl set over a saucepan of simmering water beat frosting ingredients with a hand-held electric mixer on low speed until the mixture is warm and sugar is dissolved. Beat frosting on high speed for 7 minutes, or until thick and fluffy. Remove bowl from heat and beat frosting until slightly cooled.
Assemble: Using a serrated knife, cut both cake layers in half horizontally for a total of four thin layers. Put one cake layer on a cake plate and spread top with a thin layer of frosting. Sprinkle with 1/3 of the Twix chunks. Repeat with 2 more cake layers, thin amounts of frosting, and the remaining 2/3 of Twix chunks. Top with the final cake layer and frost the entire cake with the remaining frosting.  Press the black and white M&M's into frosting around the bottom edge of the cake.
Cut the corner of the parchment with the spider on it away from the parchment with the web and leave the spider in the freezer. Working quickly, invert parchment paper with frozen web onto another sheet of parchment and peel off paper quickly but carefully.
Invert spiderweb carefully onto the cake and allow it to soften at room temperature until overhanging edges begin to droop. Press the overhang gently (do not force it, allow it to soften more, if necessary) against the side of the cake. Carefully peel off the spider from the parchment and perch on its web. Cake may be assembled and decorated 4 hours ahead, chilled. Let cake stand at room temperature 30 minutes before serving.
Serves 10 -12