green sludge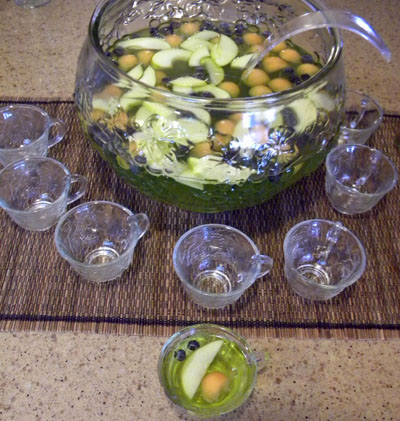 Halloween is exactly one week away, so if you don't have a fun punch idea, here you go. You're welcome!
Green Halloween Punch
1 1/2 cups Midori melon liqueur, chilled
1 1/2 cups dark rum, chilled
1 1/2 cups light rum, chilled
3 cups white cranberry or white grape juice, chilled
1 1/2 cups apple juice, chilled
1 cup simple syrup, chilled
1/2 cup fresh squeezed lemon juice, chilled
Fruit Garnish
1 green apple, quartered, cored, and thinly sliced
1 1/2 cups blueberries
1/2 cantaloupe, flesh made into balls, using a melon baller
Pour all the liquid ingredients into a large punch bowl and mix well.  Taste, if it is too sweet, add more lemon juice. If the punch is too sour, add a bit more simple syrup.
Top with apple slices, blueberries, and melon balls.
Makes 11 cups and serves a crowd