gluten free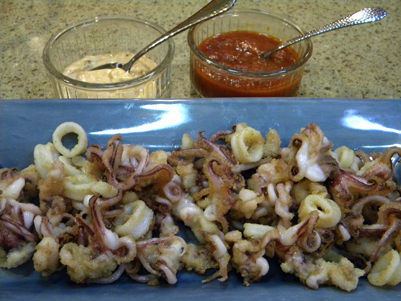 Marissa hasn't been feeling quite right lately, so she is self-diagnosing and trying to go gluten-free for a week. Oh well, what can a mother do? The one thing this mom can do is help with food prep. Along those lines, we made this calamari recipe with rice flour instead of all-purpose flour. It tasted fine, but the rice flour doesn't stick quite as well as wheat flour, which left the calamari a bit less crispy than we like, but still plenty tasty.
Calamari
Vegetable oil, for frying
1/2 cup all-purpose flour or rice flour
1/4 cup white corn meal
1 tablespoon Old Bay seasoning
1/2 teaspoon salt
1/2 teaspoon freshly ground black pepper
1 egg white, whisked in a shallow bowl until frothy
1 pound fresh or thawed frozen small calamari; bodies cleaned and sliced       into 1/2-inch-wide rings, tentacles left uncut
1 cup jarred marinara sauce, warmed
1/2 cup chipotle mayonnaise
Lemon wedges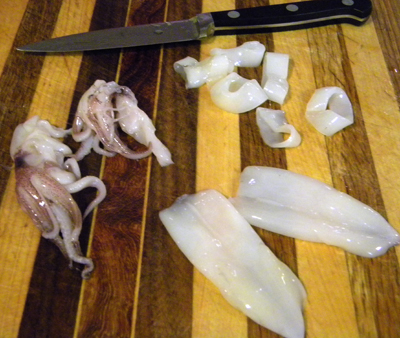 Pour enough oil into a heavy large saucepan to reach the depth of 3 inches. Heat over medium-high heat to 375 degrees.
Mix the flour, cornmeal, Old Bay, salt, and pepper in a large zip-lock bag.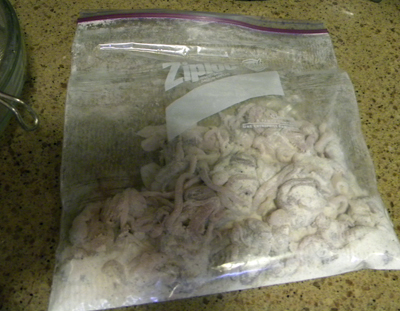 Place the squid in the beaten egg, turning to coat. Use tongs to transfer squid to the zip-lock, seal, and toss the squid into the flour mixture to coat. Pour the entire contents of the zip-lock into a strainer set over a bowl and shake off the excess flour mixture.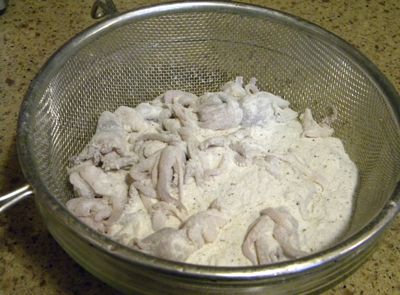 Carefully add half of the squid at a time to the oil and fry until crisp and very pale golden, about 2 to 3 minutes per batch. Using tongs or a slotted spoon, transfer the fried calamari to a paper-towel-lined plate to drain.
Place the fried calamari and lemon wedges on a clean plate. Sprinkle with salt. Serve with marinara sauce and chipotle mayo.

Serves 4