girlfriend Christmas time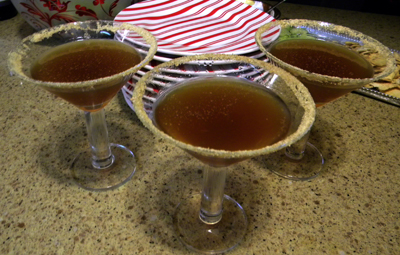 Peggy, Anne, and I had our annual Christmas cocktail time last night. Since it was to be held at my house, I wanted to make a new holiday martini for the occasion. While creating other gingerbread recipes this year, I spotted something I didn't know existed, gingerbread syrup.  I have about a dozen different flavors of Torani syrups in my second refrigerator. I use those to make Italian Creme Sodas for kids' cooking classes, but gingerbread is a flavor I have never found. I let my "fingers do the walking" as I called Smart & Final, Cost Plus World Market, BevMo, and Total Wine (all the places I know carry the Torani line of syrups) searching for gingerbread. Sadly, not a single one of them had it in stock.  What's a determined girl to do? Make her own gingerbread syrup, of course! As a result, today you get two recipes for the price of one. Enjoy!
Gingerbread Syrup
1 cup water
1 cup brown sugar, packed
1/2 cup sugar
2 tablespoons molasses
1 teaspoon ground cinnamon
1 teaspoon ground ginger
1 teaspoon lemon zest
1/4 teaspoon freshly ground nutmeg
1/8 teaspoon ground cloves
Combine all ingredients in a medium saucepan and heat over medium heat. Bring to a simmer and stir until sugar is completely dissolved. Watch carefully, if it comes to a rapid boil, it will boil over.
Line a strainer with cheesecloth and place over a bowl. Strain syrup, and cool to room temperature before pouring it into a bottle or jar and refrigerating. Keep refrigerated until ready to use.
Makes 1  1/2 cups
Above is a picture of the Torani syrup, if you ever see the gingerbread flavor, grab it! My homemade concoction in there for you to see too. You'll want to use either a vanilla vodka or the vanilla cognac. I've listed the brand name of my favorite, but whatever brand is fine. The Navan vanilla cognac is brought to you by the Grand Mariner people, and is especially wonderful for any dessert that calls for cognac or brandy. It is a bit pricey (around $35), so if you are not comfortable purchasing that and have a favorite vanilla vodka that is less expensive, use that and regular cognac or brandy instead.
Gingerbread Martini
3 ounces Skyy vanilla vodka
1 ounce Navan vanilla cognac
1 ounce Torani or homemade Gingerbread syrup
1 teaspoon fresh lemon juice
Crushed cinnamon graham crackers, gingersnaps, or
Cinnamon Toast Crunch cereal
Pour the vodka, cognac, syrup, and lemon juice into a martini shaker and fill with ice. Cover and shake vigorously until very cold.
Place the crushed crackers or cereal on a small plate. Pour a small amount of the syrup on another plate. Dip the rim of each martini glass first in the syrup and then into the crumbs to coat the edge. Strain the gingerbread martini into the glass and serve immediately.
Makes 1