Fun & Festive Cocktails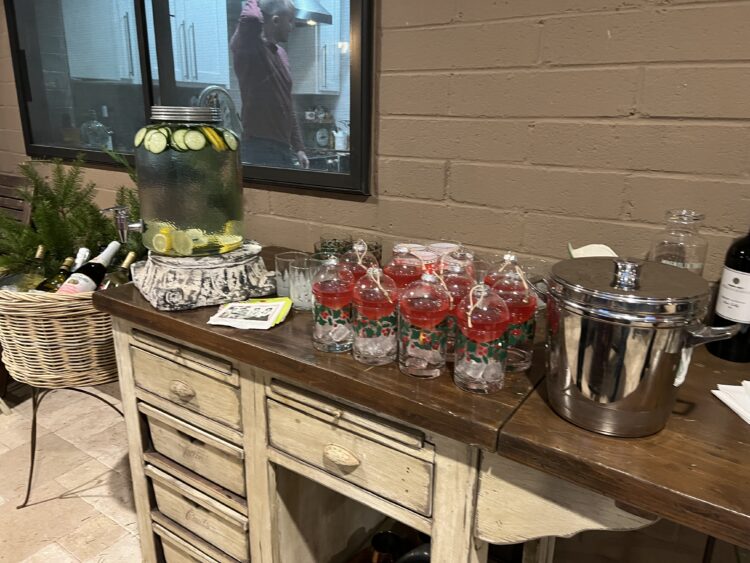 Along with the ornament shots on the indoor breakfast table, I had a bar set up outside on the patio. Out of the photo is an ice chest filled with beer and flavored sparkling waters.
To the left, you can see a large basket tub filled with sparkling wine, non-alcoholic sparkling beverages, and wine. I love to add greens to the tub., such an easy and festive touch to every winter party.
A large glass dispenser filled with water, infused with lemon and cucumber slices. Making water available this way is not only more visually pleasing but reduces plastic.
Then to the right, behind the ice bucket, there is a glass pitcher that has egg nog spiked with Skrewball Peanut Butter Whiskey, Yum!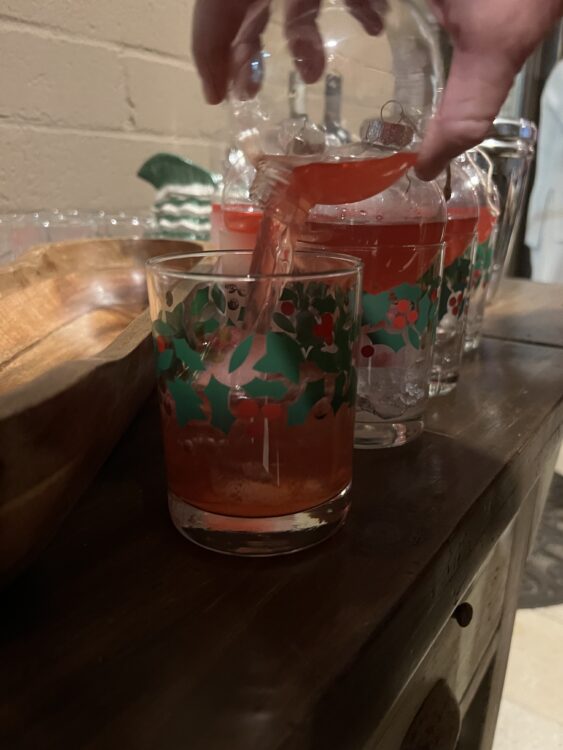 In the foreground, the "Star of the Bar", full-size ornaments filled with a Cranberry-Vodka Cocktail mixture. The ornaments set atop holiday glasses filled with ice, fresh cranberries, and a sprig of rosemary. The link for the ornaments is below. Be sure to wash out these ornaments with soapy water first, drain and allow them to air-dry before using.
Little Known Amazing Random Fact: Most Muppets are left-handed. That's because the puppeteers use their dominant hand, which is in most cases their right, to operate the Muppet's heads and mouths. This sweet fact always made my left-handed son, Connor, feel extra special and proud.