frittata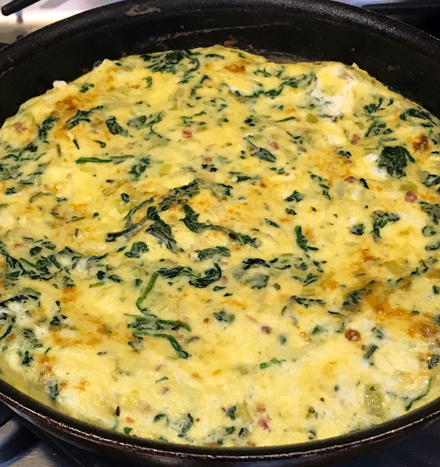 For the bridal shower, I not only made a quadruple recipe of the breakfast potatoes, but I also made 5 of these frittatas. The most challenging part of that was finding a place to slide the frittatas out after I cooked them. It had to be something that could then be transported to the home of the hostess, Whitney, and placed in her oven to reheat. The best I could come up with was to turn over baking sheets and place 2 frittatas on each sheet.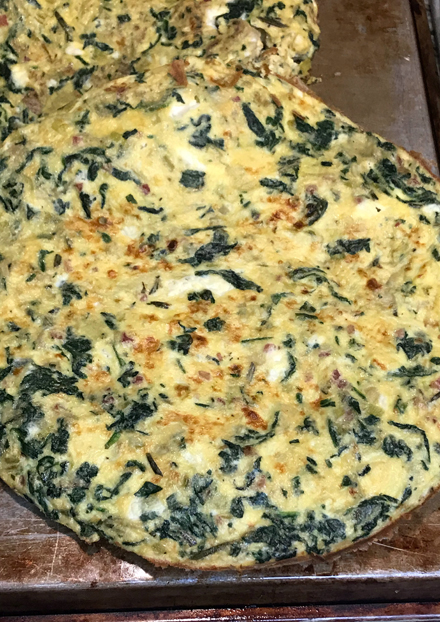 It may not have been the perfect solution but it worked. Once again, when you see the photos, don't be alarmed by the quantity of food. If you make this, it will be a fifth as much.
Pancetta, Spinach and Leek Frittata
6 ounces of baby spinach
2 tablespoons olive oil, divided
2 ounces diced pancetta
1 large leek
1 medium shallot, peeled and diced
2 garlic cloves, peeled and minced
1 teaspoon minced fresh rosemary leaves
8 large eggs
1/2 teaspoon salt
1/2 cup ricotta cheese
Freshly ground black pepper
Fill a large pot with water and bring to a boil. Fill a bowl with ice water.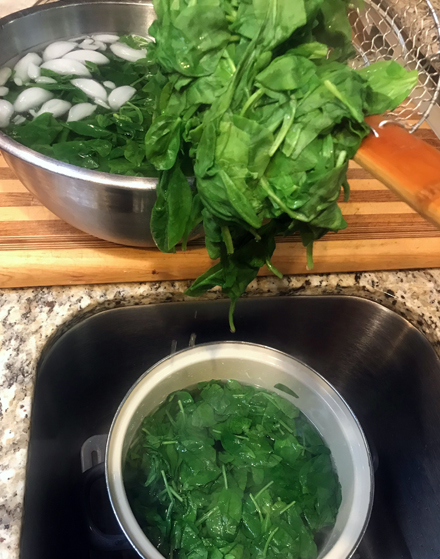 Drop the spinach into the boiling water, blanch for 20 seconds, and use a slotted spoon or spider to transfer the wilted spinach into the ice water.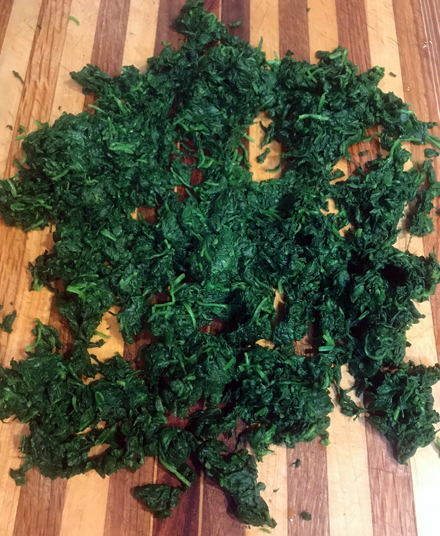 Once the spinach has cooled off, use the slotted spoon to remove it and place it on paper towels to drain. Use more paper towels or a cloth towel to squeeze dry. Squeeze as much liquid out as you possibly can. Then chop finely and set aside.
Place a 10-inch oven-proof skillet over medium-low heat, add 1 tablespoon of the olive oil and then add the pancetta and sauté for 5 to 10 minutes, until nicely browned. Remove the pancetta with a slotted spoon, drain on paper towels and set aside.
Slice the bottom half (the white and light green part) of the leek in half and then in half again, making an X. Run that open part under cold running water to wash out any dirt and sand. Then slice thin.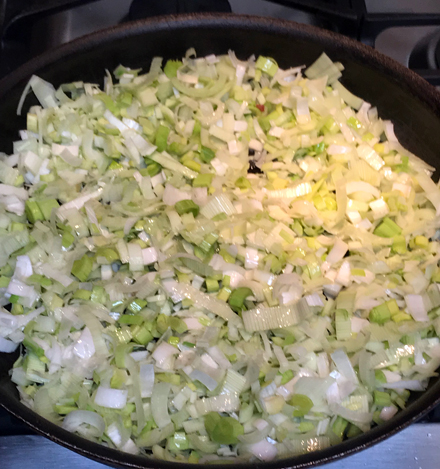 Place the same skillet over medium heat, and cook sliced leek in the fat from the pancetta, stirring often, until leek is very tender, about 6 minutes.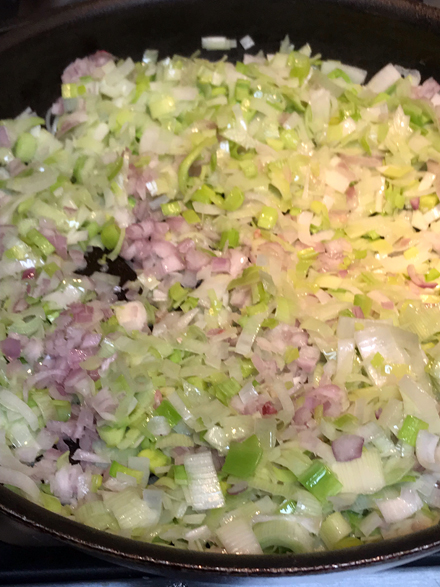 Stir in the shallot and garlic and cook another 3 or 4 minutes until shallots are tender.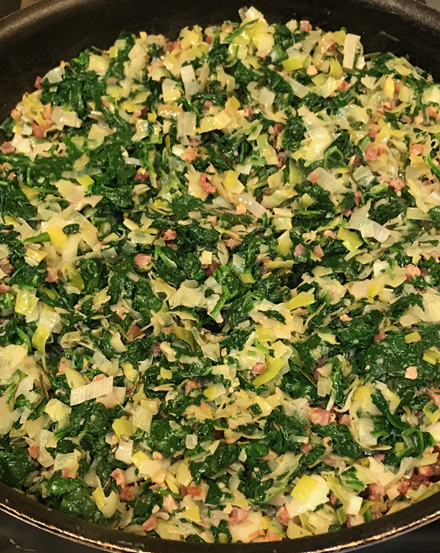 Add chopped spinach and rosemary; cook another minute. Remove from heat.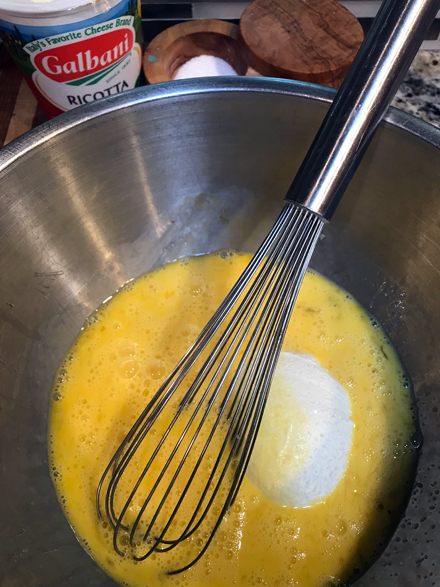 Whisk eggs in a bowl. Stir in salt and ricotta.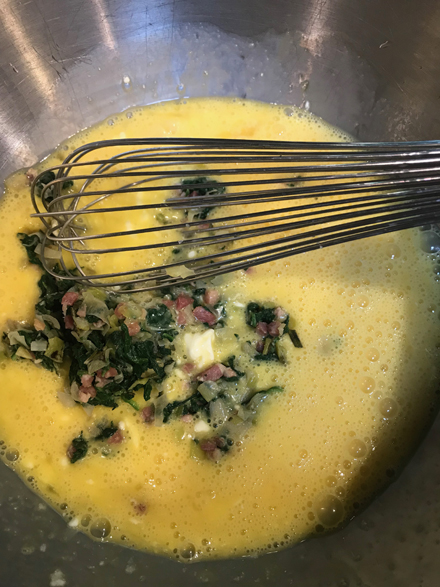 Stir in cooked the spinach-leek mixture. Season with pepper to taste.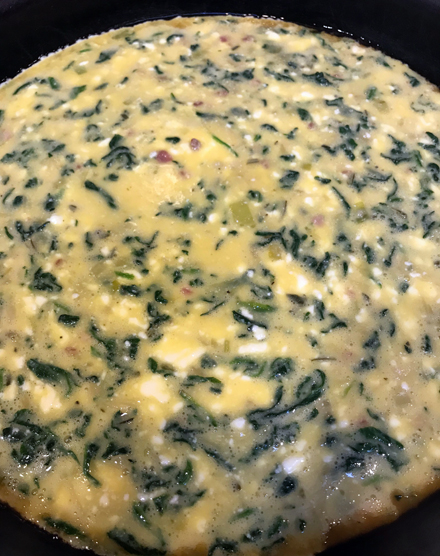 Preheat broiler. Wipe the skillet clean. Set over medium heat and add the remaining tablespoon of olive oil. When hot, pour in egg mixture; cook, stirring occasionally to distribute cheese and greens. Continue cooking, tilting the pan, and using a spatula to lift up the frittata's outer edge and let eggs run underneath until eggs are no longer runny. Turn heat to low and cover the pan. Cook until frittata is almost set, about 6 minutes.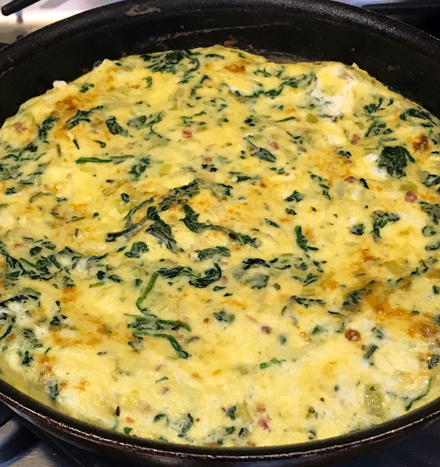 Broil frittata about 3 inches from heating element until it is just beginning to brown on top, 1 to 2 minutes; remove from oven. Let sit in the pan for about 5 minutes, then use a rubber spatula to carefully slide out onto a platter. Cut into wedges and serve.
Serves 6 to 8