firecrackers
On May 29, 2011, I posted a recipe for Jalapeño Poppers.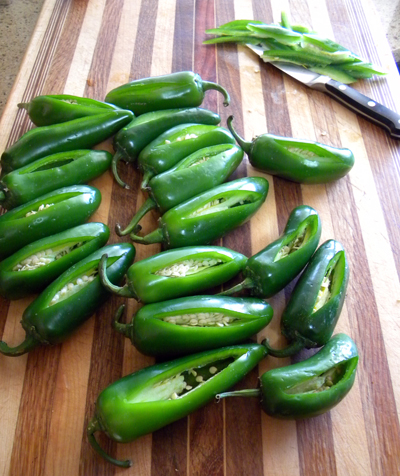 Poppers are jalapeño peppers, cleaned out, filled with cheese, wrapped in bacon, and baked. And in this case, brushed with apricot preserves. The spicy morsels make for one delicious and addictive appetizer.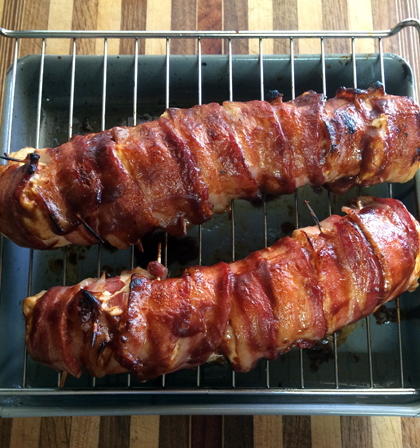 A little more than three years later, I have another delicious and addictive recipe for you … not little poppers, but instead, great big firecrackers!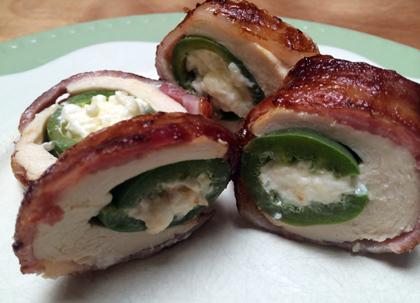 I'm calling them firecrackers because they have an extra flavor explosion – chicken and BBQ sauce. The firecrackers can be sliced and served as appetizers or cut in half, on a diagonal, and served as the main course.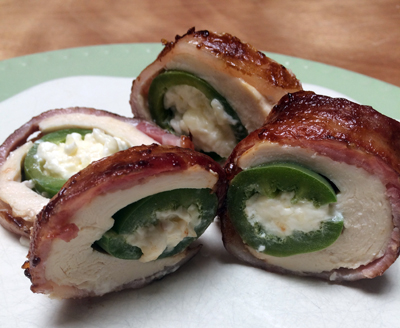 Chicken & Jalapeño Firecrackers
2 boneless, skinless chicken breast halves
4 large jalapeño peppers
12 to 14 slices bacon
4 ounces cream cheese, cut into chunks then brought to room temperature
2 ounces white cheddar cheese, shredded
Your favorite BBQ sauce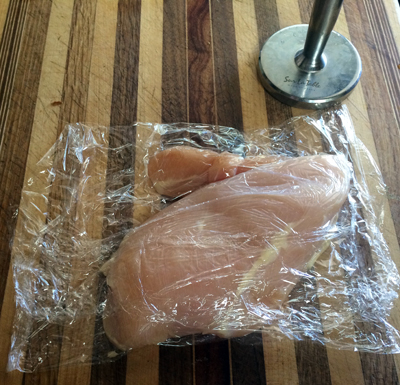 Preheat the oven to 400 degrees. Place a rack over a baking sheet or a small roasting pan and set aside.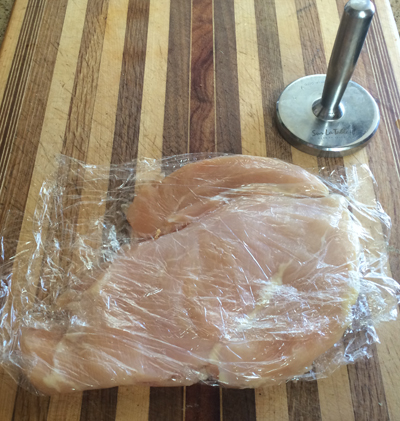 One at a time, place chicken breast halves between 2 sheets of plastic wrap and pound out until evenly thin.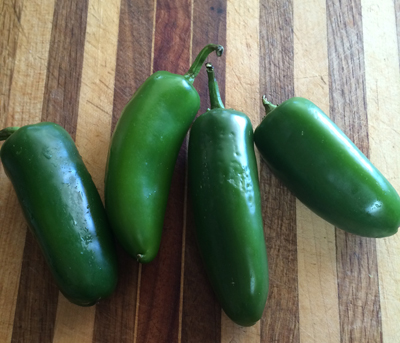 Cut off the tops of the peppers and then cut a slit down one side and clean out the membrane and seeds.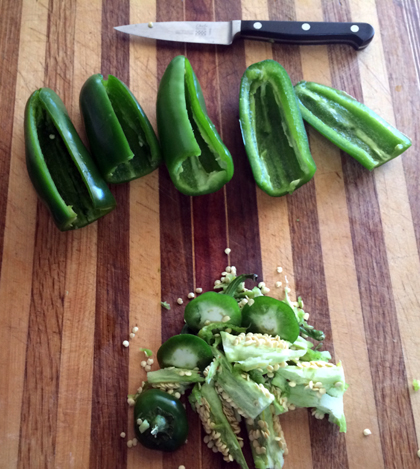 If the pepper splits in half, no worries, once they are filled with cheese, they will stick back together.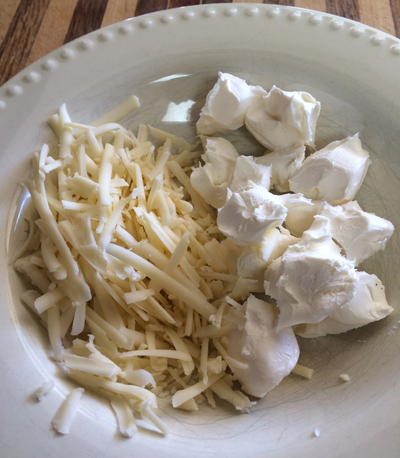 Place the cream cheese and the shredded white cheddar cheese in a bowl.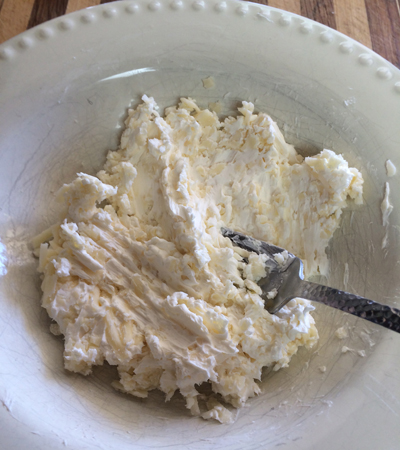 Use a fork to combine the cheeses.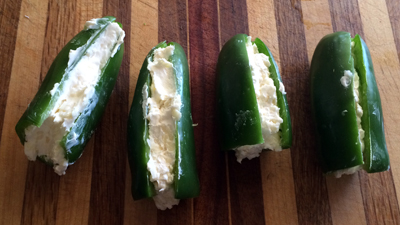 Divide the cheese evenly between the four peppers, filling the peppers with the cheese. Use all the cheese, pack it in there!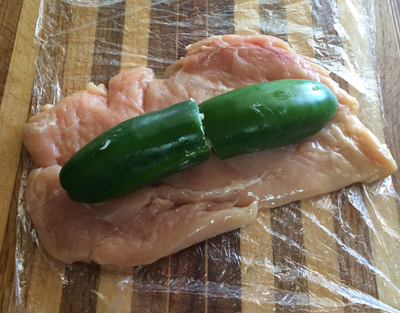 Place 2 filled peppers, seam side down, down the center of each pounded breast, lengthwise.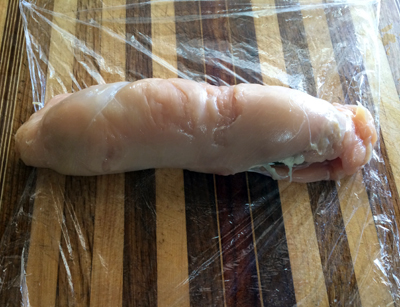 Use the plastic wrap to help in the rolling of the chicken around the peppers, as shown.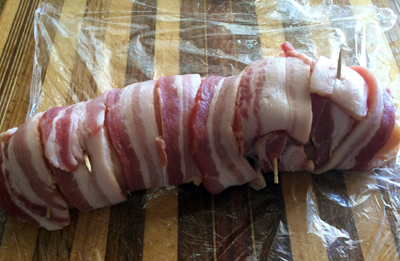 Wrap each chicken breast completely with the bacon slices. Start at one end and overlap the bacon just slightly and secure the bacon with toothpicks as you go.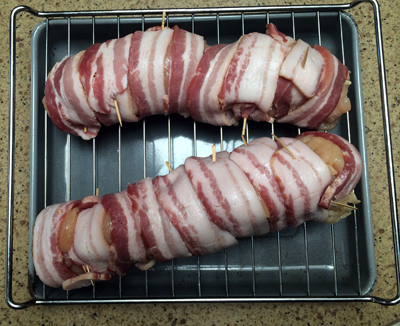 Place the chicken on the prepared rack and bake for 15 minutes.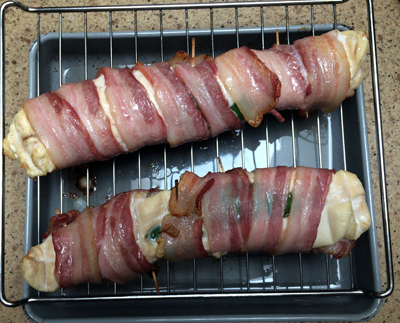 Remove from oven and use tongs to turn over each breast. Return to oven and bake another 15 minutes.
Remove from oven and lower the oven temperature to 350 degrees, then brush the top side of each breast with BBQ sauce, return to oven for 8 minutes.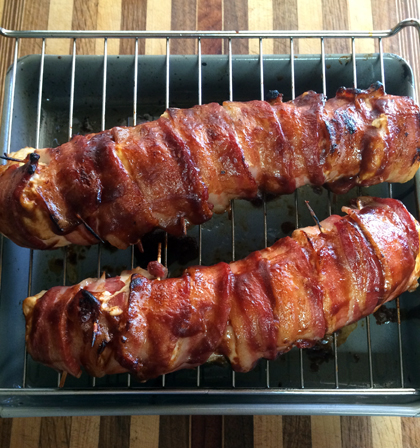 One last time, remove from the oven and switch the oven from "back" to "broil."  Use tongs to once again turn over chicken and brush with BBQ sauce. Return to oven and broil for 4 to 5 minutes, or until the top side is nicely browned.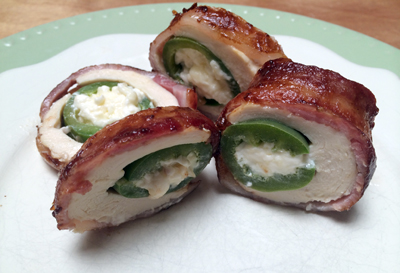 Remove from oven and let rest for 10 to 15 minutes before slicing into rounds to serve as appetizers. Or slice each breast in half, on the diagonal, and serve as a main course for four.
Makes 15 to 18 slices for appetizers or serves 4 as a main course